Following my analysis on Mattel (NASDAQ:MAT) and Hasbro (NASDAQ:HAS) from last week, I'm closing this toy stock series with the most famous company in the eyes of children: The Walt Disney Company (NYSE:DIS).
Note: The stock is currently showing a dividend yield of 1.14%. This definitely does not fit my Dividend Growth Investing Model. But the company has recently started to increase its dividend and it makes a great comparison to Mattel and Hasbro, which are pretty much alone in the toy industry paying distributions over 3%.
Disney Business Description
If you have been hiding under a rock for the past 80 years, you may not know that Disney is the reference for family entertainment. The company is divided into four sectors:
Media Networks (ABC Family, ESPN, Disney Junior, etc.)
Parks and Resorts (you need to visit one in your life)
Studio Entertainments (Pixar, Walt Disney Pictures, Marvel banners)
Consumer Products (Mickey Mouse, Cars, Disney Princess, Winnie the Pooh, Toy Story, etc.)
Founded in 1923 by Walt and Roy Disney as The Disney Brothers Cartoon Studio, Disney is today the world's largest media conglomerate in terms of revenues. Disney has recently hit several home runs with the acquisition of Marvel where they pump a "Heroes" movie out every six months. After the huge box office success of "Avengers" in 2012, Disney is coming back this year with "Iron Man 3" and "Thor -- The Dark World." This is not to mention their animation studios produced "Brave," "Frankenweenie," and "Wreck-It-Ralph" (which I really liked) all in the same year.
The ability to generate important movie success is amplified tenfold by their talent to produce so much connected with consumer products. As if wasn't enough, Disney bought the license to "close" the "Star Wars" story with the last trilogy.
DIS Stock Graph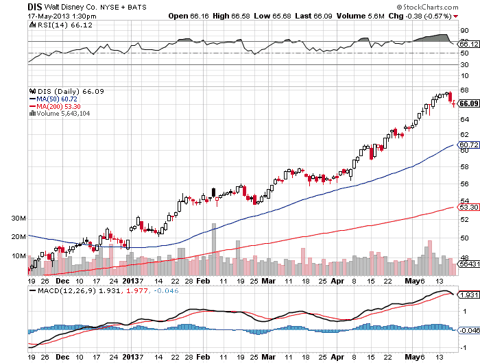 DIS Dividend Growth Graph
As I mentioned at the beginning of my analysis, DIS is not known as a super-powered dividend stock. With a small yield of 1.14%, it could never be part of my portfolio. However, the recent dividend payout growth is interesting if management keeps it this way. The dividend growth over the past five years is at 16.47%, while they made a big jump last year: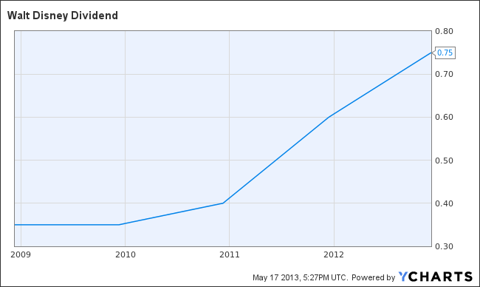 Most importantly, Disney shows they have huge room to increase their payout in their future, with a current payout ratio under the bar of 50%.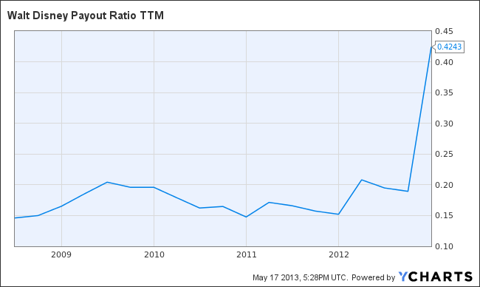 But don't get me wrong, with their massive projects, Disney requires a lot of liquidity to fund them and apply their magical marketing recipe. If I had the choice, I think I would buy the Disney marketing recipe over Coca-Cola's magic formula.
The Company Ratios and Financial Info
| Ticker | DIS U.S. Equity |
| --- | --- |
| Name | Walt Disney Co/The |
| | |
| Dividend Metrics | |
| Current Dividend Yield | 1.16 |
| 5 year Dividend Growth | 16.47 |
| 1 year Dividend Growth | 25 |
| Company Metrics | |
| Sales Growth (1 year) | 3.39 |
| Sales Growth (5 year) | 1.83 |
| EPS growth (5 year) | 6.91 |
| P/E ratio | 20.92 |
| P/E Next Year | 16.53 |
| Margins growth | 1.74 |
| Payout ratio | 18.94 |
| Return on Equity | 14.31 |
| Debt to Capital Ratio | 0.15 |
When I look at the numbers, I can't be disappointed. Both sales and profits are up while the company boosts its dividend. You can even go back 10 years and still see awesome growth in revenues: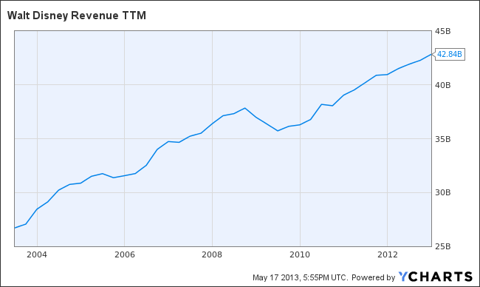 It's the same story with earnings: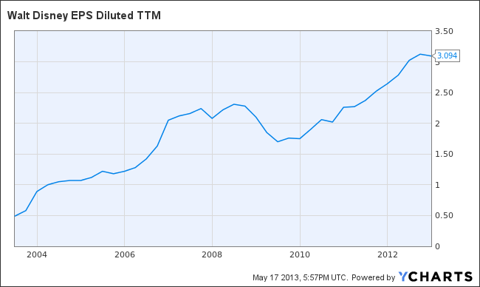 We can see that after the economic crisis of 2008, they rapidly recuperated their swing to boost 2011, 2012, and now 2013 sales and profits. The company is definitely solid.
DIS Stock Technical Analysis

DIS is currently trading on a strong uptrend. It might be a good time to acquire this stock.
Disney Upcoming Opportunities and Dangers
With such a large brand portfolio coupled with multiple acquisitions, Disney counts on several opportunities to continue to grow. Since Americans have cleared a part of their debts during the past three years, chances are they are more inclined to spend more in the upcoming years in entertainment.
The other point that convinced me about the company was my personal trip to Disney World last winter with my three kids. Everything was perfect. And I mean everything. Their ability to think about the unthinkable and make the customer experience the best family vacation souvenir ever is almost unreal. A company with such dedication to detail is definitely a keeper for a portfolio.
As for the dangers, we often mention their media network division to be at risk seeing possible cable erosion. This could be a possibility if Disney's brand wasn't as strong in our minds. Kids will want to see Disney's cartoons and movies, while adults will always be looking for live sports on TV via ESPN.
The downside? A relatively high P/E ratio currently sitting at 20. Considering the company's growth potential in the upcoming years (do I have to mention how much money you would make on a "Star Wars" episode?), this is a calculated risk. Mind you, several great stocks are trading around 20 P/E ratio right now. It might not be the best time to buy the stock, but I don't think there will be a major pullback either.
Final Thoughts on Disney
The more I read about Disney, the more I'm seduced by this company. While it's too bad it doesn't pay a higher dividend, I'm still considering this stock as it has been paying a dividend for the past 14 years. Based on my analysis, DIS looks like a great complement to my portfolio. Still, I'm not making any trades at the moment.