As I detailed two years ago, the Alerian MLP Index is an index comprising the 50 most prominent energy MLPs. The index is float adjusted, capitalization weighted and computed on a real time return basis via ticker (AMZ) and a total return basis via ticker (AMZX). While the Index contains 50 holdings, there is incredible concentration in the top ten holdings, which represent 60.9% of the Index. Enterprise Products Partners (NYSE:EPD) and Kinder Morgan Energy Partners (NYSE:KMP) represent 24.67% alone, not including the other iteration of Kinder, Kinder Morgan Management LLC (NYSE:KMR), which is also a top ten holding.
Based on the heavy concentration in the top 10 holdings in the Alerian Index, it is my contention that investors who do their homework can outperform the Index without paying the fees. This series of articles will detail the top holdings of the Alerian MLP Index, their individual strengths and weaknesses, and how their fortunes have improved since I last looked at this index in 2011. My previous rankings and conclusions can be found here. I have previously discussed the metrics I tend to focus on the most when evaluating MLPs here, and will continue to use the metrics of distribution coverage, distribution growth and the yield spread between MLPs and the 10-year treasury.
The largest MLP, and a long term holding of mine, is Enterprise Products Partners, making up 14.7% of the Alerian Index. Enterprise boasts a $70 billion enterprise value, and is a diversified midstream partnership, moving natural gas, natural gas liquids (NYSE:NGLS), crude oil, refined products and petrochemicals via 50,000 miles of pipelines. Enterprise is heavily focused along the Gulf Coast, and the partnership is uniquely positioned to serve the refineries and petrochemical plants in that region.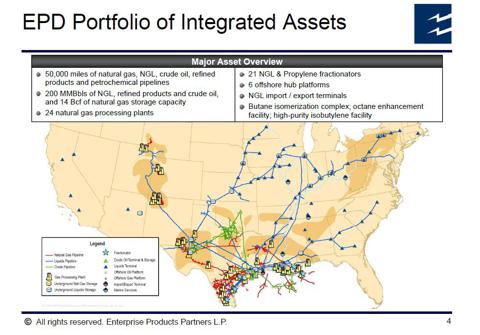 Enterprise has a steady backlog of projects it is working on, including the 1,230 mile ATEX Express Ethane pipeline, which will connect the Marcellus and Utica to the Gulf Coast, the 270 mile Aegis Ethane Header Pipeline serving the Gulf Coast and an expansion of the Enterprise Crude Oil Houston (ECOH) storage facility. These projects, as well as a constantly expanding Mount Belvieu complex, a Propane Dehydrogenation facility being built in Texas, and numerous others add up to $7.5 billion in projects under construction, which will add to distributable cash flow (DCF) for years to come.
Enterprise has managed to consistently grow the distribution over the years, having increased it 35 consecutive quarters. The most recent distribution, paid 5/07/2013, was for $0.67, an increase of a penny quarter over quarter, and of $0.0425 (6.8%) year over year. While not rapid growth, 6.8% is much faster than inflation, and the fact the partnership has been able to increase the distribution for so many consecutive quarters, even through the economic downturn, is remarkable. It is also of importance to note that if you reinvest the distributions via the DRIP program, you are given a 5% discount to the market price when reinvesting in the new units. Not all brokers honor this program, so you have to check with your individual broker.
Enterprise also excels at maintaining excellent distribution coverage, having ample excess cash flow to pay its distribution. The partnership covered the distribution 1.5x in the first quarter of 2013. For all of 2012, which was a record year for Enterprise, the partnership had a distribution coverage ratio of 1.3x, excluding $1.2 billion in proceeds from asset sales. This is a strong number, and this high coverage ratio allows Enterprise to fund growth without offering units or adding debt, which all investors should appreciate.
Recently trading at $61.59, EPD yields 4.3%, based on an annualized distribution of $2.68 ($0.67 x 4). This figure is slightly misleading since EPD will likely continue to increase the distribution each quarter for the foreseeable future. The 4.3% yield is 2.37% above the 10-Year Treasury rate of 1.93%, in line with the historical MLP spread over the 10-Year.
Even though EPD has historically grown its distribution, has the coverage ratio to continue to grow its distribution, and isn't historically expensive when compared to the 10-Year Treasury, I'm cautious to encourage investors to run out and buy it here. The units have had quite a run, being about $1 off an all-time high. The yield is decent at 4.3%, but I'm concerned that given the strength in the unit price, an offering is a possibility. On a more outside chance, Enterprise certainly has the size, balance sheet and strong unit price to go after a large acquisition, if they were so inclined. Prices of MLP assets are high right now, so I'm not sure if they'd do an acquisition. But if they can structure the deal accretive, I don't think it would be off the table. The partnership has done large acquisitions of TEPPCO in 2009, Enterprise GP Holdings, their general partner in 2010, and Duncan Energy Partners in 2011, so management is experienced in doing large deals.
Enterprise Product Partners is one of the best MLPs there is, with a very strong growth history, a solid backlog of new projects, exposure to the booming refinery network along the Gulf Coast, and a high distribution coverage ratio. However, with unit prices north of $61, I believe investors should wait for a pullback, either on an offering or an acquisition, before they start a position.
Disclosure: I am long EPD. I wrote this article myself, and it expresses my own opinions. I am not receiving compensation for it (other than from Seeking Alpha). I have no business relationship with any company whose stock is mentioned in this article.