The California State Controller (John Chaing) just gave Arnold a shot through the bow:
On May 29, 2009, I informed you of the precarious nature of the State's cash condition and alerted you to impending risks which threaten the State's ability to meet its payment obligations.

The situation has not improved. Based on actual revenues received during the month of May, and finalized May Revision data provided by the Department of Finance on June 1, I have the following updates to the State's 2009-10 cash outlook:

In the absence of legislative action, the State will not have sufficient cash to meet all of its payment obligations on July 28. By July 31, the cash deficit will increase to a negative $2.78 billion.
In April, the State's cash balance will fall to a negative $25.3 billion – the lowest point projected for Fiscal Year 2009-10. To put this shortfall into proper perspective, it is five times the $5.1 billion cash deficit we faced this past spring.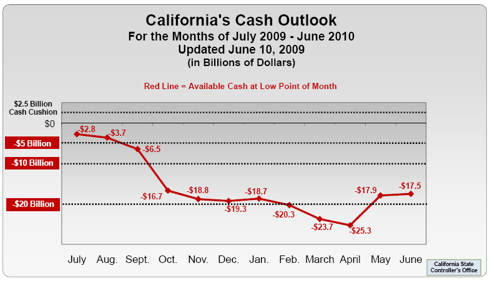 So, is California too big to fail? Maybe Mexico wants it.