While flipping through channels on a Sunday afternoon, waiting for my favorite team to play their league match, I stumbled upon a sport that I was unable to pinpoint. It resembled both American football and rugby but remained its own sport. For fear of remaining perplexed I googled the sport. It was Australian Rules Football. Like the sport, while the Australian economy looks like a developed macroeconomic model, given the rich resources of the country, it operates by its own rules. One must first identify the context by which the country is growing before one can position himself to extract value. After cracking Australia's economic code, investors can position themselves in a cash position through the ETF (NYSEARCA:FXA) or a fixed income position via the ETF (NYSEARCA:AUD). As we delve deep into Australia, investors should consider shorting the ETF and taking a long position in AUD.
FIELD OF PLAY
Before understanding the game play of Aussie Rules Football one must first familiarize himself with the field of play. Both the ball and field of play are oval in shape and no more than 18 players of each team are permitted to be on the field at any time. Indeed the comparison can be drawn to American football or rugby, but Aussie Rules Football still remains a separate entity.
When one looks at the Australian economy, one can identify that it is growing below trend, which is similar to the American economy, however, the growth rate is a bit higher than the U.S. Latest figures indicate that Australia grew 3.1% over the 12 months to December 2012. Australian GDP is expected to be a bit below trend at around 2.5% in 2013, before picking up to 3% in 2014. This estimation reflects the approaching peak in mining investment and ongoing fiscal consolidation. The Australian economy continues to embody a gradual shift in growth from mining investment towards exports, non-mining business investment and household spending. The chart below gives Australia's GDP trend and forecast.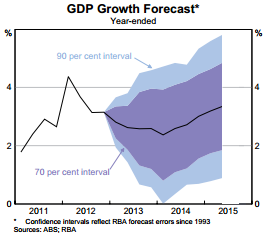 Given that Australia's economy remains mostly commodity based, one must also integrate an analysis of its trading partners before making any serious decisions. The Reserve Bank of Australia thinks that Australia's major trading partners' growth is expected to remain close to its decade average of around 4% in 2013 and then pick up through 2014, to 4.5%. The chart below displays Australia's trading partner GDP growth.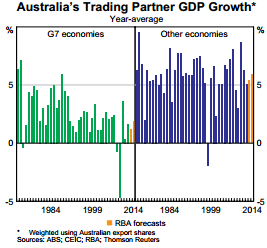 As Australia's major trading partners is broken down by country, Japan has the most optimistic growth outlook. This optimism reflects the recent policy changes, known to most as Abenomics. China's growth remains below trend but is expected to improve in late 2013, similar to the trend of late 2012. As the U.S.' labor market improves, so will its economy. However, Europe remains weak throughout 2013.
The RBA estimates that Australia's terms of trade improved in the quarter of March 2013 and should continue to increase in the 3 months to June 2013, but from that point declines are expected as the global supply of bulk commodities increases. The chart below shows Australia's terms of trade.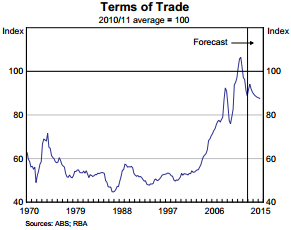 The game changer for Australia has been the change in outlook for inflation. Underlying inflation in the March 2013 quarter was lower than expected, at 0.5% in the quarter and 2.5% year over year. The year-ended rate of underlying inflation is anticipated to slow in the short term, before returning to around the middle of the target range for the remainder of the forecast period. The reduction in inflation expectations was the main driver for the reduction of the RBA's cash rate to a historical low of 2.75%. Ironically this low for short term rates in Australia still remains a viable option for yields in the global space. The chart below shows the RBA cash rate.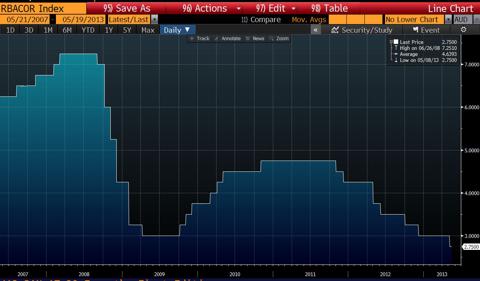 Click to enlarge
(Click to enlarge)
Strategic Players
With an overview of the economic situation in Australia, a global investor can develop a trading strategy with Australian securities. Expectations of the Australian economy remains positive, the country is far from entering a recession. Furthermore, given the country's AAA status and despite the RBA cash rate at all time lows, yields on Australian bonds remain attractive when compared to other sovereigns of similar credit quality.
What has made investors distance themselves from Australia recently is the depreciation in the Australian dollar versus the U.S. dollar. YTD AUDUSD is down 6.77%. This can be attributed to the decline in inflation expectations. While AUDUSD remains in a downtrend, a short term bounce is expected from around the 0.95-0.94 price area, where a short term rally will carry the FX pair back above parity. The chart below shows the daily chart of AUDUSD.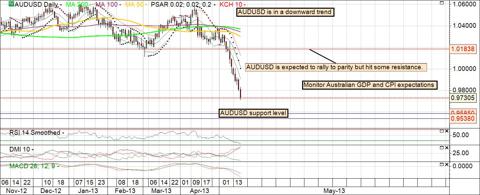 Click to enlarge
(Click to enlarge)
In USD terms Australian bonds have discounted and currently provide investors who are seeking fixed income instruments an extra pickup in yield. PIMCO's ETF AUD has discounted, and currently is down 5.27% YTD. However a buying opportunity presents itself at the US$95 price level as the downtrend becomes exhausted. Fixed Income investors will benefit from any further downside with a 12 month distribution yield of 3.20%. The chart below shows the ETF AUD.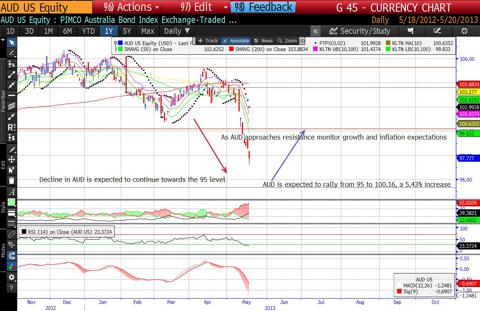 Click to enlarge
(Click to enlarge)
Fixed Income investors fearing any further depreciation in the Australian Dollar versus the US dollar should consider shorting FXA or taking a long position in the ETF UUP. Some signals to look out for are continued reduced growth and inflation expectations in the Australian economy. Investors should consider taking these positions when the Australian Dollar returns to par with the US dollar as a bounce is expected over the next couple of months.
By buying AUD around the US$95 level and shorting FXA or purchasing UUP when AUDUSD approaches 1.00, investors are benefiting from the higher yield environment of an AAA entity and hedging your position from any depreciation in the Australian dollar.
Disclosure: I have no positions in any stocks mentioned, and no plans to initiate any positions within the next 72 hours. I wrote this article myself, and it expresses my own opinions. I am not receiving compensation for it (other than from Seeking Alpha). I have no business relationship with any company whose stock is mentioned in this article.