Value in this market is getting harder to find by the day in this continuously rising market that has not had even a 4% decline since Mid-November. A couple of sectors that have underperformed in 2013, materials and energy, seem to be on the move in mid-day trading Monday. Silver and gold miners are generally up significantly today as are the refiners. Oil services firms also seem to be doing well in mid-day trading. One oil services firm that has vastly underperformed the S&P as well as its brethren Halliburton (NYSE:HAL) and Schlumberger (NYSE:SLB) over the last six months (see chart) is National Oilwell Varco (NYSE:NOV). Given its valuation and some recent positive catalysts, it looks primed for a catch up move upward.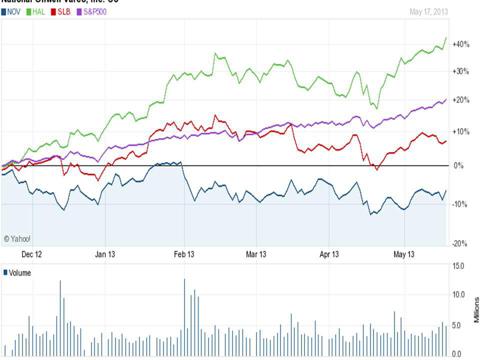 Click to enlarge
Recent positives for NOV:
The company just announced it is doubling its dividend. The shares will now yield ~1.5%
Earlier this month in Barron's, NOV made the magazine's top 25 financially strongest firms. The listing ranked companies after a rigorous cash and sales analysis.
Just before that listing hit, Jefferies argued that "bigger is better" among oil services firms. NOV also appeared on its list of favorite plays based on this thesis.
Five additional reasons NOV is a good value pick-up at under $70 a share:
The 26 analysts that cover the stock have a median price target of $84 a share on NOV. The stock has S&P's highest rating "Strong Buy" and an $89 price target there.
In addition to its enhanced dividend, the company sports an A rated balance sheet.
Analysts projected ~10% CAGR for revenue growth over the next two years. NOV goes for a five year projected PEG of less than 1 (.83).
NOV is selling in the bottom third of its five year valuation range based on P/E, P/S, P/CF and P/B.
An insider bought more than $70K worth of shares in late April. It was the first insider purchase in more than a year.
Disclosure: I am long HAL. I wrote this article myself, and it expresses my own opinions. I am not receiving compensation for it (other than from Seeking Alpha). I have no business relationship with any company whose stock is mentioned in this article.