I've written before about how the Lipper fund flow data hbehaved over the pave ast decade (here).
I dug further into these figures and found more support for the idea that the "Great Rotation" (money flowing out of bonds and into equities) is only beginning, despite the large recent rallies that we have seen in the market.
Aside from good valuation (which I've written about here - ere - and continues to be decent albeit not as great as before these rallies), the Great Rotation would be a huge momentum argument for why equities are a good place to be right now.
The chart below shows the percent of total money in equities, based on Lipper data, and assuming that the starting point in Feb 2001 had all of them at $0 (which is not true, but I would argue the relative amounts a decade later are significant regardless).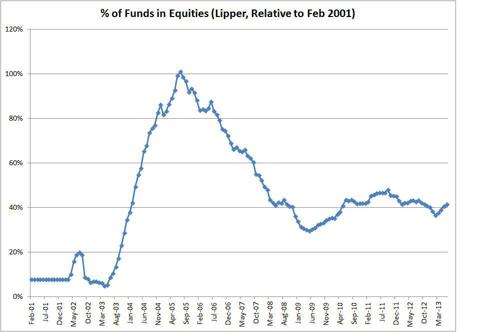 Click to enlarge
This chart is interesting in that it shows how the percent bottoms out in March of 2009 which of course was an amazing time to buy stocks.
Another commentator (here) has shown that recent flows into equities have come from money market funds rather than bonds per se. While this means that any rotation hasn't really started yet, the above graph showing the percent in equities starting to rise recently raises the question of whether the recent rallies will be further supported by an ongoing rotation in the months ahead.
Furthermore, my graph in the article here (here) shows that the money market amount has dropped back to the relative-zero-level, which is where it was before money market funds took off in 2009 (indicating widespread fear in the market). To me this suggests that bonds are the only logical place for further equity funding to come from. The only thing I see that can stop this from happening is deflation, which can make today's low bond yields seem attractive. But with governments everywhere (from US to China to Japan) focused on inflationary monetary policy, it is really hard to see how deflation can take root.
What if we take this further and look at the momentum behind these movements? If you take the percent in equities and divide by the 10-month-moving-average of that same percent, you can see which direction the momentum is going in. That's what is plotted in the chart below (I filtered only from 2005 because the relative data is noisier until there is enough history):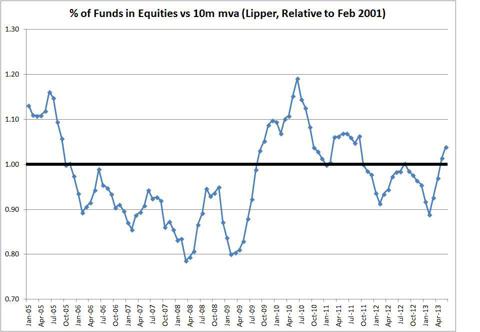 Click to enlarge
The interesting thing here is that breaking past the 1.0 line (going up) has only happened recently, meaning that the flow into equities is accelerating. The past two times this has happened, the S&P had a 12% return in 5-6 months. 12% from May 1 would be just short of 1800 for the S&P 500 - which is still an annualized return of about 15% from now.
For those who have missed the 17% rally in SPY so far this year, it is not ridiculous to suggest another 7% by year's end, especially as the flow of money finally moves towards equities and acts as a tailwind instead of headwind ... until now, from the news and also conversations I hear, the rally has been one of people worried that it will all end badly very soon - it is hard to make the case for the market being greedy yet. The Lipper data support this, and in my view support buying into the market through an index fund like SPY if you have no stock picking skill.
Either way, staying fully invested during the big rallies is essential (as studies have showed, most of the return one gets comes from big moves in short time frames).
Disclosure: I am long SPY. I wrote this article myself, and it expresses my own opinions. I am not receiving compensation for it (other than from Seeking Alpha). I have no business relationship with any company whose stock is mentioned in this article.