Introduction
I recently read an article in Variety comparing Disney's (NYSE:DIS) Bob Iger to GE's (NYSE:GE) Jack Welch. Being a numbers guy, I looked at the past 40-year performance of Disney and GE and threw in the mix IBM (NYSE:IBM) (see graph). It is obvious that Disney stock has outperformed GE and IBM by thousands of points. This is despite the fact that Disney creates animation and family resorts, while GE and IBM develop new technologies that we use on a daily basis. Importantly, GE's and IBM's engineers and scientists spent their lives working 5 a.m. to 9 p.m. (as opposed to most other workers who are committed to their jobs from 9 a.m. to 5 p.m.) developing these technologies to improve our world. In return, GE and IBM are granted patents that expire, usually in only 20 years. Disney, on the other hand, once it creates a trademark, it gets to keep it forever and this is one of the most important advantages a company can have. While other factors are important, once you have a well-known trademark, a business has a guaranteed source of income.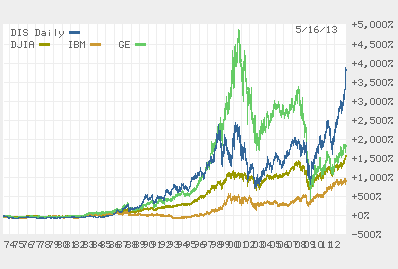 The power of intellectual property
Large companies rely on their trademarks. Take for example the iPad. It is made of two words (I and Pad) but together iPad is a trademark that Apple (NASDAQ:AAPL) is vigorously defending. Same can be said for Windows, Office 360, Fire, Nook, New York Times, Outlook, G-Mail, Netflix and Blockbuster. In the world of movies and art in general, the power of the trademark is even more pronounced. Disney owns such trademarks as Star Wars, IronMan, the Avengers, Cars, Toy Story, Up, Magic Kingdom, Fantasyland, Mission: SPACE and the list continues. It is likely that Disney will sue the pants off of anyone who creates anything with the name Star Wars. Even names such as Star Battles or Galaxy Wars may not be safe from litigation. Thus, it seems that investors in Disney are investing in owning a small part of these trademarks, whose nominal value rises as they become more ubiquitous and dominant over time. Even though Disney's CEO may be an excellent manager, leader, citizen, artist, financier, strategist and speaker, the success of companies such as Disney is as big as the popularity of their trademarks.
Intellectual property, such as patents and trademarks, is usually included in goodwill on the company's balance sheet. The most basic accounting formula is Assets = Liabilities + Shareholders Equity, which means that any increase/decrease in goodwill (an asset) will cause the shareholder equity to increase/decrease. As of March 30, 2013, Disney had a goodwill on its balance sheet of $27.4 billion or about 22% of the company's recent market value. For comparison, as of March 31, 2013, GE and IBM had a goodwill of $72.7 billion and $29 billion or 30% and 12.7%, respectively, of their market values.
Another way to value goodwill is to look at a company's cash-flow generating ability. A lot of goodwill should allow a company to have a better cash flow than companies having less goodwill on their balance sheets. In numbers, Disney's free cash flow in the last three fiscal years was $3.2 billion on average or 12% of the company's goodwill. On the other hand, GE and IBM free cash flows in the past three years on average were $14.9 billion and $12.1 billion or 20.1% and 41% of each company's goodwill, respectively. GE's cash flow is the most volatile due to the company's large financial division, which also brings in significant cash inflow to the company in good times. In any occasion, it seems like GE has an inflated goodwill and it could be revalued downward, thus impacting the shareholders' equity negatively.
According to a study by Zining Li, Pervin Shroff, Ramgopal Venkataraman and Ivy Zhang, Causes and consequences of goodwill impairment losses, goodwill is one of the few items management of a company can fiddle with and once a write-down of goodwill occurs, it usually has a negative impact on the company. It is likely that Disney, if anything, should increase its goodwill since it is comprised mostly of trademarks without expiration dates, while GE may need to reduce its goodwill and that of IBM seems appropriately valued. Impairment of Goodwill, according to this article published in the CPA Journal, Feb. '11 issue, is especially unlikely when it will:
lower earnings,
lower management compensation,
lower management reputation, and/or
violate a bond indenture.
Outlook
While Disney's trademarks are likely to grow in number and popularity, the company is also well run as evidenced in its latest quarterly performance and the optimistic outlook presented by its management. It seems like Disney will continue to benefit from its recently completed major capital investments in the park and resorts division, from strong movie pipeline in studio entertainment, and from secular increase in demand for online games in interactive. The media networks and consumer products divisions are riskier due to the saturation of Disney featured consumer products and a shift from traditional TV/cable. Consumers are increasingly watching shows created by such companies as Amazon (NASDAQ:AMZN) and Netflix (NASDAQ:NFLX) or spend more time watching YouTube than television entirely. In addition, a number of sports leagues offer direct subscriptions to games, which could undermine ESPN, Disney's flagship sports channel. Also, competition in sports broadcasting is intensifying as NBC, CBS (CBS) and Fox are increasingly investing in this area.
Disney shares are trading at a lofty valuation with a price-to-earnings ratio near 20 (compared to about 13 and 14 for IBM and GE, respectively) and a dividend yield of 1.1%. Most likely, the shares still offer a good investment opportunity due to the shareholder friendly management and the company's large footprint in family and sports entertainment. Disney is actively repurchasing shares. It bought back 15.8 million shares for $850 million during the quarter ended March 30, 2013, and 38 million shares for about $2 billion from the start of its current fiscal year to March 30, 2013. A better economy and stronger consumer confidence will also likely contribute to Disney's common stock performance.
Conclusion
It is difficult to value a company the size of Disney. Based on the number and quality of trademarks and goodwill, which is probably undervalued, this iconic company will continue to reward shareholders for years to come. The threats from technology and changing consumer habits are likely outweighed by Disney's increasing portfolio of characters and stories and its diverse businesses both geographically and across products.
Disclosure: I have no positions in any stocks mentioned, and no plans to initiate any positions within the next 72 hours. I wrote this article myself, and it expresses my own opinions. I am not receiving compensation for it (other than from Seeking Alpha). I have no business relationship with any company whose stock is mentioned in this article.