Demand for energy resources has been soft in recent years, due to economic problems in much of the developed world. This brought world demand growth for crude oil negative in 2008 and 2009 (see chart below). In addition, the general drive toward energy efficiency has been slow but steady, including more natural-gas power plants, efficient appliances, fuel-efficient cars, and 100% electric cars. Sluggish demand was interrupted by a spike in demand from emerging markets (in particular, China) in 2010, but that reversed in 2011-12 as China slowed down.
The world supply capacity growth, however, has been below demand growth in 2010-11, making for a tight market and contributing to elevated prices.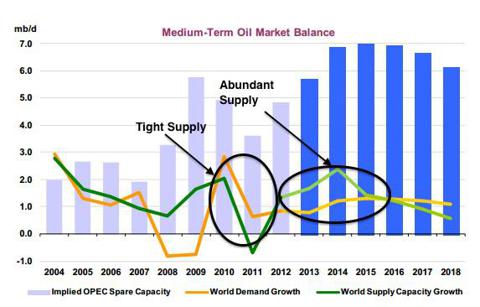 Sources: IEA, Model Capital Management LLC
Two pieces of information just surfaced recently that, in our view, are critical pieces of the puzzle for future crude oil prices and other energy resources.
North American Supply Shock
The supply shock created by a surge in North American oil production will be as transformative to the market over the next five years as the rise of Chinese demand has been over the last 15.
the International Energy Agency (IEA) said in its annual Medium-Term Oil Market Report. The supply will be led by U.S. light oil (driven by technologies already being applied in North Dakota) and by Canadian oil sands.
This will ease a market that was relatively tight in supply for several years, which in the past no doubt contributed to elevated prices. The IEA forecasts that worldwide liquid production capacity will grow by 8.4 million barrels per day (mb/d) - significantly faster than demand, which is projected to expand by 6.9 mb/d from 2013 to 2018 (see the same chart above).
Oil Price Fixing
The European Commission raided offices of the largest European oil companies Royal Dutch Shell Plc. (NYSE:RDS.A), BP Plc. (NYSE:BP), and Statoil (NYSE:STL) as part of the investigation into possible price manipulation. The suspected violations relate to prices published by Platts, a pricing service owned by McGraw Hill Financial Inc (MHFI).
The suspected violations are related to Platts' Market-On-Close [MOC] assessment process. Platts publishes benchmarks prices compiled from transactions reported by traders during a window of time near the market close. However, Platts has no legal authority over the data, so traders can supply (or not) information about the trades as they choose.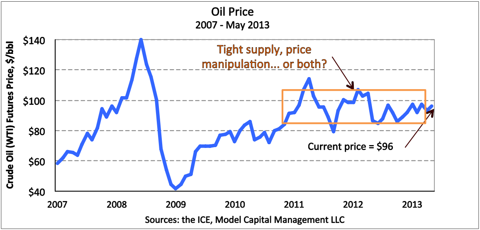 "The commission has concerns that the companies may have colluded in reporting distorted prices to a price reporting agency to manipulate the published prices for a number of oil and biofuel products," the Commission said in its statement.
We think that the (alleged) price fixing is the missing piece of the puzzle to explain why oil prices stayed elevated in the past two-and-a-half years (see chart above), even in the face of deteriorating supply-demand fundamentals. If traders are given the opportunity to selectively report trade information, would they report trades that benefit their book? Hmm, let me try to figure this out…
The second piece of the puzzle coming from the IEA report is that in addition to soft demand, ample supply of crude will come to the market over the next two-three years, creating considerable spare capacity in crude oil production. The puzzle is now more complete - and it depicts lower prices. In our view, prices will decline for both WTI and Brent crude oil contracts.
What does it mean for investors? Many investors these days have a portion of their portfolios allocated to commodities, including oil - for example, (NYSEARCA:USO) and (NYSEARCA:OIL) are the most liquid ETFs/ETNs. We would recommend reducing that exposure. Luckily, oil prices are currently well bid (now $96 for WTI futures), so timing is good. More aggressive traders out there who, after doing their homework, agree with us that lower prices are ahead, may want to establish short positions. But, rather than linear short positions, we like non-linear exposures that would profit from the downside, using Put options. If we are wrong and the prices move up, the loss in such positions would be limited by the premium paid. We think that buying out-of-the-money Puts on USO or OIL, 10% to 15% below current prices, is a good inexpensive way to establish positions that would pay off if the oil price drops sharply.
Disclosure: I have no positions in any stocks mentioned, and no plans to initiate any positions within the next 72 hours. I wrote this article myself, and it expresses my own opinions. I am not receiving compensation for it. I have no business relationship with any company whose stock is mentioned in this article.
Additional disclosure: I am long put options on USO.