Although CenturyLink (NYSE:CTL) is still the primus inter pares of the rural telecom sector even after its recent dividend reduction we have also been covering its two largest competitors Frontier Communications Corporation (NYSE:FTR) and Windstream Corporation (NASDAQ:WIN). Windstream's shares generated a negative 22% total return in 2012 but bounced back by 7.55% because investors are relieved that Windstream hasn't cut its dividend, or at least not yet. We began warming up to Windstream's 11.5% yield because Windstream's shares have been beaten so badly throughout 2012 and because we were expecting it to ease back on its capital investment program in 2013.
We were pleased to see that Windstream's management confirmed our expectations on its CapEx and that it would reduce its capital expenses to $800M-$850M versus the $1.1B spent in 2012. However, we're keeping our eyes on it because WIN's Q1 2013 CapEx was slightly higher than its Q1 2012 CapEx. Because Windstream has maintained its dividend while CenturyLink recently cut its dividend and because Frontier has cut its dividend twice since it acquired Verizon's remaining rural wireline operations, its dividend yield is well above its telecom peers.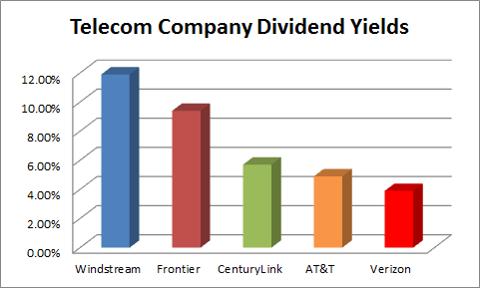 Source: Bloomberg LP
Windstream recently reported Q1 2013 adjusted EPS of $.10/share, which met the analyst consensus and was a decline from the $.13 adjusted EPS achieved in Q4 2012. WIN's pro forma revenue declined by 2.46% in Q1 2013, on a year-over-year basis and this was a regression from the 1.67% achieved in Q4 2012, 0.83% in Q3 2012, 1.18% in Q2 2012, and the 0.5% achieved in Q1 2012. This was worse than the 2.1% achieved at CenturyLink for Q1 2013. One piece of good news for Windstream stakeholders is that Windstream continues to generate the narrowest year-over-year decline in its access lines versus CenturyLink and Frontier, as well as AT&T and Verizon.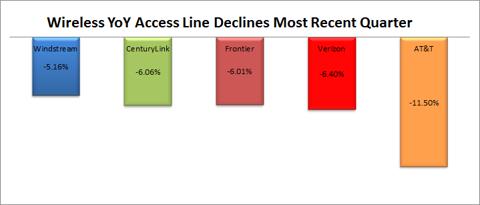 Source: Most recent earnings releases by the companies
Windstream's heavy emphasis towards strategic communications services represents the classic case of good news and bad news. The bad news is the number of High-Speed Internet customers actually decreased by 77bp year-over-year and decreased by 71bp in the linked quarter. The good news is that WIN's Internet customer base has declined at a slower pace than its wireline customer base and that ~66.5% of its wireline customers also have Internet. Another piece of good news is that WIN's consumer revenues from its Internet offerings increased by 4.8% year-over-year. CTL's 2.95% and FTR's 2.3% year-over-year growth rates exceeded Windstream's. WIN's year-over-year Internet growth was weaker than the 1.4% growth at Verizon and was worse than the 10bp decline that AT&T (NYSE:T) saw. And of course, AT&T still has more Internet customers than Verizon, CenturyLink and Windstream combined.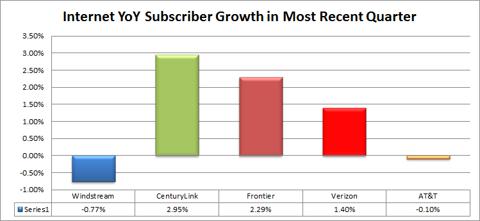 Source: Most recent earnings releases by the companies
Another area that Windstream is leading its rural telecom peers in is the digital television segment. Until Frontier recently discontinued offering DirecTV as part of its bundles, all three companies had satellite television partnerships with DISH Network (NASDAQ:DISH) and DirecTV (DTV). Windstream and CenturyLink also offer a proprietary digital television service. However, this is a case of good news and bad news. The good news is that Windstream has more than 3.5 times as many digital TV customers as CTL. The bad news is that Windstream's digital TV growth has sagged while CenturyLink's PRISM TV growth has been steadily picking up. CenturyLink's PRISM TV service has seen its customer count nearly double in the last 12 months whereas Windstream's digital television subscriber count has seen recent declines.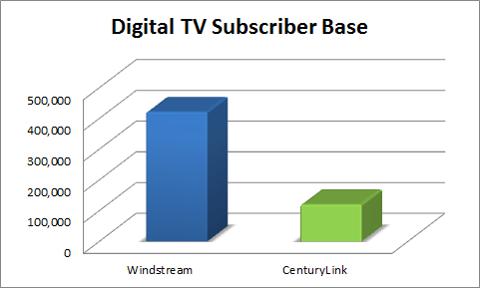 Source: Windstream and CenturyLink's most recent earnings releases
Windstream Business' revenues grew by 2% in Q1 2013, on a pro forma basis versus the prior year's comparable quarter and reached $914.3M. The key driver for Windstream Business' revenues continues to be its data and integrated services, which has offset the continued decline in voice and long distance services. Data and integrated service revenues became the largest revenue source for Windstream Business in Q1 2011, and have reached $400.4M in Q1 2013 (7.55% year-over-year growth. Windstream's Consumer revenues declined by 2.33% as a 4.8% growth in broadband revenues was not enough to offset a 6.9% decline in voice and long distance revenues.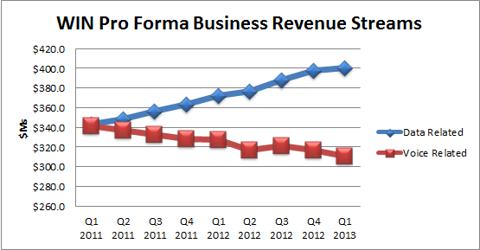 Source: Windstream Financial Supplement
Windstream generated $305M in operating cash flows during the quarter and $70M in free cash flows. Windstream's free cash flows would be higher except for planned capital investment expenditures this year. We previously discussed how Windstream expects its CapEx to decline in 2013 and beyond which is expected to result in increased free cash flows in 2013 and in later years. Over 36% of Windstream's CapEx in 2012 was due to its fiber-to-the-tower ramp-up as well as integration of PAETEC. Windstream declared its 27th straight quarter of a $.25/share dividend and this represents an 11.5% yield based on the May 17, closing price of $8.69/share.
Windstream has $917M in upcoming debt maturities and has a $1.25B revolving credit line to pay it down ($1.235B remaining capacity). The company has generated $676M in FCFs in 2012 and it had a 76% payout ratio based on its dividend payments in relation to adjusted FCFs. We believe that the company will generate a similar level of adjusted FCFs in 2013, to enable it to sustain its $1/share annualized dividend and to chip away at its $9B in debt. However, we will continue to keep an eye on the situation (especially because of its soft Q1 2013 revenues) as there have been other companies with lower dividend payout ratios that have decided to cut or eliminate the per share dividend payments.
In conclusion, Windstream is at a much better entry point now at $8.69/share than the $12/share price when we were contemplating it in December 2011, and the $9.30 it was trading at in August 2012. We can't believe that the company's shares were beat up beyond recognition in 2012, and even in 2011. We maintain that management must sign a wireless resale agreement with Sprint (NYSE:S) in order to match what CenturyLink has with Verizon and Frontier has with AT&T. We hope that Windstream's revenue and OIBDA for 2013 will stabilize and the combination of these trends as well as its completion of certain targeted capital investments will enable it to potentially maintain its lofty $1/share (11.6% dividend yield) for 2013 and beyond.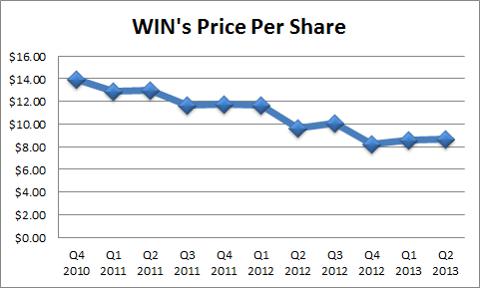 Source: Bloomberg LP
Disclosure: I am long CTL, S. I wrote this article myself, and it expresses my own opinions. I am not receiving compensation for it (other than from Seeking Alpha). I have no business relationship with any company whose stock is mentioned in this article.
Additional disclosure: This article was written by an analyst at Saibus Research. Saibus Research has not received compensation directly or indirectly for expressing the recommendation in this article. We have no business relationship with any company whose stock is mentioned in this article. Under no circumstances must this report be considered an offer to buy, sell, subscribe for or trade securities or other instruments.