Electronics Arts (NASDAQ:EA) was a third of the way through a very decent 2013 when the Force intervened.
Through May 7, the stock had been up around 27% for the year with the company then announcing that earnings were 3-cents lower than analyst expectations, even though the full year's results were better than expected (earning 86-cents per share compared to 83 cents as forecasted).
However, even as the company relayed its poor results it did two things: it announced that it had closed a deal with Disney for the video gaming rights to its recently-acquired Star Wars franchise and raised its revenue guidance for the current fiscal year to $1.20 per share - around 11% higher than the then-consensus $1.08 it had been expected to earn.
Raising guidance is one thing but Star Wars is an iconic element of American popular culture and resonates well with the general public and so, unsurprisingly, EA's stock surged on the back of the dual announcements, rising 17% on May 8. As the chart below shows, EA is now up by nearly half in 2013, more than trebling the gains of the S&P 500 and quadrupling the returns of the Dow Jones U.S. Software Index.
EA v. S&P500, Dow Jones U.S. Software Index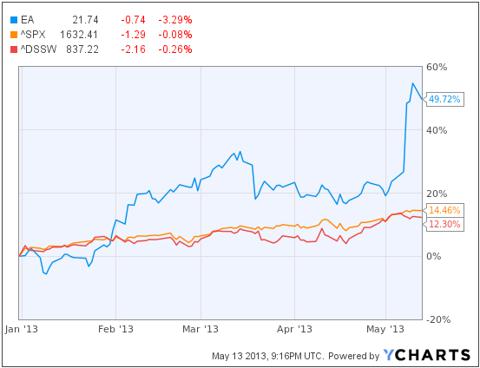 Of course, as anyone familiar with the SimCity debacle is aware, EA has not had the best run of game launches of late. Indeed, EA's inability to deliver well-received games or to botch game launches entirely contributed to it being named by the popular website, Consumerist, as the Worst Company in America for the second straight year. That is hardly the sort of endorsement that investors would like their company to receive.
That being said, EA is up nearly 50% in the year-to-date. Can investors expect more from EA? We're not so certain.
These Are Not The Earnings You're Looking For
EA is expected to see revenues contract by an average of 7.2% in each of its next two fiscal quarters, owing to unfavorable year-on-year comparisons with hardly any major game launches other than Madden Football and FIFA 2014 coming over the next three quarters. Other major franchises such as Dragon Age and Battlefield 4 were supposed to be released in 2013 but no official announcements have been made and game sites have listed these as 'TBA.' The Sims 4 is EA's other hugely anticipated release but also is not expected until sometime in calendar 2014 - possibly accruing into its next fiscal year.
Moreover, in the wake of the resignation of CEO John Riccitiello in March, EA embarked on a second round of reorganizations, trimming an estimated 10% of its workforce (equivalent to around 900 employees). Charges related to this and prior years' acquisitions will likely be borne in its current fiscal first quarter ending June 30, which is why EA has issued guidance for a 62-cent per share loss during this period - around 51% wider than the loss it posted in the same period a year earlier. EA expects to regain momentum over its next three fiscal quarters and the consensus expectation is that the company will post earnings of $1.17 per share - 2.5% shy of its guidance.
Meanwhile, EA is anticipated to report robust results going forward: over the next five years, its average EPS growth of 15.2% will be more than double that expected of its closest rival, Activision (NASDAQ:ATVI), which is forecasted to grow earnings by an average of 7.5% a year over the same period. Indeed, EA's 39.3% EPS growth this fiscal year and 23.1% EPS growth the following year are better than Activision's, which is predicted to see its EPS contract by 28% this year, followed by 20% EPS growth in the next period.
Higher margin digital sales - particularly on mobile platforms - are expected to drive EA's revenue growth, coupled with the positive carryover from its restructuring efforts. In fact, digital revenues grew by 45% in its most recently concluded fiscal year. This helped EA offset some of the 25% revenue contraction from its traditional packaged game sales. EA is also poised to take advantage of the next evolution of the console platform, with the company already committed to producing titles for Nintendo's Wii U and developing games for the next generation Sony and Microsoft devices.
Sustaining this successful re-mixing of its revenue base and hitting forward expectations depends on EA's execution and its recent history of game launches (SimCity and Mass Effect III to name a pair) and lost opportunities (the NBA Live franchise) leaves the door open for disappointment. As we've noted, the consensus estimate for the current fiscal year is short of the company's own estimate, suggesting that more than a few analysts are similarly skeptical.
One positive on EA's side is that it already has past success delivering on Star Wars licensed products - or rather, its subsidiary, Bioware, does: it made the commercially-successful and critically acclaimed Star Wars: Knights of the Old Republic series of licensed games. The key is whether EA can provide its developers with the ample development time in which to deliver a polished final product. A common criticism of EA's games is that they're rushed to meet earnings timetables.
Regardless, EA would have to at least beat its own guidance for its current fiscal period for us to award it with anything more than a neutral outlook.
Valuation and Fundamentals: Not Quite A Sarlacc Pit
EA's stock hardly appears cheap at the moment: it is trading at 72.5x earnings - nearly two-and-a-half times that of its industry and four times that of the S&P 500. However, its multiple goes down significantly on a forward basis at just 15x forward earnings compared to 23x for its industry and in-line with the S&P 500's. Moreover, on its current price-to-sales basis, EA is trading favorably at only 1.8x compared to 2x for its industry.
Having said that, EA is hardly a standout in terms of its other metrics. Its cash levels are not egregiously poor, but they are hardly worth praising. To wit, its quick and current ratios, at 0.9 and 1.00 respectively are considerably lower than the 1.6 and 2.0 that its industry bears. It also has slightly higher levels of debt, with a total debt-to-equity ratio of 0.28, compared to 0.23 for its peers.
Where EA does seem to perform well is product pricing: its gross margins are at nearly 69% over its trailing 12 months - better than the 65% margin of its industry peers and quite a bit better than the S&P 500's 48% margin. Unfortunately, this doesn't exactly trickle into the bottom line: EA's EBITDA margin is 9.8% - less than half its peer group's 22.5%. It also has a razor-thin net profit margin of 2.6% - certainly better than its peer group's hairsbreadth margin of 0.09% but hardly impressive. Given this, it is hardly surprising that EA does not pay a dividend, unlike its peer group where a 1% dividend is the norm.
Conclusion
As previously stated, we have to see EA beat its own guidance this year before we'd recommend its stock - those looking to "play" the industry should check out our article on rival Activision. The reality is that this may all be a Jedi mind-trick: the idea that EA can leverage the Star Wars franchise, next gen consoles and digital sales to greater heights is quite compelling. However, EA has had a track record of having something great within its grasp only to falter at the finish. Until it proves it can deliver, it would be best to avoid a stock that appears great on promise but short on fundamentals. Presently, EA is trading above its one-year price target of 20.75 and we see the stock falling to between $15-$18 as reality sets in.
Disclosure: I have no positions in any stocks mentioned, and no plans to initiate any positions within the next 72 hours.
Business relationship disclosure: Black Coral Research, Inc. is a team of writers who provide unique perspective to help inspire investors. This article was written Jonathan Lara, one of our Senior Analysts. We did not receive compensation for this article (other than from Seeking Alpha), and we have no business relationship with any company whose stock is mentioned in this article. Black Coral Research, Inc. is not a registered investment advisor or broker/dealer. Readers are advised that the material contained herein should be used solely for informational purposes. Investing involves risk, including the loss of principal. Readers are solely responsible for their own investment decisions.
Disclaimer: Black Coral Research, Inc. is not a registered investment advisor or broker/dealer. Readers are advised that the material contained herein should be used solely for informational purposes. Investing involves risk, including the loss of principal. Readers are solely responsible for their own investment decisions.