A few weeks ago I presented my investment thesis for Wal-Mart (NYSE:WMT): Bullish On Wal-Mart As Record Highs Demand A New Approach To The Stock. I expect Wal-Mart to generate 10-15% total annual returns over the long term (I analyze Wal-Mart with a multi-year time frame in mind). Wal-Mart's Q1 results missed expectations, but I am not too concerned if EPS misses or beats expectations by a few cents. However, the newly released data is useful to check up on the trends that are important from a long-term perspective. In this article I will update my perspective on Wal-Mart's long-term trends with the Q1 data.
Investment Thesis On Wal-Mart
In July 2012, Wal-Mart's stock price broke out of a range that dated back to 1999. Despite growing earnings over this time, Wal-Mart's stock price traded sideways for years to work off an extremely high P/E multiple. Wal-Mart's earnings growth can now act as a driver for the stock price because its multiple is in-line with the market. Therefore, I expect Wal-Mart to generate 10-15% total annual returns for investors over the long term (including dividends). Please see my previous article for more details about my investment thesis on Wal-Mart.
Q1 Earnings
Wal-Mart generated Q1 EPS of $1.14, which fell short of analyst expectations of $1.15. However, EPS increased from $1.09 last year. Wal-Mart's revenue also fell short of expectations.
Segment Overview
The following is a breakdown of Wal-Mart's performance by segment.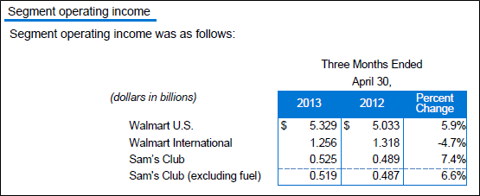 (Source: Wal-Mart's Q1 Earnings Release)
Wal-Mart U.S.
The U.S. business generated a lot of negative attention by delivering negative -1.4% comp sales performance. Wal-Mart's management said that traffic was down -1.8%, but tickets were up 0.4%. Wal-Mart's executives blamed the performance on a delay in IRS refund checks, higher payroll taxes, bad weather and less grocery inflation.
It will take time to tell if these factors were really to blame for the weak Q1 performance or if there is a larger problem under the surface.
Wal-Mart's U.S. business is so big that one of my main concerns is that it will not be able to continue to grow and will lose share to competitors, especially online competitors. Therefore, I am interested in the market share statistics that Wal-Mart gives investors. I recognize that these statistics may not be completely accurate, but they are the best data available.
Despite the negative comp sales performance, Wal-Mart's market share metrics seemed encouraging. Wal-Mart's management said the following on the Q1 earnings call:
We also continued to gain market share across several categories. According to the Nielsen Company, we gained 20 basis points of market share in the measured category of "food, consumables and health and wellness/OTC" during the 13 weeks ending April 27, 2013...

In food, we've made great progress in the quality of our fresh departments, and I'm particularly excited about the momentum in the produce area. We've improved our process for handling and culling produce, allowing us to get the freshest assortment in front of our customers. In the first quarter, we started to see the positive results, evidenced by a mid single-digit positive comps in produce and market share gains for the 13 weeks ended on March 30, according to Nielsen.

In consumables, we also continued to gain market share across most departments. And I'm particularly encouraged to see customers respond to our price investment strategy, evidenced by the Nielsen data that shows noticeably higher market share gains in areas where we invested in price in the first quarter. Overall, our performance in consumables was mostly driven by the "everyday need" categories.

Health and wellness generated a low single-digit negative comp. While units were up, we experienced the largest brand-to-generic impact to date, coupled with an overall increase in generic versus brand sales. While our Rx business was pressured by the brand-to-generic impact, we continued to see strength in OTC, with solid comp sales and market share gains, according to Nielsen. (Source: Seeking Alpha, emphasis added by author)
It is especially important for Wal-Mart to gain market share in these categories because they drive high frequency traffic.
In the media call, Wal-Mart's CFO said the following about the start of Q2:
Starting off with the second quarter; we see very healthy positive comps right now. (source: Wal-Mart's Q1 Media Call)
Although it is discouraging that Wal-Mart's U.S. traffic was down -1.8% in Q1, these market share gains are important. At some point Wal-Mart will not be able to expand market share, but it seems to still have some room to expand.
Wal-Mart International
Wal-Mart reported the following for the international business:
Walmart International grew net sales 2.9 percent to $33.0 billion. On a constant currency basis, Walmart International's net sales would have increased 5.4 percent to $33.8 billion. Walmart International gained market share in a majority of the countries in which we operate. (Source: Wal-Mart press release).
Wal-Mart's management team said the following about the Q1 results of the international business:
Walmart International is an important contributor to top line growth. During the first quarter, we delivered a respectable top line. We feel good about the net and comp sales, especially given last year's really strong first quarter, the loss of leap day, and weather issues. (Source: Seeking Alpha)
The Q1 margin performance of the international business was a larger disappointment, but I am more focused on the top line. Wal-Mart has a lot of expansion opportunities internationally and it is important that the company capture them quickly. Over time Wal-Mart can improve the margin performance of those businesses.
Sam's Club
Sam's Club revenue increased 0.1% year-over-year, or 0.5% excluding fuel. The important news from Sam's Club was the increase of membership fees. Wal-Mart stated in the press release:
As of May 15, Sam's Club increased its membership fee to $45 nationwide for both Advantage and Business base memberships, reflecting a $5 and $10 increase, respectively. The fee for Plus membership remains $100. This is Sam's Club's first fee increase since Jan. 2006.
It is interesting that Sam's Club is rolling out this membership fee increase now, despite the weak economic environment. This seems to be a sign of confidence in the business and may signal that the environment is a bit better than we may expect. It will be interesting to see if there is any backlash to the price increase.
Expansion Plans
Because of Wal-Mart's size, the obvious question is how much more can it grow. Furthermore, the expansion plans in the U.S. call for a shift to building smaller size stores and it is unclear how successful the company will be with these new formats.
In Q1, Wal-Mart added 38 new units in the U.S. and converted eight units to super centers. The 46 units (including the conversions) consists of 24 super centers, 24 small formats and one discount store. In total, Wal-Mart added 3.6 million incremental square feet.
In Q2, Wal-Mart expects to add 60-65 new units, representing 4 million square feet. Management also reiterated the guidance for 15-17 million square feet of growth in this fiscal year.
E-commerce
One of the biggest threats to Wal-Mart is e-commerce and, specifically, Amazon (NASDAQ:AMZN).
In Q1, Wal-Mart enhanced its e-commerce operations, especially in the U.S. Wal-Mart's e-commerce business grew 30% in Q1.
Wal-Mart's management said the following about the expansion of its e-commerce distribution in the U.S.:
We're also very excited about the opportunity to grow the Ship from Store program. You've heard us talk about the power of our physical footprint and how we plan to utilize our presence across the country as an additional asset in our fulfillment network. We're pleased with the initial results and are currently shipping certain orders from 35 stores straight to customers' homes. We expanded the pilot considerably in the first quarter and will continue to expand strategically throughout the rest of the year. (Source: Seeking Alpha)
Furthermore, Wal-Mart's e-commerce business is growing internationally:
In the U.K., we're the second largest online grocer, while in Brazil we were just named the number one trafficked ecommerce site. And, you've heard us talk about our investment in Yihaodian, one of the fastest growing e-commerce businesses in China. (Source: Seeking Alpha)
It is too early to tell how Wal-Mart will deal with the move from offline to online retailing. So far, Wal-Mart seems to holding its own. But the sector is changing rapidly and there is no guarantee of future performance.
Capital Allocation
In Q1 Wal-Mart returned approximately $3.8 billion to shareholders.
It increased the dividend for FY 2014 by 18% and paid $1.6 billion of dividends in Q1.
Wal-Mart purchased approximately 30 million shares for approximately $2.2 billion. This would suggest an average price of approximately $73 per share. Currently, Wal-Mart's shares are trading at $77.87.
As of April 30, Wal-Mart only had $1.5 billion remaining on its $15 billion buyback authorization. I would expect Wal-Mart to announce a new buyback program soon, which could be a catalyst for the stock price. It will be interesting to see how Wal-Mart executes its buybacks now that the share price has broken out of the range going back to 1999.
Guidance
Wal-Mart gave EPS guidance of $1.22 - $1.27 for the next fiscal quarter. The guidance includes incremental expenses for e-commerce of $0.02 per share in Q2 (and $0.09 per share for the fiscal year).
Analysts were expecting $1.29 of EPS in the next fiscal quarter, so the guidance was a bit disappointing.
Stock Price
Wal-Mart's stock price has been trading in a tight range for the last month and barely moved after Q1 earnings.
The horizontal line in the chart below represents the previous high set in 1999.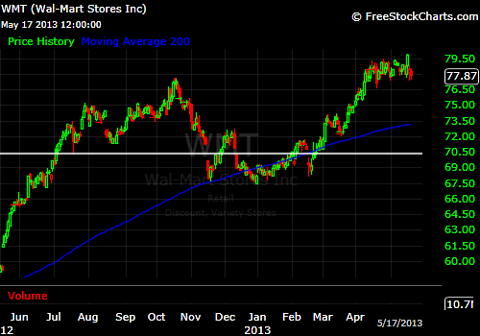 Wal-Mart is the 21st largest company in the S&P 500 (NYSEARCA:SPY) and represents 0.89% of the SPY ETF. It also represents 8.1% of the Consumer Staples Select Sector SPDR® Fund ETF (NYSEARCA:XLP).
The following compares Wal-Mart with the S&P 500 and the XLP ETF.
On a year-to-date basis, Wal-Mart is slightly lagging. It is especially interesting that Wal-Mart is lagging the XLP ETF.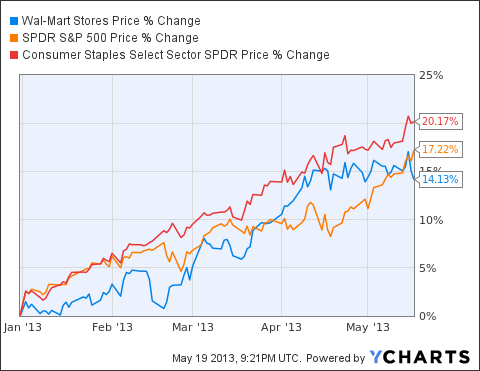 WMT data by YCharts
Valuation
Wal-Mart seems to be trading at a reasonable valuation. Its LTM P/E multiple is 15.5x and its forward P/E multiple is 14.7x.
These valuation metrics are a bit lower than the market average.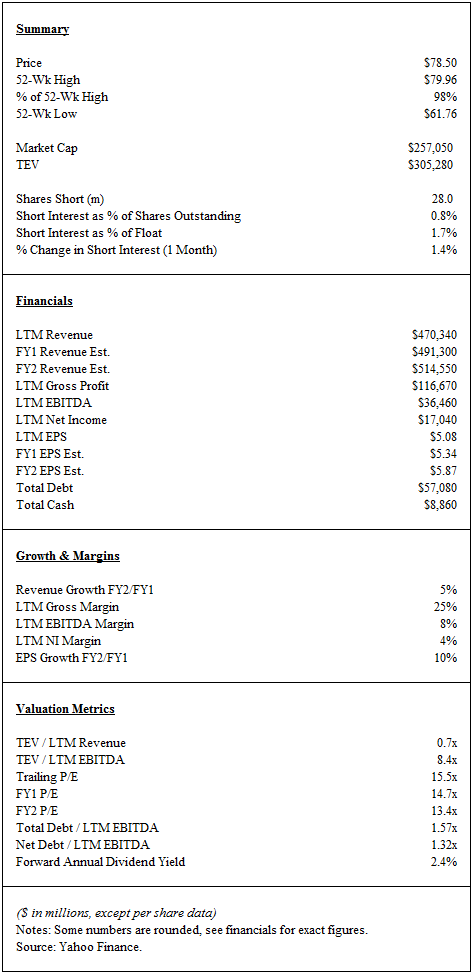 Comps
The following table shows Wal-Mart's valuation in comparison with two peer groups. Wal-Mart's valuation seems reasonable, maybe even low, compared with its defensive peers.
Wal-Mart's core comps are: Costco (NASDAQ:COST), Target (NYSE:TGT), Dollar General (NYSE:DG), Dollar Tree (NASDAQ:DLTR) and Family Dollar Stores (NYSE:FDO).
I also compared Wal-Mart to the top 10 companies in the Consumer Staples Select Sector SPDR® Fund ETF (XLP).
The other top companies in the XLP ETF are: Procter & Gamble (NYSE:PG), Coca-Cola (NYSE:KO), Philip Morris (NYSE:PM), CVS Caremark (NYSE:CVS), Pepsico (NYSE:PEP), Altria (NYSE:MO), Colgate (NYSE:CL), Mondelez (NASDAQ:MDLZ) and Costco.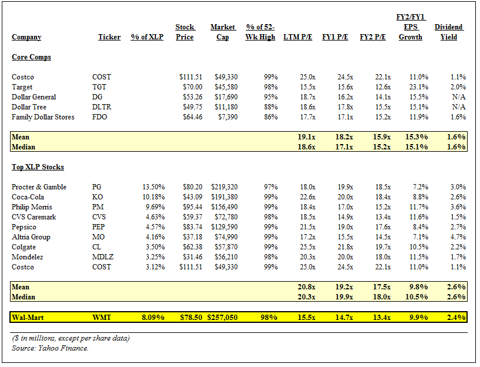 Risks
The following are my key concerns about Wal-Mart, which I mentioned in my previous article:
Competition from online retailing
Competition from dollar stores and other companies
May lose its price advantage over time
Already huge size means that it is harder to achieve incremental growth
Experimenting with new size formats in the U.S. and unclear how it will be received
Potential for global recession and/or U.S. recession and other macro factors (low probability)
Cost inflation and ability to pass it along
Legal issues in the international segments (like the Mexico bribery issue)
Ability to grow margins in all segments
Labor issues
The macro environment could negatively impact my short- and medium-term outlooks for Wal-Mart. I regularly write about my macro outlook. Currently, I am bullish, but if the macro changes then my outlook for Wal-Mart would change. My most recent articles about macro issues are here:
Conclusions
Wal-Mart's Q1 results seemed a bit weak. However, I approach Wal-Mart from a long-term perspective and I am not going to change my bullish outlook because of the Q1 results. The biggest red flag in the Q1 results was the drop in traffic in the U.S. business. It is important to follow this in future quarters, but not a reason to turn bearish now.
Although Wal-Mart is trading near record highs, its valuation seems reasonable. Its P/E multiples are below the market average and look attractive compared with other high-profile defensive companies.
Wal-Mart is running out of room on its buyback authorization and I expect it to announce a new buyback program over the next few months. This could be a positive catalyst for the stock price.
Over the long term, I expect Wal-Mart to generate a 10-15% total return, consisting of stock price gains and dividends. I remain bullish on Wal-Mart for the long term.
Disclosure: I am long WMT. I wrote this article myself, and it expresses my own opinions. I am not receiving compensation for it (other than from Seeking Alpha). I have no business relationship with any company whose stock is mentioned in this article.
Additional disclosure: I may trade any of the securities mentioned in this article at any time, including in the next 72 hours. I am long puts on the SPY ETF, which stand to gain in value if the SPY ETF declines.
Disclaimer: The opinions expressed above should not be construed as investment advice. This article is not tailored to specific investment objectives. Reliance on this information for the purpose of buying the securities to which this information relates may expose a person to significant risk. The information contained in this article is not intended to make any offer, inducement, invitation or commitment to purchase, subscribe to, provide or sell any securities, service or product or to provide any recommendations on which one should rely for financial, securities, investment or other advice or to take any decision. Readers are encouraged to seek individual advice from their personal, financial, legal and other advisers before making any investment or financial decisions or purchasing any financial, securities or investment related service or product.
Information provided, whether charts or any other statements regarding market, real estate or other financial information, is obtained from sources which we and our suppliers believe reliable, but we do not warrant or guarantee the timeliness or accuracy of this information. Nothing in this article should be interpreted to state or imply that past results are an indication of future performance.
THERE ARE NO WARRANTIES EXPRESSED OR IMPLIED AS TO ACCURACY, TIMELINESS, COMPLETENESS, OR RESULTS OBTAINED FROM ANY INFORMATION IN THIS ARTICLE OR ANY LINKED WEBSITE.