The share price of International Business Machines (NYSE:IBM) has recently recouped some loss incurred in April following the company's lackluster Q1 earnings results. At $208.44, the stock is trading near to its 52-week high of $215.90 achieved in March and offers a 1.8% dividend yield. There are three reasons supporting my view that IBM is still a buy at this level:
1. The stock's forward P/E multiple at 12.2x is still trading at a 20.3% discount to the same multiple of S&P 500 Index, which stands at 15.4x now (see chart below).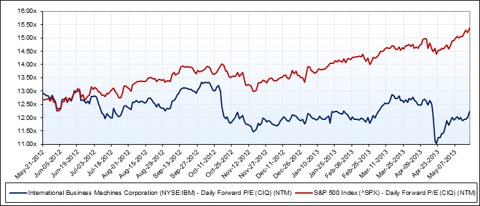 This relative valuation signals a great buying opportunity as the market discount is somewhat exaggerated provided that 1) the discount averaged at just 10% over the past 12 months; 2) IBM's consensus five-year earnings growth estimate at 11.4% is considerably above the average estimate of 8.2% for the S&P 500 companies; 3) the company also generates robust return on invested capital as reflected by its superior ROE and ROIC ratios, both of which have been consistently above 20% over a number of years; and 4) the stock has a dividend yield of 1.8% and a sizable buyback program in place.
Further, IBM's forward P/E multiple has compressed by 5% over the past 12 months, which was primarily attributable to the company's top-line growth slowdown as reflected by multiple downward revisions on the firm's consensus revenue estimates for 2013 and 2014 (see chart below).

Nevertheless, the company's consensus EPS estimates for 2013, 2014, and 2015, have experienced some upward revisions over the past 12 months, and the current levels are notably above the historical figures in 12 months ago (see chart below).

2. From a historical standpoint, the current valuation seems quite attractive. The stock's current trailing P/E is fairly in line with its five-year historical average (see chart below).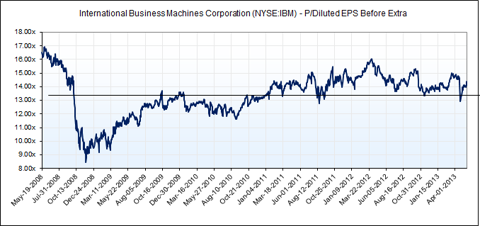 Over the five-year period, IBM has been able to slightly improve its ROIC and ROA performance (82.9% and 25.8%, respectively, on trailing 12-month basis) and markedly boost it's the return on equity. The firm has also been able to drive up its profitability. Moreover, although IBM's revenue, EBITDA, and EPS growth rates have slowed down recently, their consensus estimates for the current and next 2 fiscal years are showing a recovery, which would revert to the five-year average (see charts below). As such, the fundamental developments would likely be able to substantiate a modestly higher valuation relative to the historical average.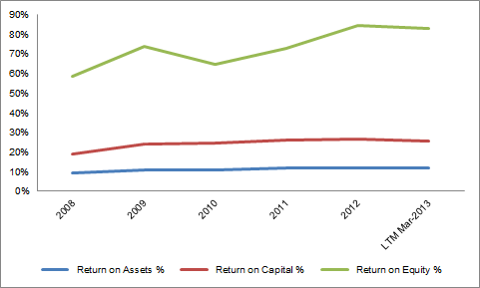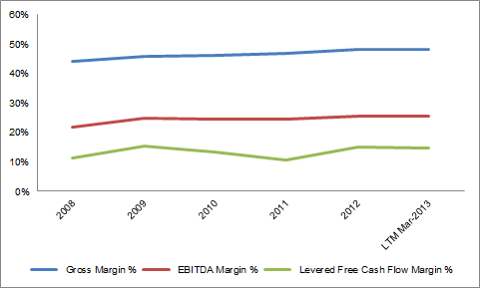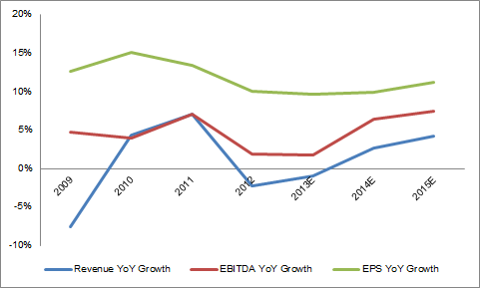 3. IBM recently announced to increase its dividend per share by 11.8% and ramp up the share buyback program by $5B. In a JP Morgan research note released on April 30, Mark Moskowtiz commented on his view on the implications of the capital return plan which I tend to agree with (sourced from Thomson One, Equity Research):
We think that IBM may need to expand its acquisition strategy to obtain new capabilities and greater revenue/earnings synergies given the recent slowing in the consolidated revenue profile. In our view, the moderated pace of shareholder-friendly activities does add support to our view that larger acquisitions will be required for IBM to achieve its $20 EPS target by 2015. We think an expanded acquisition strategy would entail acquiring assets with larger revenue bases. Here, we are thinking of acquisition size of $5 billion-plus, which is much higher than IBM's $250M to $1.5 billion target zone in recent years.
Given IBM's track record of solid execution on transaction price and cost integration, I believe the potential expanded acquisition strategy would be an upside catalyst.
Bottom line, as the stock was oversold in April and has still likely not recovered to its full value, investors should take the opportunity to add more shares and watch closely for any acquisition-related news.
All charts are created by the author except for the consensus estimate tables, which are sourced from S&P Capital IQ, and all financial data used in the article and the charts is sourced from S&P Capital IQ unless otherwise specified.
Disclosure: I am long IBM. I wrote this article myself, and it expresses my own opinions. I am not receiving compensation for it (other than from Seeking Alpha). I have no business relationship with any company whose stock is mentioned in this article.