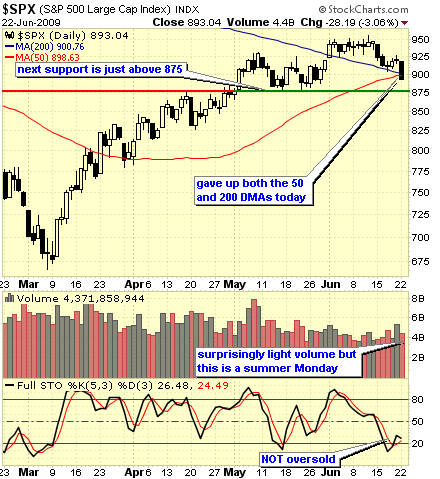 It's all about the bounces today.
The Dow made a 2.5% move yesterday and is 4% off Friday's open and is 6.4% off its June 10th high and is 5.3% off the June 12th close. Let's say we're going to be looking for a 0.3% move back up as the first test at 8,370. Failing that, we're almost certain to be heading down a point to test 5% off Friday's open and 7.5% off the June 10th high. Failing to hold that and we are certainly going to be looking at a 10% correction, down to about 8,000.
As you can see from Trader Mike's chart, the path of least resistance on the S&P is also one that leads to a lower test, and the declining 200 dma is going to make it difficult to turn back up without some volume, which has been sorely lacking since early May.
Over in Asia, the Hang Seng dropped 2.9% this morning, finishing down 521 at 17,538, down 8.5% from the June 12th high. That is the same as the drop in the Bombay Sensex and more than the 6% drop in the Nikkei and the Shanghai hasn't really dropped at all. EU markets are also down about 6% off their highs so that seems to be the magic pullback number for the global markets. We'll be watching for 1% retracements back to the 5% rule across the board, but we're not going to get too excited unless we break over there with some authority. Oil has been pumped up pre-market from $66.50 at 4:30 am to $68.15 at 8:20 so there's a big demand for oil on the NYMEX when no one is trading it anyway.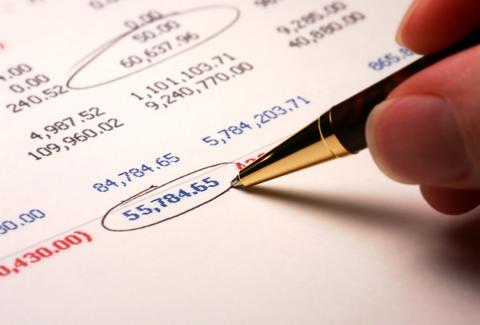 3 of China's banks have been cited by the National Audit office with lending irregularities and improper activities. Industrial & Commercial Bank of China Ltd., China Construction Bank Corp., and China Citic Bank Corp. said in separate statements the findings won't have an impact on their results or materially affect past earnings. None of the three banks disclosed the size of the irregular loans. The country's chief auditor, Liu Jiayi, said in February his office uncovered some serious illegal activities involving 6 billion yuan (US$878 million) during an audit last year of financial institutions. ICBC, China's largest lender by assets, said Tuesday the audit report found "there were weaknesses in the operation and management of certain branches of the bank."
US banks are having their own troubles as 3 banks that got TARP money have stopped paying dividends owed to the US government as they sink deeper into debt. Pacific Capital Bancorp (NASDAQ:PCBC), a Santa Barbara, Calif., lender that got $180.6 million from the Treasury Department in November, has since posted net losses of $49.7 million. Pacific Capital said Monday that it suspended dividend payments on its common and preferred stock as part of a wider effort to save about $8 million per quarter. A bank spokeswoman confirmed that the U.S.'s preferred shares are included in the dividend freeze. Seacoast Banking Corp. of Florida (NASDAQ:SBCF), and Midwest Banc Holdings Inc. (MBHI), of Melrose Park, Ill., have also halted their TARP-related dividends, citing the banking industry's turmoil and a desire to fortify their balance sheets.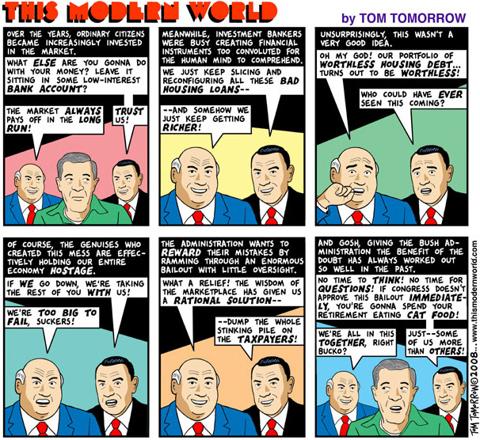 The moves are a sign of the deepening misery for large swaths of the U.S. banking industry, suffering under bad loans and the recession even as large firms such as J.P. Morgan Chase & Co. (NYSE:JPM) and Goldman Sachs Group Inc. (NYSE:GS) rebound from the crisis, including by repaying their TARP funds last week. The halted dividends also raise questions about the Treasury's assertions that the capital infusions represented sound taxpayer investments because they were only going to healthy institutions. "Here the government has given the banks money at great terms, but the fact that they can't keep up with it is worrisome," said Michael Shemi, an investor at New York hedge-fund firm Christofferson, Robb & Co. "It tells you of the deep problems of community and regional banks."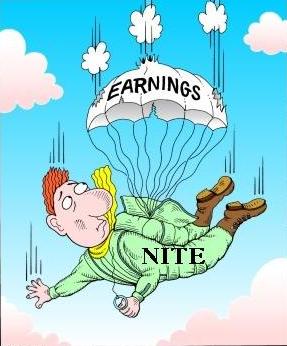 Speaking of banks - we have existing home sales at 10 am today. Let's remember, in the last report, we were selling at a rate of 4.68M homes but 45% of all sales in the April report were distressed sales by the banks so not, on the whole, encouraging. Inventory of homes jumped from 3.648M to 3.968M as more homes were listed but not bought and the Median price was down 15.4% from last year. We get earnings on Lennar (NYSE:LEN) on Thursday and KB Homes (NYSE:KBH) on Friday that will also give us a good picture of what's up in the housing market.
Other earnings of note this week are Darden Restaurants (NYSE:DRI) tonight along with Oracle (NASDAQ:ORCL), Jabil Circuit (NYSE:JBL) and Sonic (NASDAQ:SONC). Tomorrow we get MON, AM and RAD in the morning and COMS, BBBY, CKR, MLHR, NKE, PAYX and RHT after the bell. Thursday is CAG, JTX and MCK in the morning with ACN, FLOW, MU and PALM after the bell. Hard to believe it's earnings time already - it will be refreshing to cut through all the "green shoots" nonsense and get a look at some real data.