As a result of losses sustained on Greek sovereign bonds, corporate loans and residential mortgages, the Greek banking system essentially went bankrupt soon after the 2008 financial crisis. Since then, an arm of the government, the Hellenic Financial Stability Fund, has injected capital into Greece's major commercial banks, using part of the bailout funds received from the troika (i.e., the International Monetary Fund, the European Central Bank and the European Union).
The HFSF initially contributed a total of €27.5 billion of bonds issued by the European Financial Stability Fund (EFSF) to those core commercial banks. Although the accounting for the capital contribution is not immediately clear, it appears that each bank created an offsetting liability (which is counted as capital) in an amount equal to the EFSF bonds received. In the coming weeks, those banks receiving the EFSF bonds will issue new shares, in an amount equal to the liabilities due to the HFSF. Since the HFSF is underwriting these share offerings, it will effectively convert its liabilities into common shares. Each bank is expected to raise at least 10% of the total amount of assistance received from the HFSF from private investors in the new public share offerings. Any bank that fails to do so will effectively be nationalized.
In addition to the common share offerings, many of the core banks will also raise additional capital in the form of contingently convertible bonds, commonly known as COCOs. COCOs typically carry a 7% interest rate, but are automatically convertible into equity when the issuer gets into a financial jam. The use of COCOs potentially limits the dilution of both new and existing shareholders and gives the banks the opportunity to retire these bonds with the proceeds of future capital offerings, presumably at share prices that will increase over time.
Shares of all major Greek banks suffered steep declines in November 2012 and again in early April 2013 on fears about the potential dilution from the upcoming share offerings. The April decline was also probably fueled by the Greek government's decision to scuttle for the time being the planned merger between National Bank of Greece (NBG) and Eurobank.
That merger between Greece's two largest commercial banks had been announced in October 2012. NBG completed a tender offer in late November 2012 in which it issued 58 of its own common shares for every 100 shares of Eurobank tendered. In total, NBG acquired 84.35% of Eurobank's outstanding shares in exchange for 270.5 million of its own shares. The total purchase price, measured using Eurobank's share price near the date that Greece's Ministry of Development approved the merger, was $273.2 million.
The merger was a sound strategic move for both banks. It would have strengthened NBG's market positions in Greece and in southeastern Europe (i.e., Romania, Bulgaria and Serbia). The merged bank would be a clear market leader in southeastern Europe, but it would dominate its home market in Greece, where it would account for about 36% of all of the country's bank deposits.
In the eyes of the troika, the NBG-Eurobank merger would create a systemically important financial institution that might be "too big to fail." The troika was also concerned that it would be too difficult for the merged banks to raise the minimum 10% of the total €15.6 billion of capital contributed by the HFSF to keep both banks afloat. It argued that the two banks should be recapitalized separately.
In early April, the HFSF halted the merger process. NBG officials suggested that the merger was postponed and not cancelled. At this point, it appears that Eurobank has been effectively nationalized. It is not clear what will happen to NBG's 84.35% ownership stake.
As already noted, shares of NBG plunged on the news. NBG shares, which had been falling almost steadily since the beginning of the year, bottomed at $0.61 on April 8. They recovered to $1.01 on May 7 and then went on a tear for the next eight trading sessions, rising to a peak of $2.47 on May 17. In early trading on Monday, they have given back a good part of those gains, falling to a low of $1.33 before rebounding to about $1.60.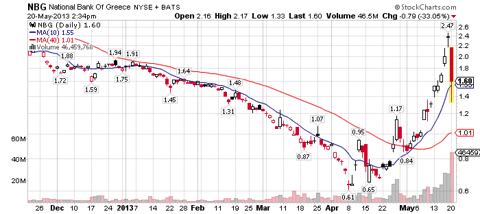 Chart Courtesy of StockCharts.com
Compared with the other two major Greek banks -- Alpha Bank (OTCPK:ALBKY) and Piraeus Bank (OTCPK:BPIRY) -- NBG is thought to be in worse shape, primarily because it had a shareholders' deficit of $2.12 billion at December 31, 2012. Reuters reported in early March that investors were balking at the terms of the private share capital offerings in general, because it would require them to plug the holes in banks' balance sheets. Those investors apparently wanted the HFSF to cover that shortfall before they put new money in. We should know the outcome of these deliberations within the next few weeks.
NBG has received €9.7 billion of EFSF bonds from the HFSF, including €7.4 billion in May 2012 and another €2.3 billion in December 2012. These contributions brought NBG's capital adequacy ratio to a respectable 9% at year end. In order to meet the minimum 10% threshold, NBG will be required to raise at least €975 million from investors in its common share offering.
On May 13, NBG absorbed the assets and liabilities of First Business Bank (FBB), a small bank with 19 branches in Greece. FBB had been taken over by the HFSF, which separated its good assets from its problem assets. NBG got the good assets in a relatively small acquisition (assets of €1.4 billion, net assets of €95 million). By comparison, NBG's assets at the end of 2012 totaled €104.8 billion. It is conceivable that a similar good bank-bad bank solution could be employed to allow NBG to complete its merger with Eurobank.
It has also been reported that the HFSF is in the process of merging Eurobank with Hellenic Postbank (OTC:TTHPY). If this is true, it is possible that NBG could receive certain assets of Eurobank, like its southeastern Europe operations, for example, that may be a good strategic fit for NBG, but not such a good fit for the Eurobank-Hellenic Postbank combination.
Either way, it is probably a good bet that if the NBG-Eurobank merger is cancelled, NBG will end up with some of Eurobank's assets or some other form of suitable compensation in exchange for its 84.3% ownership position.
Last week, the Financial Times reported that a number of hedge funds have taken large positions in the shares of Greek banks in anticipation of the recovery of the sector. The two other large Greek banks, Alpha and Piraeus, are reportedly about to come to market with share (and attached warrant) offerings under terms that are rumored to be quite favorable. Although these hedge funds have reportedly agreed to participate in these share offerings, they all refused to comment on the matter.
In the press release accompanying the FBB acquisition, NBG said that it planned to issue the prospectus for its proposed common share and COCOs offering within the next couple of weeks, after the document has been approved by the Hellenic Capital Markets Commission. The Bank has said that it anticipates raising €9.756 billion of equity (equivalent to the amount contributed by the HFSF) plus another €1.9 billion of COCOs.
NBG shareholders have also approved a 1-for-10 reverse split of its shares. This will effectively raise NBG's share price, making it more likely that institutional investors will participate in the new share offering.
Greek bank shares have doubled over the past month, essentially recovering the losses suffered in early April and maybe a little bit more, probably in anticipation that the terms of the bank recapitalization will not be as dire for existing shareholders as originally believed. We will not know with reasonable certainty whether the rebound in NBG's share price is justified until we see the term sheet for the share offering.
On the one hand, it is clear that both the Greek government and the troika want the Greek banking sector to get back on its feet. The return to the banking system of deposits that had previously fled the country and the Greek economy's anticipated return to growth sometime in 2014 augur well for the future. The Greek government looks like it will provide some additional support to NBG, to plug a large part of NBG's shareholders' deficit, either by giving NBG valuable, "scrubbed" assets, like FBB or parts of Eurobank, or it could conceivably alter the terms of the HFSF's equity holding to reduce the potential dilution to new and existing shareholders. The rebound in the share prices of NBG and the other Greek banks therefore reflects greater optimism about a favorable resolution with the Greek government.
At the same time, however, Greece's economic recovery remains fragile and the Greek banks have not yet resolved all of their problems. New problems could arise in other European markets, like Spain, Italy or even France, that could also deal Greece a setback. We think that there is still good upside potential in NBG's risky shares, but rather than buying more shares now, we would prefer to wait to see the new offering. If the terms are favorable, we are likely to participate in it.
An earlier version of this article appeared in the May 16, 2013 issue of Income Builder (Bulletin 1397).
Disclosure: I am long NBG. I wrote this article myself, and it expresses my own opinions. I am not receiving compensation for it. I have no business relationship with any company whose stock is mentioned in this article.