I have written a lot about the MLP industry and I'm partial to the 3 MLPs which have companion corporations. Traditional MLPs are partnerships with tax advantaged high yields but also carry a fair amount of tax hassle. Federal taxes get complicated and income for each state in which the company operates is also reported. In contrast, the basic business for a corporation is to hold units with limited tax consequences in the partnership.
Linn Energy (LINE), a 10-year-old MLP, is an upstream MLP that extracts energy from the ground and has grown rapidly by aggressively acquiring properties. Most MLPs are midstream companies with pipelines and terminals that move energy from the source to destination markets. The business is to collect tolls on their pipelines.
LINE is currently making its largest acquisition, Berry Petroleum (BRY), for $4 billion-plus. Acquisitions in 2010-2013 will total $10 billion when the BRY transaction is completed by July. This merger is accretive to distributable cash flow per unit (used to pay distributions), 40¢ in the first full year. The distribution is guided to increase from an annual rate from $2.90 to $3.08 beginning in Q4.
Because LINE has exposure to price swings in oil and gas, it has become an MLP leader in hedging. For that investors require a higher yield than on traditional MLPs. The Alerian MLP index, near a record price of 458, has a yield of 5.7% versus yields of roughly 8% on Linn securities. As a reminder, higher yields are associated with greater risks for security holders.
The company aggressively uses hedges to manage its business by selling its energy production before it is extracted. Expected natural gas production through 2017 and oil production through 2016 are hedged at attractive prices. Hedging is common in many businesses. Farmers use these financial products to help manage their businesses as do airlines, large food companies and many other companies.
To help with future acquisitions, last October LINE had an IPO for LinnCo (LNCO), a companion corporation, which raised over $1.2 billion. Each share of LNCO has one unit behind it and receives a dividend equal to (or slightly less because of tax issues) the distribution paid on LINE. Starting in July, distributions/dividend payments will be paid about the 14th of each month rather than quarterly.
This has been an eventful year for LINE, aggravated by 2 negative articles published by Barron's. The first article was written on February 16 and the second article on May 4. In the last 2 weeks, LNCO sank 10% to $37.76 and LINE fell to $35.13. Selling raised the yield for LNCO to 7.7% and the yield for LINE to 8.25%. The distribution/dividend will be increased to a $3.08 annual rate beginning in October. Management is guiding that annual distributable cash flow per unit (used to fund distributions) will be over $3.25 for 2013-2015.
The thrust of the negative articles was that because of losses from financial transactions (hedging), there won't be enough cash flow to fund the distributions with an underlying thread that the company doesn't know what it is doing. The short position for LINE was been high. It almost doubled in February after the first negative article and remained at high levels since then. The short position for LINE was over 15 million units and another 5 million shares for LNCO as of April 30.
These are complex financial transactions, so difficult even experts don't understand everything. With the whale loss experienced by JPMorgan (NYSE:JPM) last year, it is difficult to understand who knows what. However, Linn routinely makes presentations (when hedging strategy is discussed) to the financial community. The schedule (from its website) is shown below: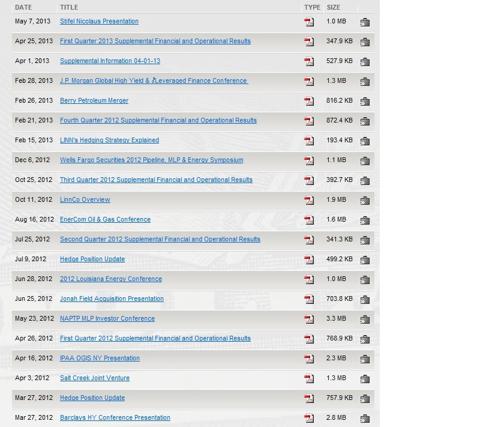 I bought LNCO shares after the first negative article on LINE when the units sank from excessive short selling. The stock rebounded after Q1 results and the announcement of buying BRY. For those who want to purchase the stock with an immediate discount, the spread between BRY and the LNCO equivalent offers an attractive discount. After shareholder approval, 4 shares of BRY will be exchanged for 5 shares of LNCO by July. At $44.55, 4 BRY shares cost $178.20 which is equivalent to $188.80 in LNCO stock. Those 5 shares will receive $15.40 ($3.08*5) in annual dividends starting in October, giving a 8.7% yield (based on today's purchase price of BRY shares). Brave investors who are willing to do battle with the shorts will be attracted to this.
Buying LINE/LNCO units/shares is a personal decision for each investor. The best consultant is a financial advisor familiar with the financial profile of his or her client. This purchase decision comes down to the classic choice of evaluating risk versus reward. I like the rich yield with growing dividends, especially when low yields are common, and believe management will deliver rewards over the years. 10 equity income mutual funds have over $306 billion invested in Linn securities as of April 30, 2013. I like their thinking.
Disclosure: I am long LNCO, JPM. I wrote this article myself, and it expresses my own opinions. I am not receiving compensation for it (other than from Seeking Alpha). I have no business relationship with any company whose stock is mentioned in this article.