During Alan Greenspan's tenure at the helm of the Federal Reserve (1987-2006), the investment community created a phrase to capture the former chairman's wordiness. "Fed Speak" aptly described the long-winded ambiguity in his statements. In fact, it is likely that Mr. Greenspan was intentionally vague to reduce extreme price swings in the stock market.
In 2013, the new sheriff offers citizens a different kind of "Fed Speak." Chairman Bernanke has been remarkably straightforward with his plan to print U.S. dollars to buy U.S. sovereign debt. Not unlike his European counterpart's infamous promise to do whatever it takes to protect the euro, Bernanke's Fed will purchase government bonds until unemployment reaches 6.5%.
In spite of an infinitely more direct approach, Bernanke has explained that the Fed reserves the right to increase or decrease the pace of bond purchases. More recently, there has even been speculation that the Fed would stop printing money sooner and/or change the unemployment target to 7.0%. It follows that, in the quest to be more transparent, Fed Speak is as maddening as ever. Investors do not know what the Fed will actually do because they themselves reserve the right to change on the fly. (The positive spin for the right to change one's mind is called "flexibility.")
However, realists recognize that the Fed's extreme policy measures have been more successful at creating an artificial wealth effect than creating jobs or stimulating the economy. The labor force participation rate is bleak, wage growth is non-existent and corporate revenue gains have been anemic. Would home prices be soaring and riskier assets be surging were it not for ultra-low interest rates? Ultra-low rates push people to do things that they normally would not. In fact, if the Fed stopped its quantitative easing program tomorrow, housing would buckle and stocks would collapse.
In essence, Fed Speak may be explicitly communicating that there are a wide variety of possibilities with respect to central bank direction. On the other hand, Fed Speak implicitly communicates that the only option is to continue for years and years and years.
The takeaway for investors? We will see pullbacks, corrections and volatility again… absolutely. Scandals, military action and even buyer fatigue can set major indexes back temporarily. Yet the desperate quest for yield in a zero-interest-rate world coupled with company refinancing of debt and subsequent stock share repurchasing guarantee asset price inflation in the intermediate-term. (The long-term… you're not going to want to think about it right now!)
Armed with this knowledge, there are a variety of stock ETFs that make sense on a pullback to a 50-day moving average. (Yes, I'd wait for it.) For example, PowerShares Buyback Achievers (NASDAQ:PKW) is a savvy ETF for taking advantage of a corporations that repurchase 5% or more of their outstanding shares over the trailing 12 month period. PKW has practically doubled the performance of comparable benchmarks since the 3/09 bull market began.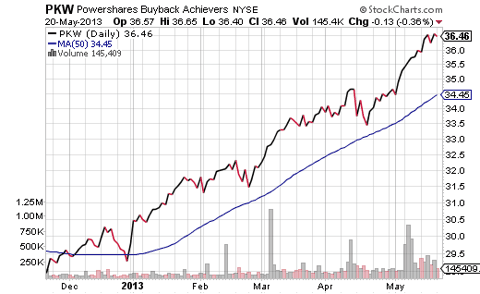 Another wave that is worthy of consideration is the second coming of dot-com. While the Facebook (NASDAQ:FB) IPO fiasco may make it seem like Google (NASDAQ:GOOG), Amazon (NASDAQ:AMZN), eBay (NASDAQ:EBAY) and Netflix (NASDAQ:NFLX) are yesterday businesses, their business models have improved dramatically over time. Many are mature enough to have survived the so-called New Economy, yet they are new enough to offer remarkable growth at fair prices. I prefer First Trust DJ Internet (NYSEARCA:FDN) over PowerShares NASDAQ Internet Portfolio (NASDAQ:PNQI); the former has a lower allocation to Facebook and significantly greater trading volume.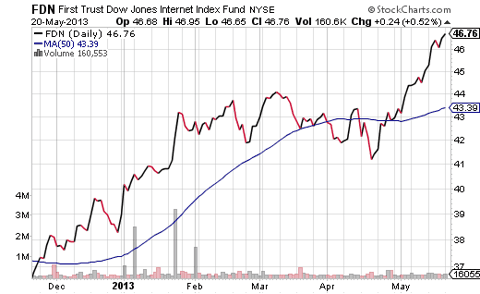 Click here for Gary's latest podcast.
Disclosure: Gary Gordon, MS, CFP is the president of Pacific Park Financial, Inc., a Registered Investment Adviser with the SEC. Gary Gordon, Pacific Park Financial, Inc, and/or its clients may hold positions in the ETFs, mutual funds, and/or any investment asset mentioned above. The commentary does not constitute individualized investment advice. The opinions offered herein are not personalized recommendations to buy, sell or hold securities. At times, issuers of exchange-traded products compensate Pacific Park Financial, Inc. or its subsidiaries for advertising at the ETF Expert web site. ETF Expert content is created independently of any advertising relationships.