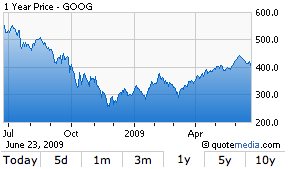 Google (NASDAQ:GOOG) should report 2Q09 earnings sometime in the second week of July, and although I would not aggressively chase the stock at these levels, the bar versus consensus, once again, appears easy to beat.
I aggressively accumulated shares in the stock around the $250-$275 levels late last year, when all was doom and gloom for the stock, but have taken profits along the way as the market rebounded and Google's stock rebounded along with it. However, my work shows that the model has upside and we could see another 20%-plus appreciation in the shares from current trading levels. Further, if under the new cost conscious CFO, margins improve meaningfully, then we could see a clean $30 Adj. EPS figure in 2010, which would imply a $600 share price.

Consensus has Google delivering $4.031 billion in revenues in 2Q09, up 3.5% YoY but down 1% QoQ, $2.48 billion in EBITDA (61.7% margin), and $5.03 in Adjusted EPS.

My own model has Google reporting $3.993 billion in revenues (+3% YoY, -2% QoQ), $2.485 billion in EBITDA (62.2% margin), and $4.99 in Adjusted EPS. My revenue numbers are based on 15% YoY growth in paid leads and a 13% YoY decline in CPCs, with modest support from YouTube, CPM based revenues, and Licensing/Other revenues. The model assumes a less negative $375 million YoY FX impact and that Google is able to hedge $135 million of that figure for a net $241 million negative FX impact. The wildcard is the actual cost of the hedge, which shows up below operating income, and is difficult to predict.
Another is the bonus accrual which is also difficult to predict. Both could lead to variability in the EPS report. Excluding those items, I believe Google's new found cost disciple under the new CFO Patrick Pichette, should lead to significant margin improvement that is likely to start showing up this quarter. Supporting my thinking is a reduction in the growth rate of employee expenses due to the slowed hiring rate, less depreciation and some operating costs due to lower capex spending, removal of FX headwinds if the dollar goes into a tailspin due to the heavy stimulus spending (see my 2009 predictions), and tempering of the discretionary costs in the model.

Another positive is that commentary from several search engine marketers are suggesting that search ad spending is starting to pick up again.

Google continued to gain market share in online search in the first two months of the quarter but I am keeping an eye on the market share numbers for June and what it shows for the impact of Bing. Google has an enormous lead at 65% share in the U.S. but it is quite possible for them to lose some share if Bing's recent gains are sustainable. Most pundits like Bing but think the share gains are temporary, with some pointing to the quick share gains after cashback was announced. Microsoft (NASDAQ:MSFT) gave back the share gains after the hype from cashback abated.

Others are thinking that the share gains from Bing will come at the expense of Yahoo (NASDAQ:YHOO) rather than Google. In my own experience, I used Bing for a few days aggressively after the launch but I am now back to Google. I consider myself an average search user so my experience could be telling. Nonetheless, I am refusing to write-off the beast from Redmond and I am taking a wait and see approach.

The shares are currently trading at 20x 2009 EPS compared to Yahoo!, which is trading at 40x 09, Amazon at 50x 09, eBay at 12x 09, and IAC at 40x 09. Thus relative to peers, the shares are attractive. I have Google generating $24.13 in Adjusted EPS in 2010 based off 10% growth in paid leads and 1.5% growth in CPC. If the economy recovers in 2010 and the non-FX component of the CPC declines experience over the past quarters proves cyclical rather than secular, then my CPC estimate will increase and my EPS estimate will likely shoot past $25. If I use Google's current trading multiple and apply it to the 2010 EPS estimate, then I am looking at a stock worth $500 for another 20% upside. My DCF values the shares at $508 based on a WACC of 9.5% and a 3% terminal growth rate (16x terminal multiple). If the margin benefits discussed above are realized then it is not unrealistic to see a $30 Adj. EPS number in 2010, which would imply a $600 share price.

A quick note on YouTube. My work shows that the online video site is on track to generate $185 million in revenues in 2009 and grow to $250 million in 2010. While I believe the site is unprofitable, recent loss estimates by Wall Street analysts are too aggressive principally because they are missing the fact that YouTube's costs are spread across Google's operating infrastructure.