Global fast food giant McDonald's (NYSE:MCD) once again posted weaker earnings numbers. Recent performance was highlighted by:
Year-to-date March global comparable store sales numbers -1%,
Flat Q1 2013 operating income
Earnings Per Share (NYSEARCA:EPS) up 3% constant currency
The US, Europe and "AMEA" (Asia Pacific, Middle East and Africa) all showed negative comparable store sales numbers for the quarter as well.
However, McDonald's gained share in many of its most important markets.
For the last few years McDonald's has been a growth powerhouse, with earnings growth often in the double digits. But it looks like this may have changed within the last eighteen months or so. A flat-to-declining Informal Eating Out (NYSEARCA:IEO) market has lowered all boats: fast food restaurants have seen pressure on the top line and McDonald's is not immune. Hence the consistent pressure on comparable sales numbers.
While management has set forth a plan and is executing very well, flat revenues appear here to stay and dividends will not be growing as much as they have in the past few years. With this in mind, McDonald's may not be the best place to put new money to work.
Growth Has Stopped In Developed Markets
Since Europe accounts for 40% of McDonald's revenue and operating profit, recent pressure on top and bottom lines should not be a surprise. The IEO market has not only come under pressure in recession-prone Europe but in the US as well. Only the UK and Russia have stood out with positive comparable numbers for the quarter.
Economic pressures are causing people to go out to eat less. In this new environment, McDonald's has decided that, in developed countries, gaining market share is the only way to win. Store reimaging and menu-optimization, especially in value-minded areas, have helped the company execute on this plan.
Unfortunately, this has resulted in declining margins. McDonald's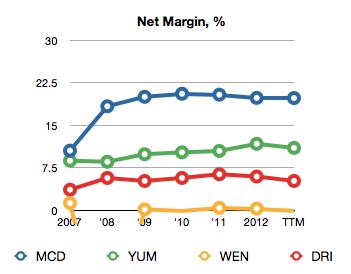 traditionally has the highest margins of all the fast food operators, which is still true. However, the company has another focus in this environment. Executive Vice President Pete Bensen had this to say about margin decline:
As we've always talked that for us margins are much more of a top line gain. (...) And in this environment where you continue to have the cost pressures, so commodities will be up, labor rates are going up et cetera, and yet you have soft economics declining to flat eating-out markets, that battle for market share becomes so critical to the long-term health of the business that we're willing to sacrifice a little bit of margin to maintain that traffic and grow the market share.
There should be some growth from new restaurant openings in AMEA. This year, McDonald's will open 1500-1600 new restaurants and most of them should be in this region. This will provide some kind of long-term growth.
Debt
McDonald's is a stable company and will continue to be. However, the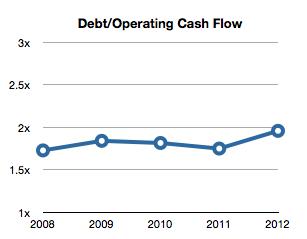 company's debt and debt ratios have been steadily rising as of late. And the new debt is not to fund things such as reimagings and new restaurant openings: Capital Expenditure ((capex)) is completely funded by cash flow. Like many major US companies today, it is the buyback program which is driving debt levels higher. When added to last year's dividend, McDonald's $2.6 billion buyback exceeded Free Cash Flow. Basically, McDonald's can fund all of its capex programs and pay its dividend from cash flow alone. Debt is being driven up by the stock buyback. This is a practice I believe the company needs to stop.
Dividend
Unfortunately, dividend growth investors will be disappointed with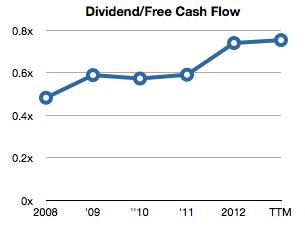 McDonald's for the short and medium-term. The coverage ratio has steadily risen as McDonald's has raised dividends faster than earnings growth for the last few years and they are running out of room. In 2012, the coverage ratio spiked up to 75%. The reason for this was not primarily the dividend boost but in fact an increase in capital spending. Capex has gone from $2.1 billion in 2010 to over $3 billion today. The re-imaging of restaurants has taken a lot of capital. We really shouldn't expect too much dividend growth, perhaps only four percent per year, until the re-imaging campaign is finished.
Valuation: Be Careful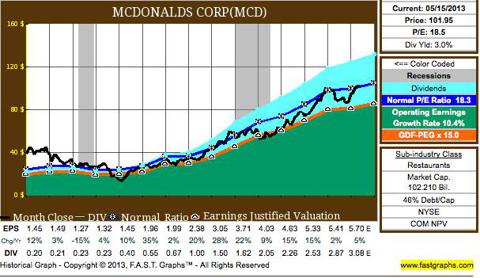 Click to enlarge
Despite the lukewarm growth outlook, McDonald's is fully valued. It's P/E ratio of 18.5 is just about at its normal level (the solid blue line above). The stock dropped and got close to its "Fair Value" (the orange line) in the summer of 2012 but has since jumped back up to over $100. There are better dividend and dividend growth alternatives out there right now, so there's no reason to believe money will continue piling into McDonald's. It's due for a pullback, or at least a period where it doesn't go up. That does not necessarily mean you should sell McDonald's here. If McDonald's is part of your long-term strategy and you are holding it for multiple years of dividends and dividend growth, go ahead and keep it. Things will eventually get better. At these prices, however, now is not the time add shares.
Conclusion
McDonald's is a great company with profitability metrics that are usually best in class. Their "Plan To Win" of optimizing the menu (especially in value terms), re-imaging and overseas expansion is being executed very well. In particular, the menu optimization has been working well to increase McDonald's market share.
However, all fast food restaurants have felt the pressure of a declining IEO market. Until those headwinds change or abate, McDonald's growth prospects will be very limited. Dividends have pretty much hit the ceiling. Furthermore, the stock is fully priced at its normal P/E ratio where it could easily be lower. If you've been looking to add shares of this company, give them a pass for now and wait for a better time.
Stay Tuned
McDonald's is a company I follow regularly and have written about in the past. I will continue to provide update articles when material and relevant.
Additional Sources:
"Net Margin," "Debt/Operating Cash Flow," and "Dividend/Free Cash Flow" charts by author, data by Morningstar.
Disclosure: I am long MCD. I wrote this article myself, and it expresses my own opinions. I am not receiving compensation for it (other than from Seeking Alpha). I have no business relationship with any company whose stock is mentioned in this article.