Chevron Corporation (NYSE:CVX) is one of the so-called supermajors, the six largest publicly owned oil and gas companies, the other five being BP (NYSE:BP), Exxon Mobil (NYSE:XOM), Royal Dutch Shell (NYSE:RDS.A), Total (TOT) and ConocoPhillips (COP).
Chevron history
The oldest predecessor of Chevron, the Pacific Coast Oil Company, was founded 134 years ago in 1879, in the same year that the famous "inventor" of the theory of relativity, Albert Einstein, was born, for those of us who happen to be interested not only in investing but also in history. In fact, relativity is a very relevant concept for investors, as stock prices are also relative - relatively cheap or expensive, compared to the intrinsic value of the companies and prices of other stocks and asset classes. Stock dividend yields are relatively high or low as compared to a risk-free interest rate, bond yields, or other forms of income such as rent.
Coming back from the history of physics to the history of Chevron, at the turn of the 20th century, in 1900, a subsidiary of the famous John D. Rockefeller's Standard Oil acquired the Pacific Coast Oil Company and incorporated it as Standard Oil Co. (California), or SoCal. In 1984, SoCal changed its legal name to Chevron Corporation, after the dominant brand name Chevron that it had been using to market its products for many decades.
Interestingly, Chevron operates one gas station under the Standard name in each of the 16 U.S. states where it owns the Standard Oil brand name, just to maintain ownership of the trademark.
Today, Chevron is one of the largest corporations in the world by revenue, and the world's second largest oil and gas company by market cap. Only Exxon Mobil is worth more.
Why is Chevron an attractive investment?
1. Favorable valuation of the stock
Despite the huge run-up in CVX stock in the last five years and especially in the last 24 months, Chevron is currently trading at a very attractive 9.3 trailing P/E ratio. Chevron's P/E ratio is comparable to its main competitors and is currently in the lower range of the Oil & Gas industry. The stock price has tripled since 2006.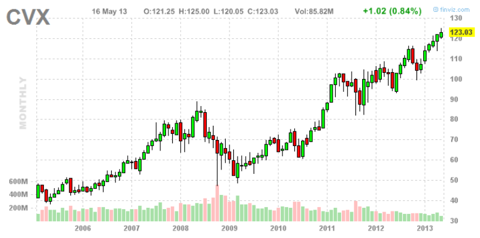 2. Dividend
Chevron's dividend currently represents 3.26% yield, even after this year's 14% price run-up, and it has been rising steadily for over 40 years. The average annual dividend increase over the past five years was 10% p.a. A low payout ratio of just 27.14% is just a cherry on the cake, but a very important one because it may be the main source of dividend increases in the future.

Source: Dividata.com
3. Stable long-term prospects of the energy industry
Energy will always be the backbone of the economy. It is one of the main resources that every modern economy needs and will need for many decades to come. The energy sources or technology may, and probably will, change. However, the basic demand for energy will always be there. Strong, adaptable companies such as Chevron will always be able to anticipate and adjust to future energy trends.
4. Fundamental value
Current Chevron share price is $123
Trailing P/E is 9.28
Forward P/E is 9.81
PEG Ratio (5-yr expected) is 5.87
Price/Sales is 1.00
Price/Book is 1.70
5. Financial indicators
Revenue: $238.02B
Profit Margin: 10.96%
Total Cash: $19.05B
Total Debt: $14.14B
Debt-to-equity ratio: 0.1
Operating Cash Flow: $5.3B
Return on Assets: 11.53%
Return on Equity: 19.49%
6. Natural hedging
Buying an energy sector stock is one of the possible ways to hedge yourself from the future risk of your personal energy costs rising. I described this natural hedging strategy in my very first article.
The risks and challenges
1. The era of growing oil prices may be over
Contrary to many previous projections fretting over the world running out of oil, the date of this Armageddon has been gradually moved further and further into the future. What if oil prices have already peaked, in the summer of 2008 at just below $150 per barrel? Oil may never trade higher than that in absolute or real terms, being now pressured by alternative energy sources and a possible electromobility trend, which would decrease the need for oil in favor of the more efficient and cheaper electricity sources, such as coal and nuclear, and perhaps even solar and wind in the future.
2. The U.S. is a net exporter of oil products
The U.S. was a net exporter of oil products in 2011, for the first time since 1949. This situation cannot be more different from that of ten years ago when the U.S. was a big importer of oil and these imports put pressure on the already negative trade balance. Today, the oil exports may even start putting pressure on the U.S. dollar to strengthen.
This doesn't mean the oil prices will not rise. However, they are likely to copy the future rate of inflation at best.
3. Natural gas boom
The situation is changing, not only due to increased oil drilling in the U.S. using modern methods such as fracking, but also thanks to a huge surge in natural gas production, which is very cost-effective to extract. Natural gas is often extracted as a cheap byproduct of oil drilling. It can replace oil in many applications.
These changes may negatively affect the valuation of the already discovered oil fields and also decrease any future added value of the newly discovered fields.
In other words, Chevron's future earnings growth potential or its price-to-book value might therefore drop.
4. Slow future growth of sales and earnings
As a result of the abovementioned negative factors, Chevron's earnings are currently predicted to rise by just 1.58% per year in the next five years. If the prices of oil started to gradually fall, revenues and profits of Chevron might not even manage to stay flat and could start falling.
Conclusion
Chevron is a well-oiled machine worth investing into at current prices. However, investors need to watch vigilantly the risks described above, especially risks such as oil losing its energy crown and the very small rise in the price of oil expected in the future. Companies will have to grow oil revenues by increasing volume, rather than by ratcheting up the prices. Diversifying into alternative energy sources with brighter futures and better growth prospects will be absolutely necessary.
Many challenges lie ahead of Chevron and other energy companies. However, every threat mentioned above, and many others that Chevron will be facing, can be turned into an opportunity. Chevron is already heavily investing in natural gas and other alternative sources of energy.
Recommendation
At current prices, Chevron is one of the stocks that I will be adding gradually to my portfolio in six monthly purchases throughout the summer, starting in May. With further buying installments, I want to wait and see if the stock market poses at least a slight pullback after sprinting up for six months. There is no rush to buy for a long-term investor. Waiting for the right price and time is the real skill of successful investors.
Disclosure: I am long CVX. I wrote this article myself, and it expresses my own opinions. I am not receiving compensation for it (other than from Seeking Alpha). I have no business relationship with any company whose stock is mentioned in this article.