With all the articles on Seeking Alpha about Intel (NASDAQ:INTC), I tended to overlook them because Intel for the last 10 years has been dead money. The stock has not moved; however, it did pay a nice dividend and that made up for some of the stagnation. But what got me thinking about Intel is the current profile in The Atlantic about its former CEO Paul Otellini. Now we all know how the company passed on making chips for the iPhone and missed the mobile revolution, but what intrigued me the most were the many positives about Intel since Otellini became CEO. Among them are:
Intel remains the world's leading semiconductor company.

Intel vanquished its chief rival Advanced Micro Devices (NYSE:AMD).

Intel generated more revenue during Otellini's 8-year tenure than it did during the rest of the company's 45-year history.

During Otellini's tenure, the company generated $66 billion in net income compared to $68 billion during the years he wasn't CEO.

The $10.31 billion in net income that Intel earned in 2012 is more than the combined net incomes of Qualcomm (NASDAQ:QCOM), Texas Instruments (NYSE:TXN), Broadcom (BRCM), NVIDIA (NASDAQ:NVDA), Marvell (NASDAQ:MRVL), and former rival AMD, which lost $739 million.

Intel creates the world's best chips for laptops.

Intel has a dominant position in the server market.

Intel has a complete vertically integrated business model.

Intel maintained profitability during the financial meltdown.

The year prior to Otellini taking over the helm of Intel, the company had $34 billion in revenues. Last year Intel had $53.02 billion in revenues.
To put it in perspective, here's a look at Intel revenues under its former CEOs: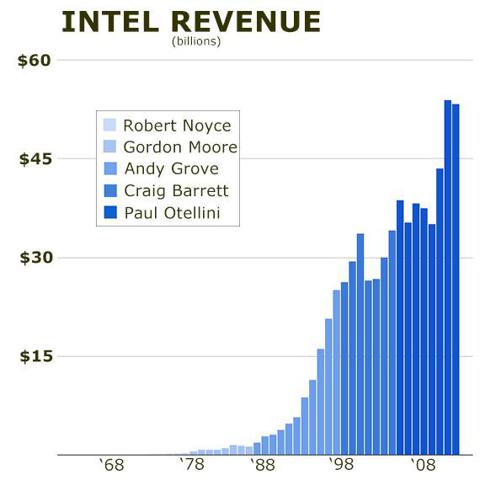 Click to enlarge
Courtesy of The Atlantic.
Closest Comparison I Can Make Is To Microsoft
In comparing the last 10 years, we see the following for Microsoft (NASDAQ:MSFT) and Intel.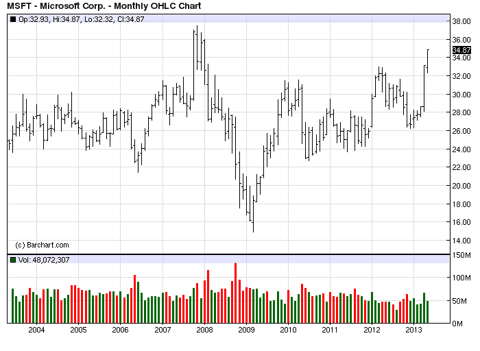 Click to enlarge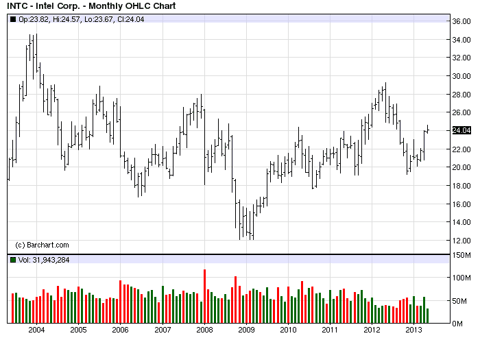 Click to enlarge
For the past 10 years, neither company's stock price has done much and the arguments that the bears make for both companies are similar.
| | |
| --- | --- |
| Intel | Microsoft |
| Otellini missed mobile | Ballmer missed mobile |
| Reliance on PCs | Reliance on PCs |
| The PC is dead | The PC is dead |
| Otellini wrong man for the job | Ballmer wrong man for the job |
| Otellini not Andy Grove | Ballmer not Bill Gates |
In comparing their financials we see:
| | | |
| --- | --- | --- |
| | Intel | Microsoft |
| Market Cap | $119.50B | $291.20B |
| Revenues | $53.02B | $76.01B |
| EBITDA | $21.15B | $30.49B |
| Net Income | $10.31B | $16.41B |
| Operating Margin | 0.25 | 0.36 |
| P/E | 12.01 | 17.99 |
| PEG Ratio | 1.16 | 1.45 |
| Price/Sales | 2.24 | 3.74 |
In comparing the two, we see that Intel is undervalued compared to Microsoft with its P/E, PEG Ratio, and Price/Sales.
Intel Making The Right Moves
Intel just launched its line of Silvermont chips to target tablets, smartphones, microservers, network infrastructure, storage and other market segments. According to Intel, this is just the start for a range of innovative products to come later this year. The Silvermont architecture will deliver industry-leading performance-per-watt efficiency according to Intel.
The company decided to promote within the organization and named COO Brian Krzanich to be Intel's 6th CEO. This is the right move for the company as he has been an Intel-lifer since 1982 and understands the "Intel" culture. He is inheriting a company with 100,000 plus employees and a 45-year legacy of being the best at what they do. Otellini is leaving the infrastructure in place for Krzanich, he just needs to execute.
Intel's Partnership With Baidu
Intel is partnering in China with search giant Baidu (NASDAQ:BIDU). In my prior article, Intel and Baidu Partnership Is A Step In The Right Direction, I focused on how the move is good for both companies. Intel realizes that China is going to be a huge part of its business over the next several decades. There's no better way for the company to gain market share than by partnering with China's leading search engine.
The two companies plan to create software for the growing Chinese mobile Internet market. Chinese developers will have access to PCs and mobile devices powered by Intel chips. Intel is aggressive in its expansion into mobile and China is the largest mobile market in the world.
Final Assessment
Microsoft is finally breaking out and hitting new 52-week highs. Intel's stock has not broken out yet. But I think as investors have realized that Microsoft is undervalued, they are going to turn their attention next to an even more undervalued stock - Intel. Now is finally the time for investors to buy Intel as I think the next decade will not be a lost decade for investors like the last one. Sanford C. Bernstein semiconductor analyst Stacy Rasgon summed it up best in The Atlantic article:
If I'm looking out five, ten years, they could potentially bury everybody else.
Disclosure: I have no positions in any stocks mentioned, and no plans to initiate any positions within the next 72 hours. I wrote this article myself, and it expresses my own opinions. I am not receiving compensation for it (other than from Seeking Alpha). I have no business relationship with any company whose stock is mentioned in this article.