Windows. We've all used it. And although some of us may even hate it, it's still the most prevalent operating system on earth. Windows XP still has roughly 5 times the market share as Apple's OS X.
Desktop/Mobile OS Graphics taken from Netmarketshare.com:

A look at the mobile space reveals a different story however. iOS has twice the market share of its closest competitor, and more than the rest of the competition combined.
Taken from Netmarketshare.com:

Prior to Apple's (NASDAQ:AAPL) most recent earnings call, analysts were hoping for news of some new innovation to reverse Apple's downtrend and propel the stock toward the $1000 mark. Potential catalysts ranged from the iWatch, to the iRadio, to the iTV. For comparison, keep in mind that some analysts feel the iWatch is a $6B opportunity for Apple. Ravee Mehta writes in The Emotionally Intelligent Investor that he believes technical support levels correlate to feelings of positivity. In his book he ascertains that these positive feelings can cause investors and analysts to ignore "facts such as deteriorating outlook for the company's fundamentals..."
To be clear, I am not saying Apple is a bad company. It may very well be a fine investment; I'm indifferent on the matter. I am using Apple as an example to point out that investors and analysts are looking for revolutionary new products, so they may not necessarily notice Microsoft's (NASDAQ:MSFT) simple yet powerful catalyst: bringing their PC OS to mobile.
Graphics taken from the IDC Website: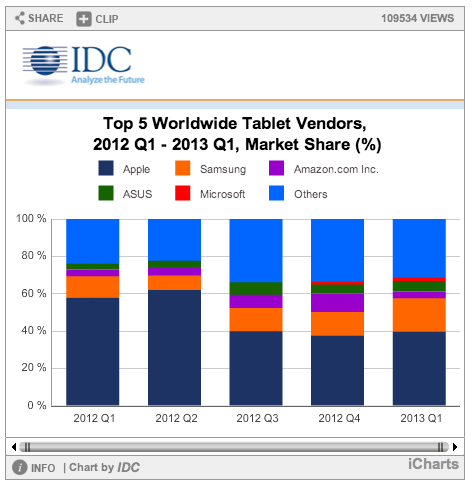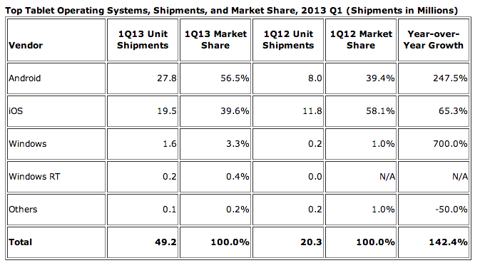 Although iOS has most of the market share, you can see that rival companies are eating away at the lead. I believe Microsoft's Windows availability across many platforms is a huge source of revenue for the software giant, given the state of flux of the tablet market.
User Ecosystems
Apple has one of the most valuable ecosystems for users. Microsoft has been working on the portfolio of apps for its store, but it has only a fraction of the apps available on either the Android Market or Apple's App Store. ZDnet reports that Apple has made roughly $3.4B on App store sales.
The problem with the Windows ecosystem is that it's typically tied to a laptop or desktop, and therefore does not have the same portability as a tablet or phone. Microsoft launched Windows RT to broaden its ecosystem, but the OS was not warmly welcomed. Fox news reported many users that purchased tablets running Windows RT were unaware most Windows software would not be compatible due to the hardware difference between the two. This was particularly bad because the Windows community was not fond of Windows 8 either. Some rumors surfaced that Microsoft was abandoning RT, but winbeta.org reports that RT is here to stay.
Mistakes are the Best Teacher
I feel Microsoft really listened to its target audience when it decided to revamp Windows 8 with a free Windows 8.1 update, according to Engadget. Microsoft is showing dedication to the end user, and at the same time could be sneaking in a few updates that would allow its Windows 8.1 operating system to appear on an array of smaller devices.
For the Numbers
Various reports of how much OEMs spend on a Windows license vary. ComputerWorld.org has a price tag at $30 per combo license for both Office and Windows. This is the cheapest I have seen, so I will use that as the basis for my argument to be conservative. IDC reports that tablet sales will exceed PC sales (Laptop + traditional PC) by 2017.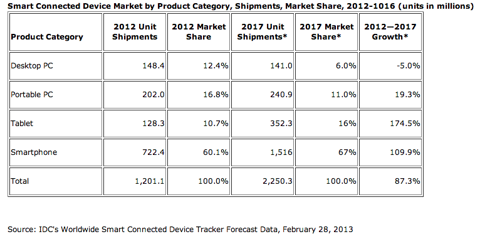 Let's assume that Microsoft is able to capture only a modest 10% of the market share with its Windows 8.1 operating system. By 2017, this would give Microsoft roughly an extra $1B a year in revenue. Again, this is assuming only a $30 license fee and 10% of the market share. By comparison, if Microsoft captures 20% of the market share of tablets and charges around $50 per license, the potential for revenue growth climbs to $3.5B for the year, or roughly $1B a quarter. Microsoft's most recent quarterly revenue was $18.8B, so you can see how this is significant.
And it is tangible, unlike the iWatch revenue. We know people use Windows laptops and can make an educated guess as to whether or not they will enjoy the same experience in tablet form. We have no idea what an iWatch will be or how well it will be received. This would also increase Windows app sales. Apple's App store launched in 2008 and has roughly netted Apple a cool $3.5B, based on a 60% market share. If Microsoft has a 20% market share, this could total close to another $1B in revenue over a 5 year span.
Conclusion
In my first graphic of the market share of all PC operating systems, you can see that Microsoft has 83% of the market share. I do not feel I am reaching when I say that it can extend its operating system to 20% of the tablets by 2017 given its prevalence in the PC space. If you look at Android tablets, for example, those are mainly used as media devices: eReaders, Netflix portals, simple gaming machines. A Windows tablet will afford business oriented users the same productivity they're used to in a laptop, but in a tablet form factor and good battery life.
As Intel (NASDAQ:INTC) and Advanced Micro Devices (NYSE:AMD) release SoCs designed for the mobile space, my assumption becomes even more feasible. Not to mention the potential revenue for Intel and AMD. Microsoft is showing that it is interested in keeping its customers with its free Windows 8.1 update.
The preview release of Windows 8.1 is supposed to be on June 26th, which could give hints to increased compatibility between Windows Phone 8.1 (or whatever they will call it), Windows RT, and Windows 8.1. From a programming standpoint, I could not imagine it would be hard for Microsoft software engineers to create an emulator to allow increased compatibility between a Windows phone and tablet. This is pure speculation on my part, but if Microsoft does increase this compatibility, Windows would have a very powerful, competitive ecosystem. And for us gamers, we have not seen how the new Xbox ecosystem will tie into the mix.
Disclosure: I am long INTC, AMD. I wrote this article myself, and it expresses my own opinions. I am not receiving compensation for it (other than from Seeking Alpha). I have no business relationship with any company whose stock is mentioned in this article.
Additional disclosure: I may initiate a long position in MSFT