"Be fearful when others are greedy and greedy when others are fearful"

--Warren Buffett
A major bubble is currently inflating in investment markets. Yet nobody is talking about it. It's not that the category in question isn't getting any attention. To the contrary, it is being talked about at length nearly every day. But what is missing from the discussion is the fact that all of the signs of a massive bubble are now falling into place.
For the purpose of this article, I have taken a different approach with the analysis. Instead of introducing the investment that is showing signs of a bubble, I will be exploring the evidence first in order to avoid any behavioral biases associated with the specific investment in question.
While the bull market for this investment has been underway for nearly two years, it has only recently entered into a parabolic advance over the last seven months. The following chart illustrates this recent strong performance, including the explosive surge that took place just over a month ago.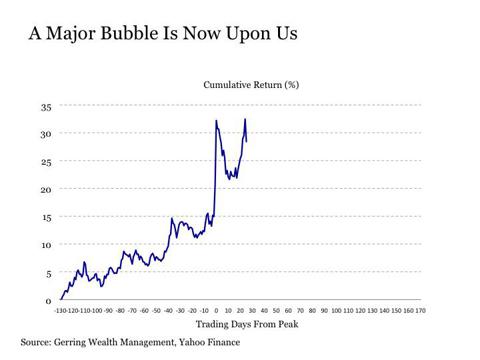 In addition to the price performance shown above, many of the other classic signs of a major bubble are now in place.
Sentiment is strongly in favor of this investment theme, as more than 65% of market participants believe that this price trend is going to continue into the future according to Barron's. And this excitement is occurring despite steadily weak underlying fundamentals behind this investment theme.
The news reporting in the media is also almost universally behind this trade continuing higher. One would be hard pressed today to find a news article that suggests otherwise, as any of the previous reasons cited for a price reversal have been all but dismissed at this point. Instead, more and more reports suggest that gains may not only continue but that returns could quickly rise by another +50% to +300% or even more in the near term.
Investors have also crowded into this trade with increasing fervor, as the positioning for this price trend to continue is now at its highest level in recorded history at more than one and a half times its previous peak. At the same time many on the other side of the trade are throwing in the towel as evidenced by the magnitude of recent gains.
To tie a knot on this bubble discussion, it is worthwhile to put the magnitude of the bubble that is currently forming in perspective. The following chart provides a comparison to the U.S. stock market leading up to its now notorious March 2000 peak. What is notable is that this investment bubble is currently running at a return rate that is more than two times the magnitude of the stock market as measured by the S&P 500 Index (NYSEARCA:SPY) during the peak of the tech bubble.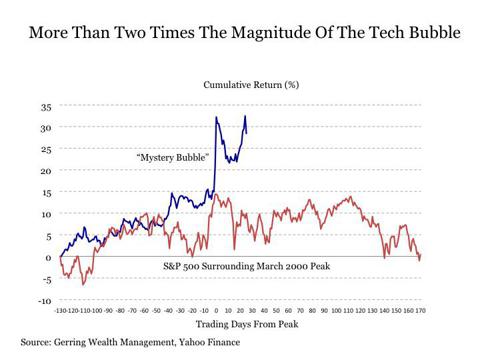 All of this information leads to the following reasonable conclusions. We all know how these asset bubbles end, and it is not well. And purely by looking at the charts, it seems far too late to try and jump on board to ride this trade any higher at this point. In addition, if you have participated in the advance to this point, it would certainly be more than prudent to lock in at least some if not all of your gains and move to the sidelines, particularly given the fact that a double top pattern may be forming as we speak. And the more aggressive among us might even begin thinking about putting on a trade to position for a significant price reversal in the coming months.
So what exactly is this mystery investment that is forming a major bubble today? It is gold (NYSEARCA:GLD). But it's not gold from the long side. It's gold from the short side. And it is the fact that we currently have a bubble among those shorting gold that makes the situation all the more interesting. For a bubble that is formed from prices going up has many market participants that are long cash investors that may opt to continue holding their positions for years if they so chose. But with a bubble that is created from prices going down, those that are piling into the trade on the short side not only have a legal obligation to cover their positions but are also subject to margin calls forcing this to happen if the price begins to reverse dramatically enough. Thus, much like a sling shot, the more tension that is applied in shorting gold lower, the more upside propulsion is likely to be generated once this tension is finally released.
Actively trading gold on a short-term basis remains challenging and sometimes treacherous in the current environment. For those seeking direction in this regard, I highly recommend Avi Gilburt's articles on SA as well as his website, as his discipline and work using Elliott Wave analysis is superb.
For those that are looking to establish a long-term allocation to gold as part of a broadly diversified asset allocation strategy, the recent pullback may be presenting an increasingly attractive opportunity to either initiate or add to existing positions. For despite the resoundingly negative sentiment today for gold, the underlying fundamentals remain solid. To begin with, gold is not going bankrupt, its balance sheet is not going to be impaired by a major accounting scandal and its CEO is not going to be suddenly fired for personal misconduct. And while it is true that the overall demand for gold has been down in recent months, this decline is almost exclusively due to selling by speculators in the paper markets, which makes up only 8% of worldwide gold demand. For if one were to exclude the investor liquidations that occurred in the first quarter of 2013, the demand for gold among those that actually deal in the physical metal increased by +4% year over year according to the World Gold Council. This included a +20% increase in demand for gold from China, a +27% increase from India and a +22% increase in the United States. And this rising demand came at a time when the supply of gold remained effectively unchanged over the same time period.
So in short, at a time when the physical demand for gold is increasing and supply is remaining largely unchanged if not soon to be decreasing, the market price for gold is plunging sharply lower. The laws of macroeconomics suggest that such a wide deviation from expected price equilibrium is not likely to sustain itself over time. This does not mean that the gold price may not move further to the downside in the near term, as investor sentiment remains the key in determining exactly when the selling pressure finally relents. But for those with a long-term view, patience will likely be rewarded in the end just as it has in the past, at least until we finally arrive at the dawn of a new secular bull market for stocks.
Such an outcome is likely still at least several years away despite the recent rise in stock prices, however, as massive fiscal debt burdens and endless money printing by global central banks suggests that a great deal more cleansing of the global financial system will still be required before a new secular bull market for stocks can begin. In the meantime, the overall investment environment should remain supportive for gold despite its recent challenges.
On a final note, it is worthwhile to consider the investment opportunity available today in gold versus the stock market. I currently hold meaningful allocations to both gold and stocks. This includes broad allocations such as the Vanguard Dividend Appreciation (NYSEARCA:VIG) and Vanguard Total International Stock (NASDAQ:VXUS) ETFs as well as individual names such as Exxon Mobil (NYSE:XOM), International Business Machines (NYSE:IBM), General Electric (NYSE:GE), McDonald's (NYSE:MCD), Oracle (NASDAQ:ORCL), Emerson Electric (NYSE:EMR), Qualcomm (NASDAQ:QCOM) and Cisco Systems (NASDAQ:CSCO). Thus, I have no incentive here to promote one category over another. But from a long-term perspective, I would be far more inclined to consider purchasing an asset like gold today whose price has fallen sharply despite sound underlying supply and demand fundamentals over a category like stocks that have risen almost without interruption over the last six months despite a weakening global economy, a steadily deteriorating profit outlook and increasingly rich valuations. In other words, I would be more inclined to be greedy while others are fearful in the gold market and am fearful that others appear quite greedy right now in the stock market.
For all of these reasons, I continue to maintain my long-term positions in gold that were established many years ago. At present, this includes an allocation to the Central GoldTrust (NYSEMKT:GTU) and the Central Fund of Canada (NYSEMKT:CEF), which holds a 55% weighting to gold and a 45% allocation to silver (NYSEARCA:SLV). While the short-term may continue to prove challenging, gold's role in providing long-term portfolio diversification remains as important as ever, particularly if the bubble on the short side of the gold market finally starts to burst.

Disclosure: I am long CSCO, GE, XOM, MCD, IBM, QCOM, ORCL, EMR, VIG, VXUS, GTU, CEF. I wrote this article myself, and it expresses my own opinions. I am not receiving compensation for it (other than from Seeking Alpha). I have no business relationship with any company whose stock is mentioned in this article.
Disclaimer: This post is for information purposes only. There are risks involved with investing including loss of principal. Gerring Wealth Management (GWM) makes no explicit or implicit guarantee with respect to performance or the outcome of any investment or projections made by GWM. There is no guarantee that the goals of the strategies discussed by GWM will be met.