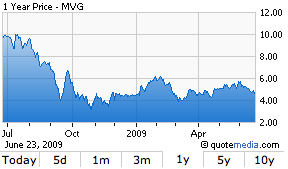 The six-month soap opera is over for MAG Silver Corp. (NYSEMKT:MVG), as its joint venture partner Fresnillo PLC (OTCPK:FNLPF) has finally dropped a peculiar takeover bid that investors never thought had much chance of success. MAG claims that the turning point came when Fresnillo chose not to comply with an Ontario Securities Commission order to hand over information about the Juanicipio property, where the two companies have a joint venture.
BMO Capital Markets analyst John Hayes is wrote that the bid withdrawal is a positive for MAG because it was acting as an overhang on the company's share price. He calculated that the stock is trading at a 57% discount to his 0% net asset value estimate of $10.74 per share.
As far as the Juanicipio project goes, Mr. Hayes maintained that the Valdecanas silver discovery on the property is key to Fresnillo's development plans for the region, and the company "simply cannot avoid developing the property" even though it is no longer bidding for MAG.
One lingering issue is that Fresnillo owns 19.9% of MAG shares, and has not indicated what it plans to do with that position.
Mr. Hayes wrote in a note:
We note that if Fresnillo reduced its share position below 10%, it could avoid the requirements imposed by insider bids. Any share sale by Fresnillo would likely put short-term pressure on the stock.
He rates the stock an "outperform." BMO does not place price targets on junior mining companies.