Intel (NASDAQ:INTC) is the world's largest semiconductor company both in terms of revenues and valuation. The company has been the No.1 semi company for a long time now. It maintains a monopoly like position in the PC and server microprocessor industry. In the last couple of years, Intel has dramatically increased the spending on the multibillion dollar chip making facilities known as fabs. Making silicon chips that are used in electronics is a highly complex industrial process. While there are thousands of electronics vendors, major semiconductor manufacturing companies are very few. Moore's law dictates that the performance of semiconductor chips should double and cost halve in 18-24 months. While that law has held for the past 30-40 years, it is now starting to reach its limits. The biggest constraint is the cost of making a new fab, which has increased to $4-5 billion. This is beyond the capabilities of most companies. The technology required in further shrinking the geometry of the chips has become extremely complex and expensive.
Intel already leads others in manufacturing cost and chip performance
Intel is the only company to make chips on the 22 nm node while others are still producing chips on the 28 nm node. Intel has already started working on the 14 nm node and has a well defined roadmap for making chips on the 14 nm fab next year. The company is also accelerating the pace of technology development by investing heavily in Dutch equipment maker ASML (NASDAQ:ASML) for further node shrinks. While the world's biggest foundry TSMC (NYSE:TSM) has announced plans to produce chips on the 20 nm node, there are doubts whether it will be able to master the FinFET transistor technology. If TSMC and other foundries fail to reach the 20-22 nm nodes on time, then Intel will have a huge advantage going into 2014.
If Foundries Fail, then their Fabless Customers will Fail
Major Intel competitors like Advanced Micro Devices (NYSE:AMD), Qualcomm (NASDAQ:QCOM), Nvidia (NASDAQ:NVDA) etc. depend on TSMC, Global Foundries and United Microelectronics (NYSE:UMC) to build their chips. These companies design the chips while the manufacturing is done by the foundries. The "foundry" model has the advantage of specialization as fabless companies can concentrate on design and marketing, while foundries can focus on the actual production of chips. However, all these fabless companies will be left high and dry if the foundries cannot advance to smaller design geometries. QUALCOMM will be the biggest loser as the company has captured over 50% of the mobile SoC market using its CDMA expertise.
Intel is already one generation ahead of its competitors as it is already making IvyBridge and Haswell chips on 22 nm. It will produce new generation Silvermont chips for mobile devices on 22nm during late 2013. Intel is also executing faster on its roadmap as it will start producing both Atom and Core chips on 14 nm next year. If the foundries fail or get delayed by one year, then Intel will sweep the industry through a huge advantage in cost and performance.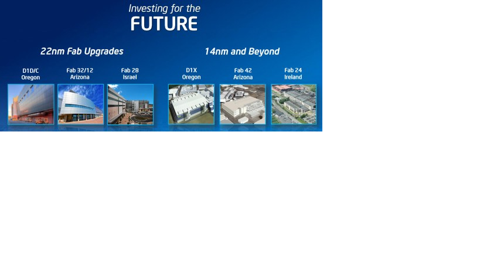 TSMC and others may not be able to advance because of Technological hurdles
There are doubts whether TSMC and other foundries can make the jump to a smaller node. While Intel is using its established "Tick Tock" process to make a steady advancement in its technology roadmap, other semiconductor companies are facing R&D hurdles. They have not mastered the FinFET 3D transistor technology and it remains to be seen whether they can get the required yield at that node.
Like its 22nm Ivy Bridge CPUs, the upcoming 22nm SoCs rely on Intel's Tri-Gate implementation of FinFET technology. According to Intel engineer Mark Bohr, the 3D transistor structure is the principle reason why the company's 22nm technology is as strong as it is. Other evidence backs up this point. Earlier this year, we brought you news that Nvidia was deeply concerned about manufacturing economics and the relative strength of TSMC's sub-28nm planar roadmap. Morris Chang, TSMC's CEO, has since admitted that such, given that performance and power are only expected to increase by 20-25% as compared to 28nm.
Intel will get a huge 2 generation advantage over the other companies, if it will start commercial production of 14 nm chips next year. It will have a huge cost and performance advantage over the fabless guys who depend on the foundries for their manufacturing. Intel's more than $30 billion in capital spending between 2011-2013, will give a huge ROI as it captures a massive chunk of the computing chip industry.
Intel has spent money on fabs like there is no tomorrow - Time to harvest the gains
Intel has in the past few years dramatically increased its capital expenditure and is forecasted to become the top semiconductor spender in 2013. Some analysts have blasted Intel for spending too much money on building fabs and have advised Intel to lower its capex. However, I think that Intel's huge capex is allowing it to erect a stronger competitive barrier. The company's R&D spend of ~$13 billion is the biggest amongst all technology companies. Intel is the only semi company to have fabs running on the 22 nm node. The company is looking to further expand its lead by building the world's first 14 nm fab by the end of this year. The new CEO Brian comes from an operations background and it is expected that his appointment will build further on Intel's advantage on the manufacturing and technology front. Intel will also probably be the first company to build a fab using 450mm wafers, as it is going to spend $2 billion on 450 mm wafer manufacturing capacity in 2013. Intel's manufacturing lead is not an ephemeral one like the latest flagship smartphone.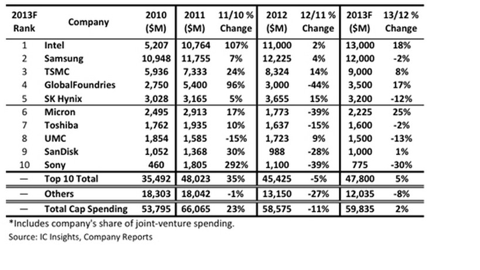 Intel's stock is set to outperform
Intel's stock has been stuck in a range even as rival semiconductor companies have been on a roll in recent times. While Qualcomm and Texas Instruments have been reaping the gains for the mobile boom, Intel has been steadily closing the gap in its mobile chips portfolio. Its 32 nm "Clover Trail +" chips are already winning plaudits for performance in the few mobile devices which support Intel processors. The new Silvermont architecture at 22 nm will boost Intel's competitive position in the mobile chip industry. Intel missed out on the mobile boom by not being aggressive enough. Paul Otellini recently regretted in failing to deliver silicon for Apple's first iPhone. However, Intel has got the technology and manufacturing strength to become a major, if not the leading player in the mobile processor industry.
Samsung and Lenovo have already jumped on the Intel bandwagon
I think other companies are starting to realize that Intel is going to be a big player in the mobile processor space. Lenovo has been a strong Intel partner in the PC industry and is now set to become a big customer of Intel mobile chips as well. The K900 phablet using Intel's top end Z2580 2GHz "Clover Trail+" chip was recently launched by Lenovo in China.
Lenovo's Intel Clover Trail+ smartphone, the Android-based K900, is finally ready to make its grand entrance into the consumer realm. The 5.5-inch powerhouse will ship with a dual-core Atom Z2580 CPU (2.0GHz) within, a PowerVR SGX 544MP2 GPU, a 1080p IPS panel slipped behind a coating of Gorilla Glass 2 and a 13 megapixel camera. Despite the sizable display, it weighs just 162 grams and measures 6.9 millimeters.
There are rumors that the world's biggest mobile company Samsung is also launching its Galaxy Tab using an Intel mobile chip. Most of Intel's design wins have taken place amongst Tier 2 smartphone and tablet makers. This will be Intel's first design win from a Tier 1 smartphone manufacturer.
Intel seems to have finally got hold of the bigger fish - Samsung. As per the latest benchmark results that have surfaced in GFXbench database, Samsung is using the Intel Atom Z2560 Clover Trail+ dual-core processor in its new 10-inch tablet… Apart from the obvious tablet details leak, the presence of an Intel Atom processor in Samsung's Android tablet is the more important news here. Intel has been struggling to get bigger manufacturers use its silicon in their Android products, however we recently saw Asus use Atom processor in Fonepad and now Samsung - seems like Intel's smartphone/ tablet dream might finally come true.
Valuation
Intel trades at a forward P/E of ~11.6x, which is at a substantial discount to the broader market, which is trading at a forward P/E of ~16x. Intel also gives a huge dividend yield in excess of 3.5% on top of billion dollar buybacks. The company's $17 billion operating profit has ensured that it manages not only to invest massively in building the world's best fabs, but also return almost $10 billion to shareholders each year.
Summary
Intel has a number of positive catalysts lined up in the near future in terms of new product launches. Haswell tablets, ultrabooks and hybrids will start shipping in the summer, while the holiday season will see Intel's cutting edge mobile processors being launched. There is a possibility that competitors may not be able to move to the next Moore generation in time, which means that Intel's manufacturing advantage will become overwhelming in 2014. Intel has already shown how it can use its technological and manufacturing muscle to completely capture an entire industry. The possibility that it can capture a monopoly position in the mobile processor industry is not impossible. I remain optimistic about Intel's prospects and would keep buying.
Disclosure: I have no positions in any stocks mentioned, and no plans to initiate any positions within the next 72 hours. I wrote this article myself, and it expresses my own opinions. I am not receiving compensation for it (other than from Seeking Alpha). I have no business relationship with any company whose stock is mentioned in this article.