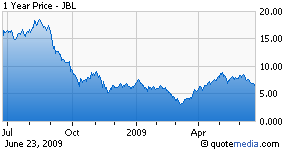 Jabil Circuit (NYSE:JBL) is expected to report Q3 earnings after the market close on Tuesday, June 23, with a conference call scheduled for 4:30 pm ET.
Guidance
The consensus estimate is 3c for EPS and $2.62B for revenue, according to First Call. On the last earnings call, management gave Q3 guidance of (8c)-8c for EPS.
Analyst Views
When JBL reported its guidance it said it felt confident in its revenue range, but the wider earnings guidance reflected the uncertainty around product mix and the timing of specific orders. Revenue guidance for Q3 was $2.5B to $2.7B, down 10% quarter-over-quarter and 16% year-over-year at the midpoint. End markets are expected to remain weak offset partially by new mobility wins.
Oppenheimer expects another weak quarter. The firm expects EPS to be break-even, a weak GM declining to 4.6%, with a 9% quarter-over-quarter decline in revenue, as end markets remain weak because customers remain cautious due to the weaker economy. Opco expects all segments to decline this quarter. Going forward, the firm expects quarter-over-quarter growth to resume next quarter, as a number of companies have recently said they are seeing some stabilization, which could lead to some upside to Opco's forecast and a better outlook. For Q4, they expect the majority of the growth to come from the consumer segment, which normally starts to get a seasonal lift. Opco is forecasting revenue to be $2.89B, a GM increasing to 5.5%, leading to EPS of 16c.
Recently Jabil announced it was hiring 4000 workers in Mexico where it is ramping a new program for Research In Motion (RIMM). The company also plans on building solar panels for SunPower (SPWRA) in Mexico starting in 2H09. This increase in capacity is being viewed by analysts as a good leading indicator for revenue improvement over the next few quarters.