Memorial Production Partners (NASDAQ:MEMP) has to be one of the more underrated upstream MLPs out there, with its heavy exposure to natural gas, strong hedges, and great yield. Memorial IPOd back in late 2011 and has already increased its distribution in 4 out of the past 5 quarters. Memorial currently offers a $0.5125 per unit quarterly distribution and yields about 10.55%.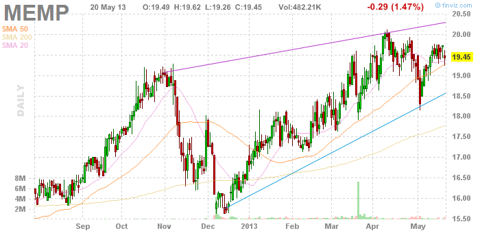 Click to enlarge
Memorial has a production portfolio of mature, long-life assets. The majority of the assets are located in South Texas, East Texas, and North Louisiana and California. As of year-end 2012 Memorial's total proved reserves were 533 BCFE, of which 62% were proved developed. The production mix for the reserves is 79% natural gas and 21% liquids. At 2012 production levels, the reserves to production ratio was over 24 years.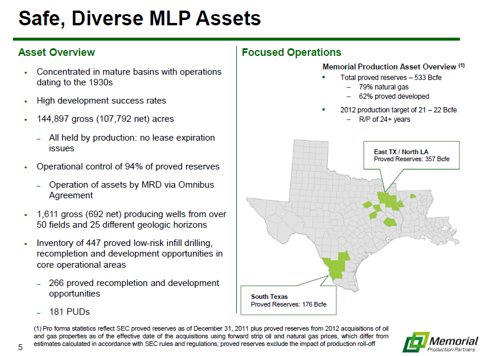 Click to enlarge
On May 8, Memorial reported its Q1 2013 results. For the quarter, Memorial saw daily production increase 13% to 93 MMCFE, from 82.4 MMCFE last year. Adjusted EBITDA was $30.0M, down 6% from $32M last year. Distributable cash flow, a key metric for MLPs, was $18.6M,or $0.53 per unit, providing a coverage ratio of 0.82x. Memorial's lower DCF coverage was due to temporary downtime on its California assets for 26 days in January to allow for maintenance and inspection services.
Memorial's average realized prices, excluding hedges, was $104.94 per BBL for oil, down 3% from last year, $2.95 per MCF for natural gas, up 6% from last year, and $32.74 per BBL for NGLs, down 37% from last year. The average total realized price per MCFE was $5.27, down 9% from last year.
Memorial was busy on the acquisition front in the quarter. On March 18, Memorial acquired certain oil and natural gas producing properties in East Texas and North Louisiana from its general partner Memorial Resource Development LLC for approximately $200.0M. As of year-end 2012, these assets had daily production of 21 MMCFE, a production mix of 66% natural gas and 34% liquids, and a reserve life of around 21 years. Once completed, this transaction will be immediately accretive to Memorial's distributable cash flow.
Included in the Q1 2013 results, was an update to Memorial's FY 2013 guidance. Memorial expects annual production of between 37 to 39 BCFE, adjusted EBITDA of between $154M to $158M, DCF of between $92M to $96M, and a DCF coverage ratio of between 1.0X and 1.1X. Maintenance capex is expected to be about $37M and growth capex from $40M to $50M.
In order to secure its cash flows, Memorial expanded its hedging program in Q1 2013. MEMP has entered into natural gas, crude oil and NGL hedges through December 2018, consisting of swaps and collars. 92% of natural gas production and 79% of oil production is hedged for 2013, with about 85% of total production hedged. Notice that total production hedged decreases the further out you go, which may be an attempt by Memorial to achieve better prices.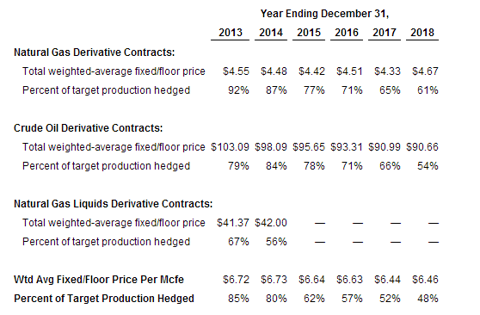 Click to enlarge
Conclusion
With natural gas prices up over 100% year over year, Memorial is in a good spot. Natural gas makes up over 68% of its production and yet only 38% of its revenue. This bodes well for Memorial's DCF for the rest of 2013. In my opinion, Memorial is the upstream MLP that will most benefit if natural gas prices continue to go higher, while its 10.6% yield is an added bonus.
Disclaimer: The opinions in this article are for informational purposes only and should not be construed as a recommendation to buy or sell the stocks mentioned. Please do your own due diligence before making any investment decision.
Disclosure: I am long MEMP. I wrote this article myself, and it expresses my own opinions. I am not receiving compensation for it (other than from Seeking Alpha). I have no business relationship with any company whose stock is mentioned in this article.