It's been nearly a month now since Apple (NASDAQ:AAPL) reported its quarterly results. While the numbers beat and guidance was low, investors seemed to be more focused on the dividend raise and huge stock buyback increase. Shares of the company, which hit a low of about $385 and were trading around $405 into and after earnings, rallied strongly over the next week or two. When Apple broke $460, I stated that a pullback was coming, and we've lost $20 since the recent highs, only after a $10 rally on Monday. We were a bit lower recently.
One of the thoughts being kicked around prior to earnings was that a huge dividend raise would ease investors' minds about the recent fall in Apple shares. Apple had not launched any new products in a number of months, causing estimates to be cut as it appeared that new products would be coming later than originally expected. The thought process was that Apple would make some sort of cash announcement, then get back to business as usual. Today, I'll explain why it is not business as usual for Apple, and why that's not necessarily a bad thing.
A real dividend and buyback:
When Apple announced its original dividend and buyback plan in March 2012, the impact was not as great as one may think. There are a couple of important items you must consider.
First, the $2.65 quarterly dividend. The $10.60 annual payout really wasn't that large. The cash plan announcement was made on a Monday morning, and Apple closed the past Friday at $585.57. At that point, the dividend was only yielding about 1.81% on an annual basis, hardly a high yielding name. As Apple continued higher, eventually hitting a high of $705, the yield dropped to as low as 1.50%.
But when Apple raised the dividend at the latest quarterly report, the dividend became real in a sense. With Apple closing that day at $406.13, the $3.05 quarterly payment would now yield 3.00% on an annual basis. A 3.00% annual yield is approximately 120 basis points higher than the original set yield of the dividend. So even though the dividend was raised 15%, the yield was actually up about two-thirds, more than 66%. Of course, a large part of that was due to the stock's decline. However, a dividend yield of 3.00% on a name like Apple is extremely large compared to one at 1.81%. Apple's dividend was now on par with many other large cap technology names.
Now onto the "buyback." I put that term in quotations, because it wasn't a true buyback. Apple's plan to purchase shares was not what many have come to know as a stock buyback. Here was their original plan for the $10 billion plan.
The repurchase program is expected to be executed over three years, with the primary objective of neutralizing the impact of dilution from future employee equity grants and employee stock purchase programs.
So this wasn't a plan to reduce the share count, it was just a plan to stop the share count from rising further. I've been detailing this point over the past year, but many may not have realized this. However, Apple's plan now calls for a real buyback. They will now use $60 billion to repurchase shares, which will get the share count down. This should help provide a floor to the stock at times, while also improving earnings per share.
While Apple's rally has stalled out a bit, Apple has still jumped about 9% or so since earnings. That has pushed the dividend yield down a bit, but it is still at 2.75%. Apple now has a real buyback program, one that will rival that of Microsoft (NASDAQ:MSFT), Intel (NASDAQ:INTC), and Cisco Systems (NASDAQ:CSCO). In fact, as you can see from the table below, Apple now has a higher dividend yield than Microsoft and one that was higher than Cisco's before Monday's rally. I don't think Apple's dividend will rival that of Intel anytime soon, but hey, for a while it was well below its large cap tech rivals. Not anymore.

Not your usual quarter:
Let's face it, these are unusual times for Apple. But before I get into that, I encourage everyone to read my pullback article above, especially the segment about average selling prices. Apple has reclassified certain accessory revenues, which makes selling prices look really low. They aren't necessarily low, as those revenues have been moved into their own revenue category.
This is a very different quarter for Apple. With the company's fiscal Q3 revenue guidance of $33.5 billion to $35.5 billion, Apple is actually guiding to a year-over-year revenue decline at the midpoint. Revenues are now the last shoe to drop. First, it was gross margins, and eventually, earnings per share. Now it is possible that revenues could be negative. Even with Apple reporting an 18% decline in earnings per share during fiscal Q2, revenues still were up 11.3%.
So why the forecast for a revenue decline? Well it all comes down to Apple's product launches, or lack thereof. There was no iPad refresh in March this year like there was in 2012. The iPhone 5 was launched a few weeks earlier in 2012 than its counterpart was in 2011. Add in a weak PC industry and the decline of the iPod, and you get a quarter that just doesn't seem right.
Let's go back to the year-ago period for a minute. Apple sold just over 26 million iPhones, and even ignoring the accessory differences mentioned above, selling prices were higher. With the iPhone 5 going on sale earlier, the 5 has been out for about 8 months now. Add in the fact that prior iPhone models are selling well, and you should see a tough climate for selling prices. It would not be a surprise to see Q3 ASPs on the iPhone be below that of Q2. Until Apple releases a new version, selling prices will continue lower. They may even continue lower after that, if the new version includes a cheaper version.
When it comes to the iPad, Apple sold more than 17 million units in the year-ago period. That was mostly thanks to the refresh that started in March, although we didn't have the iPad mini at that point. But with both models being out for several months now, sales will start to dissipate as consumers wait for the newer models to be released. Add in the cheaper mini's impact on selling prices, and you could see a revenue decline of around $1 billion in iPad sales overall. When you have that big of a drop from the iPad, along with an uncertain iPhone that could be flat to down, plus the decline in the iPod, you can see how this quarter will be extremely questionable.
Slowing revenue growth may not be new, as you can see in the chart below. However, this could be a quarter where year-over-year growth is in the single digits, and possibly negative.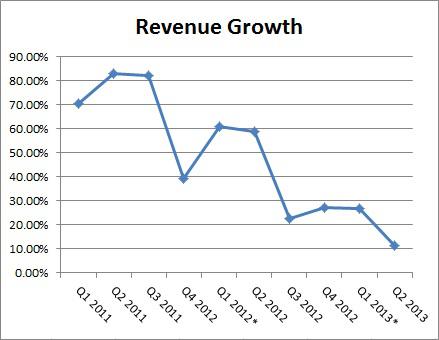 *Q1 of fiscal 2012 was 14 weeks. I have adjusted Q1 of 2012 and 2013 to account for a normal 13-week period.
Where current estimates stand:
It's almost mind numbing to look at current Apple estimates and see the current revenue number calling for just 0.6% growth. Analysts so far believe that Apple's forecast was a little conservative, and that's why the revenue consensus is near the high end of Apple's guidance range. I wouldn't be surprised though to see the average estimate get closer to the midpoint by the time Apple reports in July, and that probably means a number under $35 billion, implying a year-over-year decline. The following table shows how Q3 estimates have fared over the past few months, with the green line showing where estimates were going into the Q2 report.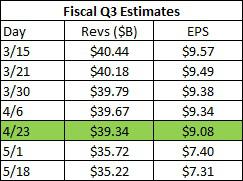 Analysts are expecting something slightly better in Q4. Current estimates call for revenues to increase by 6.2% to $38.2 billion. To me, this implies that analysts believe there will be some sort of product launch during Q4. Should we get more information over the next few months that launches will be later than that, look for estimates to be cut. At this point, estimates have been cut enough that for the fiscal year that the average revenue growth figure stands at just 9.8%. If you take out the extra week in the prior fiscal year, the number would still be in double digits, but not if estimates keep coming down.
This is not the Apple we know and love. Usually, you would have gotten some product launch early in the year, but not this time around. While that has led to a few quarters of low growth, it could mean a repeat of what we saw last year. That means a huge product launch or multiple launches in the fall, which will mean another huge revenue quarter at the end of the calendar year.
Money flowing into other names:
Even though Apple is about $60 off its recent low, the stock's performance has not been pretty going back to last year. The 6-month chart below shows Apple against Google (NASDAQ:GOOG) and some of the other names I've already mentioned.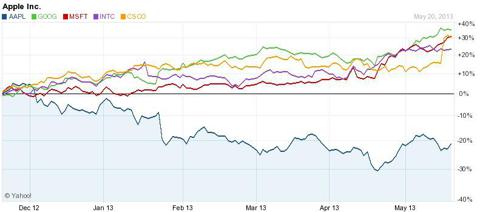 (Source: Yahoo! Finance)
Apple shareholders have lost about 20% over the past 6-months. After a terrible 2012, Intel has certainly turned around. Shares of the chip giant are rallying ahead of what is supposed to be a strong second half of 2013. Google is racing higher and could hit $1,000 in the near future, something many thought Apple would do. Those predictions turned out to be completely wrong for the time being. Cisco recently popped on earnings and has now sported a huge rally. A lot of that has to do with Cisco's pledge to return more capital to shareholders, something Apple is now doing. Even Microsoft, which struggled for a while thanks to the weak PC industry, has gone on a run.
Microsoft shares closed at a new 52-week high on Monday. Cisco pulled back from its 52-week Friday high, and Google isn't too far from its high. One may wonder how these other tech names will start to do if Apple really begins to rally. If Apple makes a run back to $500 or even $600, will money start flowing out of Google, Microsoft, and others? Money has certainly flown into those other names as Apple has headed lower.
An explosion in short interest:
I mentioned in a recent article that Apple's short interest more than doubled after earnings, to 41.59 million from 20.07 million. Just about a year ago, short interest in Apple was just 8.09 million. The chart below shows Apple's short interest going back about a year.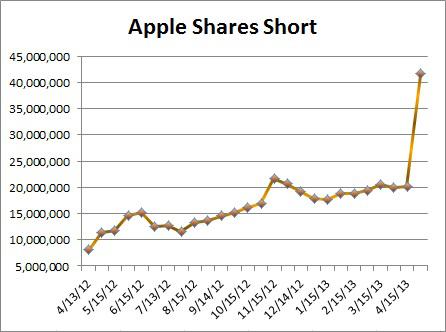 Not surprising with a such a large short interest rise, Apple's days to cover ratio has increased as well. Thanks to the increased volume after earnings, the rise in the days to cover ratio didn't jump that much. However, as you can see from the chart below, the ratio is now at 1.73 after being at just 0.31 about a year ago. If Apple's short interest stays above 40 million or so, this ratio is likely to pop even more, because Apple's volume will likely decrease a bit as we get further away from earnings.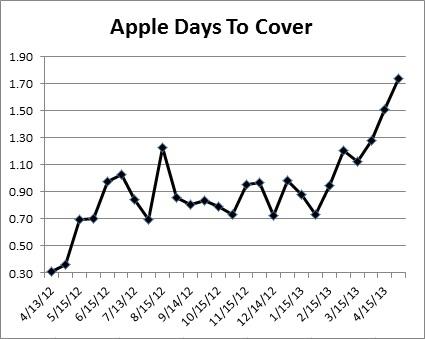 Final Thoughts:
These are definitely uncertain times for Apple, but that's not necessarily a bad thing. The company now has a real dividend and buyback plan, items that should benefit investors in the long term. Product launches will come, but until then, don't expect too much growth on the revenue side. Also, short sellers have decided Apple is their next target for now. Money has certainly flowed out of Apple and into other tech giants.
For now, investors should be focused on the long term. I stated that a pullback was coming, and it did. Those that bought Apple in the $420s or $430s look a lot smarter than those who were buying in the $450s and $460s. If you can accumulate Apple when it is low, you not only set yourself up for higher returns on a rally, but you pick up more on the dividend side as well.
Disclosure: I have no positions in any stocks mentioned, and no plans to initiate any positions within the next 72 hours. I wrote this article myself, and it expresses my own opinions. I am not receiving compensation for it (other than from Seeking Alpha). I have no business relationship with any company whose stock is mentioned in this article.
Additional disclosure: Investors are always reminded that before making any investment, you should do your own proper due diligence on any name directly or indirectly mentioned in this article. Investors should also consider seeking advice from a broker or financial adviser before making any investment decisions. Any material in this article should be considered general information, and not relied on as a formal investment recommendation.