The Japanese yen (NYSEARCA:FXY) surged across the board at the Asian market open on Sunday evening when Japan's economic minister Akira Amari stated "the yen's excessive strength has been largely corrected, and further weakness could be harmful." I expect this unwind of the yen currency crosses (yen strength) to continue for several weeks as Japanese housewives jettison their silver (NYSEARCA:SLV) and gold (NYSEARCA:GLD) positions to reclaim yen.
On the four-hour chart, the AUD/JPY currency pair is completing a textbook triangle correction after tumbling impulsively off its yearly high at 105.42. If the pattern pays off as I expect, the Australian dollar will rally in a leg E to around 101.60 before embarking on a third wave lower. I've applied Fibonacci targets to the chart to project possible targets and I expect we could hit the 127.2% level at 94.41 before the correction is over. A break of triangle support near 99.50 would indicate the third wave is already underway.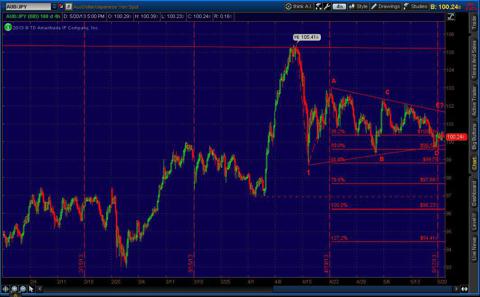 The Australian dollar (NYSEARCA:FXA) has been losing momentum lately after romping higher for most of the year. The emerging weakness is no surprise with the Reserve Bank of Australia slashing interest rates and the country set to suffer economically if weakness in the commodities complex continues. Still, pulling back to the daily chart, I expect the coming weakness will once again be bought and propel the currency pair higher in the fifth wave of a giant impulse off the June 2012 bottom.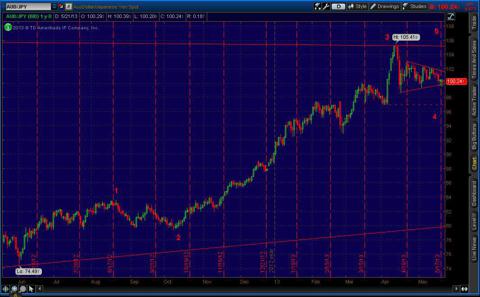 Fifth wave objectives will have the currency pair taking on its all-time-highs at 107.87, where I anticipate a deeper correction to commence amidst heightened volatility and the stock market rout that so many bears have been anticipating. But this could still be 6-12 months off.
Disclosure: I am short the Australian dollar against the Japanese yen. I wrote this article myself, and it expresses my own opinions. I am not receiving compensation for it (other than from Seeking Alpha). I have no business relationship with any company whose stock is mentioned in this article.