Introduction
Since my last article about Priceline.com (NASDAQ:PCLN) in Jan. 2013, titled Why Investors May Have To Reconsider Priceline.com, the company's stock price has outperformed the increase in the NASDAQ index and that of major competitor Expedia (NASDAQ:EXPE), while under-performing the jump in the common shares of Orbitz (NYSE:OWW) and TripAdvisor (NASDAQ:TRIP) (see graph). This price performance was stronger than expected, given that the company reported a lower than expected guidance for the rest of the year, which seems like another sign that the largest on-line travel company by enterprise value could be reaching its peak performance. Growth investors could be better served if they look at other smaller companies in the on-line travel industry.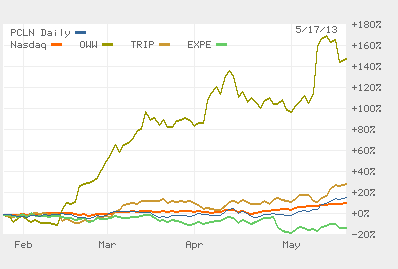 Valuation and fundamentals
Priceline has 50.1 million shares outstanding and $5.2 billion of cash and short-term investments for an enterprise value of $37 billion. For comparison, Expedia and Orbitz have 135.1 million and 105.5 shares outstanding for enterprise values of $7 billion and $1 billion, respectively. Unlike Expedia and Orbitz, Priceline has significant amount of convertible securities that will dilute common shareholder's value if Priceline common stock exceeds the conversion price of $944.61 per share for the Mar. 2018 converts and $303.06 per share for the Mar. 2015 ones.
As of this writing, Priceline common stock is trading at over $800 per share and it is likely that the Mar. '15 convertibles will be deep in the money. In fact, investment banks love issuing convertible securities with limited risk for the holder of the convertible if the issuing company is an established company such as Priceline. If you look at a regular convertible bond mutual fund, such as the Calamos Convertible Securities Fund, the names in its holdings are usually financial services, energy, biotechnology, and mining companies. Issuance of convertible securities for a company that has an S&P rating of BBB (has adequate capacity to meet its financial commitments) is surprising and questionable. Priceline's costs associated with its convertible securities are as follow:
Issuance costs - $33.6 million for both convertibles Priceline currently has outstanding,

Interest costs - 1% and 1.25% per year for each of Priceline's two convertible bonds, and

Dilution cost - any difference between the conversion price and the stock price is born by the current shareholders of Priceline.
In addition to a capital structure that is not optimal, Priceline shares seem overvalued on a number of valuation and fundamental measures as seen from the table below. For example, Priceline has the highest price-to-CFO ratio of 22.6, compared to 6.1 and 4.2 for Expedia and Orbitz. This means that Priceline has the lowest cash generating ability proportionate to its size. Ratios based on cash measures are more reliable as cash is more difficult to fiddle with and also simply because strong cash flow means a healthy business. Also, Priceline has a disproportionately large EBITDA margin and due to the low entry costs for the online travel industry, it might not be sustainable at similar levels for too long. Finally, as the economy recovers it is likely that Priceline will have less leverage with hotels, rental cars, and airlines, which could erode its margins even more. While riskier than Priceline, Expedia and Orbitz common shares have valuations that offer a larger margin of safety.
| | | | |
| --- | --- | --- | --- |
| | PCLN | EXPE | OWW |
| Market capitalization | $40.7B | $7.9B | $0.8B |
| EBITDA margin | 35.7% | 13.3% | 15.3% |
| EV/EBITDA | 18.7 | 10.9 | 9.5 |
| Gross margin | 78.7% | 77.5% | 80.7% |
| Price-to-CFO | 22.6 | 6.1 | 4.2 |
| Price-to-earnings (NYSE:PE) (2013) | 20.8 | 17.2 | 5.6 |
| PE-to-growth | 1.1 | 1 | n/a |
| Price-to-sales | 7.4 | 1.9 | 1 |
| Price-to-book value | 10.2 | 3.6 | 54.9 |
| Dividend yield | nil | 0.90% | nil |
| Beta | 1.3 | 1.6 | 2 |
| Employees | 7,000 | 12,330 | 1,328 |
| International revenue (2012) | 68% | 45% | 28% |
| 1-year stock return | 29% | 43% | 130% |
Source: Capital IQ, Thomson Reuters, SEC filings, authors calculations; EBITDA - earnings before interest, tax, depreciation, and amortization, EV - enterprise value, CFO - cash flow from operations.
Recent developments
In the quarter ending March 31, 2013, Priceline reported an increase in gross bookings of 36% year-over-year compared to a growth of 44% for the same quarter in 2012. Also, Priceline announced strategic relationships with United Airlines (NYSE:UAL) and MapQuest, a subsidiary of AOL (NYSE:AOL). The partnership with United allowed Priceline to integrate United's technology systems into its own, while at MapQuest, Priceline became the sole provider for travel services to the company's users. Also, Priceline is actively marketing its primarily European web site, booking.com, in the U.S. In addition, the Kayak (NASDAQ:KYAK) closing was approved and is scheduled for May 21, 2013.
Similar to Priceline, Expedia ventured into the travel metasearch business and acquired 63% in the German-based Trivago. Expedia paid $610 million for its majority share in Trivago or 7.6 times Tribago's 2012 revenue of $80.6 million that are allocable to Expedia's share. For comparison, Priceline spent $1.7 billion for Kayak or 6.1 times Kayak's 2012 revenues. It is difficult to say who made a better deal, but it seems like Expedia spent about a third compared to Priceline for acquiring the same technology and for gaining additional access in the European travel market.
In other developments, Expedia launched a loyalty program and its Expedia Traveler Preference Program has signed up 25,000 hotels. Also, it repurchased two million shares during the recent quarter for $127 million or $63.60 per share. Priceline has over $5 billion of cash and cash equivalents on its balance sheet but still has not utilized it to repurchase shares. On the negative side, Hotwire, Expedia's value offering, did have a difficult quarter since competition in this counter-cyclical travel area is intensifying and also the rental car prices rose, which reduced consumer's interest. However, performance at Hotwire will likely improve as it recently launched tripwatcher.com, a web site allowing users to receive notifications through e-mail, Facebook (NASDAQ:FB), and Twitter when an airline deal for a pre-specified criteria becomes available.
And Orbitz is benefiting from its partnership in offering booking services to American Express (NYSE:AXP), which the company plans to scale with other companies in the future. Also, HotelClub started offering currency support for Brazil, China, and Russia and overall is performing well as hotel revenues were up 7% in the quarter ended March 31, 2013. Finally, Orbitz announced that it settled its outstanding lawsuits with American Airlines and that it intends to sell the Away Network. All this should allow the company to focus on its core operations and future growth.
Conclusion
The travel industry has benefited from the advance of the internet and technology. It seems like the changes in this industry are just starting. For example, while the way of booking has changed from in-person, mail, or phone to the internet, there has been little change in the overall travel experience. Tourism and travel are areas where large data analysis can be applied to make them more efficient and enjoyable.
The industry is growing and it seems like Priceline together with Expedia and Orbitz are well positioned to benefit from this growth. However, Priceline, being the largest company, is most likely to be affected from new entrants in the industry and from competitive pressures. In addition, its shares lack a sufficient margin of safety to provide cushion if industry dynamics change for the worse or if consumers switch booking providers. Priceline's dilutive convertible securities, recent acquisition of Kayak, and slowing growth rates are other factors investors should consider before investing in the company.
Disclosure: I have no positions in any stocks mentioned, and no plans to initiate any positions within the next 72 hours. I wrote this article myself, and it expresses my own opinions. I am not receiving compensation for it (other than from Seeking Alpha). I have no business relationship with any company whose stock is mentioned in this article.