Readers of my articles know that I am enamored with the idea of low volatility investing. Over the trailing generation, low volatility stocks have not only produced higher risk-adjusted returns than the overall market and high beta stocks, but produced higher absolute returns as well. Below is a graph of the cumulative total return of the S&P 500 versus the S&P 500 Low Volatility Index from the advent of the latter index in 1990 through the end of April 2013. Historically, the Low Volatility Index has produced an average annual return 144bps higher than the broader market while exhibiting only three quarters of the return volatility. If you were "Seeking Alpha" over the past twenty-three years, you found it in low volatility stocks which produced higher returns with less risk than the overall market. In fact, understanding this low volatility anomaly and applying investment leverage equivalent to the level of financing traditionally employed by Berkshire Hathaway (BRK.A, BRK.B) could have replicated the Oracle of Omaha's results over the trailing generation.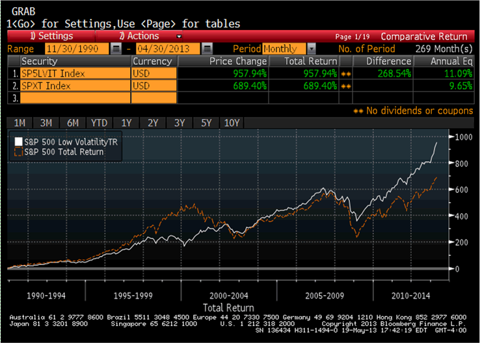 Source: Bloomberg, Standard and Poor's
My affection for low volatility stocks has been rewarded in 2013 with the S&P 500 Low Volatility Index (proxied through SPLV) returning 19.09% year-to-date through Friday, May 17th's close. This index, and replicating ETF, track the one-hundred components of the S&P 500 with the lowest trailing volatility over the last twelve months, with weights inversely proportional to volatility, and rebalanced quarterly.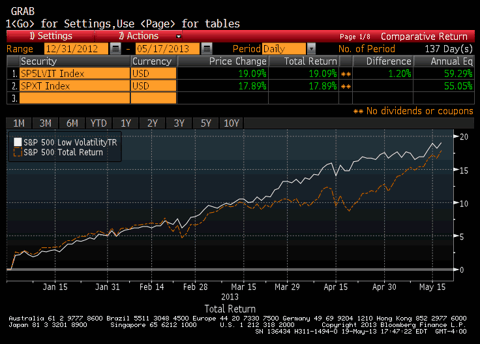 Source: Bloomberg, Standard and Poor's
This return profile of the Low Volatility Index has outpaced the broader market (SPY 17.89%) and even modestly outperformed the S&P 500 High Beta Index (replicated through SPHB 18.91%) in 2013 while owning a basket of stocks with much more stable results.
In a broad-based stock market rally, you would expect returns to be proportional to beta with more sensitive stocks leading the way. This has not been the case in 2013. Low volatility stocks' outperformance could be a function of the still uncertain investing environment, which has sparked a higher demand for low volatility investments. This uncertainty is manifested in the equity risk premium in the marketplace, which a recent study by Fed economists put at nearly a 50-year high.
The outperformance of low volatility stocks could also be driven by the impact of the Federal Reserve attempting to move investors further out the risk curve to stimulate the economy. With junk bonds recently reaching all-time high prices, and their average yields falling below 5% for the first time, investors have been forced to look at increasingly risky options to generate palatable investment returns.
The S&P 500 Low Volatility Index is heavily populated by utilities and consumer products companies. Examining the top performing sectors of the S&P 500 year-to-date side-by-side with the sector constituency of the S&P 500 Low Volatility Index demonstrates the market's year-to-date preference for more stable companies. The Low Volatility Index has an underweight to the higher beta materials and energy sectors, which have underperformed year-to-date.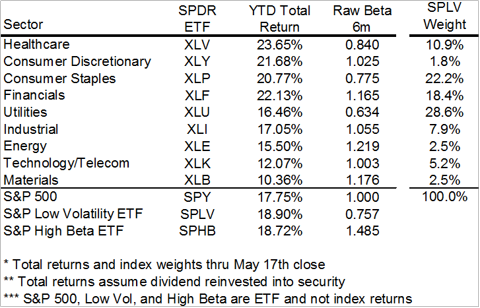 Of course, the trailing outperformance of low volatility stocks has expanded their multiples relative to the broader market. Low volatility stocks are now trading at a price-to-earnings ratio of 20.38x, a 13% premium to the 17.95x multiple on the S&P 500. The price-to-earnings ratio of low volatility looks inexpensive to the 34.75x multiple commanded by high beta stocks, whose multiple has expanded due to flagging earnings of commodity-related sectors, reducing the denominator in this earnings multiple.
Despite the trailing outperformance of low volatility stocks in 2013, there are certainly investors who should still look to target holdings in these companies. After all, the outperformance of low volatility stocks in 2013 is roughly in line with their average annual outperformance over the last twenty-three years. For investors seeking to bridge the gap between anemic returns in fixed income assets, but not wishing to take on the full volatility of stocks, low volatility stocks could be a longer-run safe haven. If an investor is looking for an investment vehicle that allocates away from the more cyclical portions of the economy given an expectation for continued subdued economic growth, then this strategy might also be appealing. Finally, with an indicated dividend yield of 2.62%, 96 basis points higher than the 1.66% indicated dividend yield of the S&P 500, SPLV may be more attractive to income investors than the overall equity market.
I hope this article provides Seeking Alpha readers with a refresher on low volatility investing, and furthers discussion on the relative merits of this trade for the remainder of 2013 and longer investment horizons.
Disclosure: I am long SPLV, SPY. I wrote this article myself, and it expresses my own opinions. I am not receiving compensation for it (other than from Seeking Alpha). I have no business relationship with any company whose stock is mentioned in this article.