Today we expect to have a ton of Apple (NASDAQ:AAPL) news as the Senate seems intent upon trying to embarrass the company into voluntarily paying more in taxes. We view this as a losing battle for the US Senate and an idea which should be dropped. If they want taxes to increase they need to either create certainty in the marketplace by passing a sound budget or raise taxes which would in the interim create higher tax receipts. We prefer they focus on option #3 which is to simply make the pie bigger by staying on the sidelines, keeping their mouths shut and not passing stupid legislation which hurts this delicate recovery.
Charts of the Day:
Why all the fuss over Apple and their taxes paid? Maybe because by quarter it resembles this: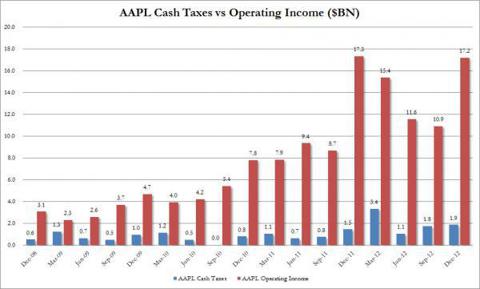 Which would be fine until one looks at a graph which charts the cumulative numbers and the picture becomes a bit more clear...and egregious. Remember none of this is illegal, simply what the US tax code allows.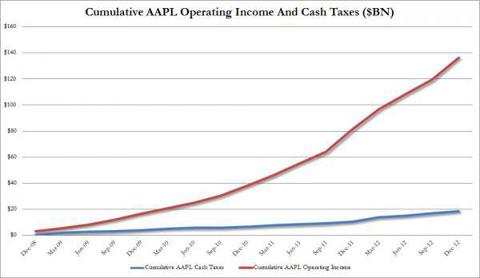 Charts courtesy of Zerohedge.com
We have no economic news due out today, and will have to wait until Wednesday until it kicks off.
Asian markets finished mixed today:
All Ordinaries -- down 0.56%
Shanghai Composite -- up 0.22%
Nikkei 225 -- up 0.13%
NZSE 50 -- down 0.17%
Seoul Composite -- down 0.07%
In Europe, markets are mixed this morning:
CAC 40 -- down 0.71%
DAX -- down 0.44%
FTSE 100 -- up 0.03%
OSE -- up 0.43%
Technology
Chinese search engine company Baidu (NASDAQ:BIDU) saw shares continue higher yesterday as they rose $5.77 (6.09%) to close above $100/share on volume of 6.9 million shares. The move back above the century mark came amid reports of Qihoo's numbers and rumors of Baidu purchasing rival Sohu's search business which has a roughly 5% market share (see the Forbes article here). The possibility of an IPO of the company's IQiyi video site also intrigued market participants, but how all of this would fit together is still up for debate. The bottom line yesterday was that shareholders may have undervalued some of the assets here and the market moved to correct that. Where there is smoke there is usually fire, so pay attention here and watch to see if any moves are in fact made.
We should see $110/share now, and if we can get to that level then it will be interesting to see whether that resistance level holds.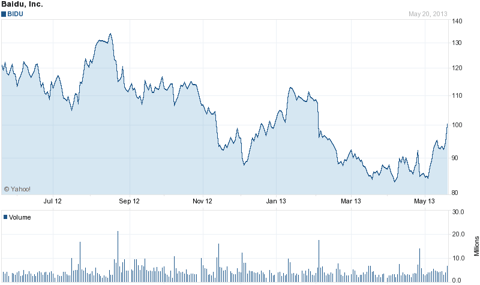 Chart courtesy of Yahoo Finance.
Entertainment
CNBC's Bob Pisani yesterday pointed out the weakness in the cable providers across the board and noticed Comcast (NASDAQ:CMCSA) down on no news. Volume was strong in the A shares and for those paying attention to the summer movie season the box office might be as tough for the company as yesterday's trading session. The latest blockbuster to come out performed below expectations due to the continued strength of previous releases and the manner in which studios have packed big films into the schedule. Why is this important to Comcast you ask? Well the company is set to release 'Fast & Furious 6' and it should by all accounts be a blockbuster as well, although now some might be tempted to revise downwards their numbers after Viacom's (NASDAQ:VIAB) 'Star Trek: Into Darkness' came in lower than expected.
Consumer Goods
The speculation on the Street now is that Bill Ackman may be getting the squeeze at Herbalife (NYSE:HLF). The shares were higher by $4.77 (10.73%) to close at $49.21/share on volume of 5.5 million shares yesterday and this continues a winning streak for the shares. Ackman is short via the shares, not options which has given him added risk while nemesis Carl Icahn has accumulated a stake in the company of around 16 million shares. Ackman himself may not have had to buy any shares to cover his shorts but many think that those who were copycat traders have in the past few sessions (see article from Bloomberg here).
Phoenix rising? Icahn probably thinks so.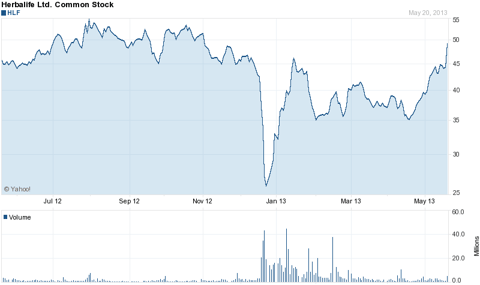 Chart courtesy of Yahoo Finance.
Retailers
As readers should be well aware by now we are super bullish of all things housing. From those retailers which are in the home improvement business, to homebuilders, to the suppliers of the raw materials for construction we like it all. In nearly every case it has worked out in our favor, except as it pertains to Bed, Bath & Beyond (NASDAQ:BBBY). Yesterday continued the rough trading as shares fell over 2.5% to close at $67.35/share after Jefferies downgraded the company to a 'Hold' from a 'Buy'. We have been very patient here and shall continue to be because with a bull market like we expect in housing it should lead to all ships rising with the tide.
Rite-Aid (NYSE:RAD) traded above the $3/share level yesterday to set a new 52-week high yesterday before selling off from the highs all the way into the close. The company added Bruce G. Bodaken, the former head of Blue Cross of California, to the Board yesterday (see news release here). With the move above $3/share and the subsequent sell-off one has to question whether this was a short-term top or simply the stock mirroring the risk-on/risk-off trade yesterday. That shall be the big question for Rite-Aid shareholders moving forward over the next few sessions.
Was yesterday the top being blown out, or a pause caused by the general market?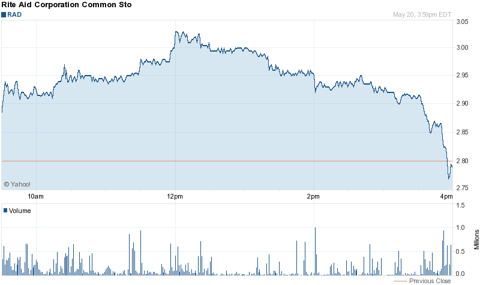 Chart courtesy of Yahoo Finance.
Disclosure: I have no positions in any stocks mentioned, and no plans to initiate any positions within the next 72 hours. I wrote this article myself, and it expresses my own opinions. I am not receiving compensation for it (other than from Seeking Alpha). I have no business relationship with any company whose stock is mentioned in this article.