After my previous article, in which I offered my opinion on the most recent weak performance of American Capital (NASDAQ:AGNC) compared to the more positive performance of Annaly Capital (NYSE:NLY), all of the stocks in the mREIT sector have continued dropping in share price, while the rest of the market keeps hitting high notes.
The reaction certainly highlights the clear risks that the sector faces when the focus is on interest rates and the comments that come from the Federal Reserve. The policies that are in place as of right now remind me of the game we used to play as kids; hot potato. A ball is tossed around as a clock ticks down to the final seconds, and whoever is holding the "hot potato" when time runs out, loses.
In the case of the agency mREIT sector, it is my observation that the company that uses the most leverage and is unable to pay a significant dividend will be the hot potato. Based on what we are seeing and hearing (from the Fed), I believe that the recent machinations of Fedspeak has given income seeking investors an opportunity to pick up shares of NLY relatively cheaply, and will avoid being the "hottest potato".
The Drop In Share Price Could Be A Buying Opportunity
There has been so much chatter about how book values have eroded (causing share prices to drop) because interest rates have climbed, that the one clear fact that has been overlooked is the way Annaly, and other mREITs, actually make money.
The yield curve spread.
While it is true that the spread has tightened in the short term, as noted in Annaly's latest earnings report, down another 4 basis points from the previous quarter, I believe that the dip had more to do with the combination of leverage, hedging and speed of inventory turnover, than the actual book value.
Basically, Annaly could not turn over its "inventory" quickly enough to replace lower interest rate mortgages with higher ones, and the hedging in place could not offset the dip in income. Since that occurred, more attention has been focused on how quickly the Fed will exit the myriad of QE policies, and the effect that will have on NLY's ability to maintain profitability and continue to pay dividends at the current rate.
Annaly is not standing still, however, and I believe it has been taking advantage of the wider yield curve spread to be able to maintain a very appealing dividend as long as the Federal Reserve uses a measured pace to exit the current policies.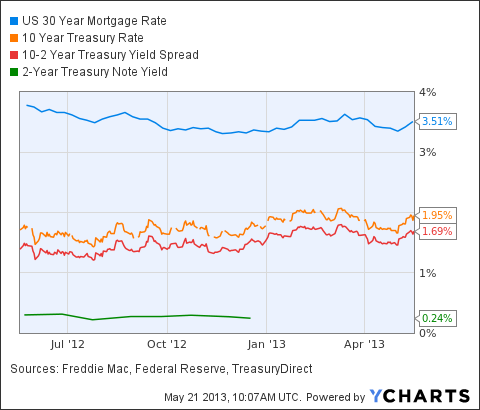 When we take a look at this simple chart, we can see the recent rise in the rates, as well as the spread between the 2 and 10 year rates. While the transition from a narrow spread to a wider spread caused apparent turnover difficulties, Annaly still made record profits.
With the spread continuing to remain wider, going forward I believe that NLY will be able to "catch-up" to the higher interest rates at the current pace in which it is rising. Keep in mind, the Fed is maintaining all of the current policies without any sign of slowing down yet, no matter what the various Fed Governors say.
Ben Bernanke is calling the shots, and he has been very clear about keeping all of the policies in place. He has reiterated his position time and time again and has not wavered. As far as I am concerned, this means a "risk" opportunity to either open a position in NLY, or add some shares to an existing "risk allocated" position.
If an investor understands the risks involved here, they could pick up some strong dividends with some potential for capital appreciation, especially since the shares of Annaly have dropped below book value already, while AGNC is slightly above book value right now.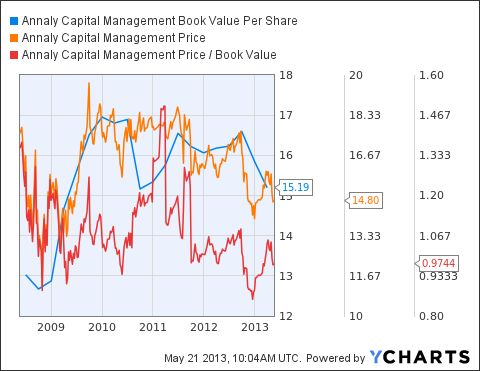 Since Annaly is now priced below book value, and with the recent strategic moves the company has made, I believe the dividends being paid now should be able to be maintained (and as I have suggested previously, maybe even increased).
Note the comments made by Wellington Denahan during the earnings conference call:
"For the quarter, our overall dividend yield and yield on core earnings remains at historically high levels relative to virtually all other asset classes. For example, our dividend yield of 11.3 is 967 basis points greater than the 10 year treasury. Our historical yield spread since inception versus the benchmark has been around 730 basis points. Our current yield on core earnings of approximately 7% remains higher than even the corporate high yield index which now stands at about 5.3."
And the comments about the CreXus acquisition:
"The CreXus's acquisition is accretive to the Annaly dividend and represents a meaningful step in the evolution of Annaly's capital allocation strategy, one that will enable us to take advantage of a broader spectrum of investments. Since the announcement of this acquisition in November, we have continued to build out our commercial expertise and we remain confident that CreXus' capabilities and growth may be significantly enhanced when coupled with Annaly's broader capital base."
The way I read these comments is that Annaly has its business under control, and the CreXus move itself will offer even greater shareholder value going forward.
The Fed Will Not Move Too Quickly
Even though there have been rumblings about the Fed ending the current policies, it was made quite clear that it will not move so quickly to have interest rates rise at too rapid a pace.
As noted in this article:
Federal Reserve policy makers say they want to avoid a sudden increase in interest rates when the time comes to start unwinding record monetary easing. A shrinking federal budget deficit is likely to help them meet that goal...... One outcome Fed officials seek to avoid is a jump in bond yields like the one that occurred in 1994, when they began tightening policy.......The yield on the 10-year Treasury climbed to more than 8 percent by November 1994 from as low as 5.57 percent in January of that year. Mortgage rates climbed from under 7 percent to more than 9 percent by year end. In a March 1 speech, Bernanke said that improved communication from the Federal Open Market Committee about the plans for its target interest rates and bond purchases will help avoid a repeat of 1994. "FOMC communication should both make policy more effective and reduce the risk that market misperceptions of the committee's intentions would lead to unnecessary interest rate volatility," Bernanke said, noting that in 1994, Fed communications were "very limited.".......The median estimate called for the Fed to reduce its purchases to a $50 billion monthly pace in the fourth quarter of this year and end them in the first quarter of 2014.
The Federal Reserve has shown the ability to be able to keep a stable interest rate environment, even as it purchased $85 billion per month in longer-term treasuries and mortgage backed securities. As long as they "taper" off the purchases and maintain a short-term zero interest rate policy (ZIRP), the environment for NLY to profit will be more positive than negative. It will also allow the company the time it needs to adjust its business model to further grow its business into the future.
The Risks We Must Monitor
With everything I have mentioned, the risk that the Fed will act too quickly, or that interest rates will rise too rapidly, is still a clear and present danger. As I recently detailed in this important article, these stocks, including NLY, are not safe havens. By maintaining a risk allocation of no more than 4-5% in this stock or sector, a drop in share price should have less impact on the overall value of diversified portfolio.
Keeping an eye on the events I have noted above should also enable us to react quickly if we decide to exit our positions. As events unfold, I will hopefully be able to alert all of our readers as to what my plans are in a timely manner. For now, I am holding NLY and looking for a solid dividend stream for at least another year.

Disclosure: I am long NLY. I wrote this article myself, and it expresses my own opinions. I am not receiving compensation for it (other than from Seeking Alpha). I have no business relationship with any company whose stock is mentioned in this article.
Disclaimer: The opinions of the author of this article is not a recommendation to either buy or sell any security. Please do your own research prior to making any investment decision.