Yadkin Valley Financial Corporation (YAVY) is a small regional bank. If you're not up on your Southeast geography, Yadkin Valley is in the Northwest part of North Carolina. Yadkin Valley Financial, however, provides commercial and consumer banking in both North and South Carolina. As an aside, Yadkin Valley Financial will begin doing business as Yadkin Financial Corporation and Yadkin Bank on May 28.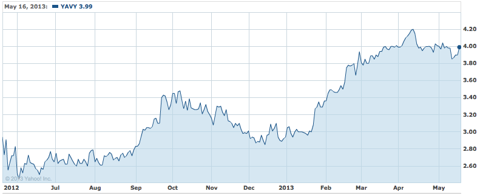 Click to enlarge
Yadkin Financial is currently trading at $4.00, with a market cap of $170 million. Despite the recent strength in the stock, it is still significantly off its pre-crisis high of $17, reached in 2008. I think that Yadkin Financial has excellent upside potential for the reasons I will highlight below.
(Note: All charts are taken from data from company presentations and data presented at the Sterne Agee Financial Investors Conference)
Tailwinds for Yadkin
Yadkin Financial has spent the last several years, like many banks all over the country, improving its capital position and the quality of its assets. Several recent events in particular have helped improve the capital position. In September of 2012, the Treasury auctioned YAVY TARP warrants to private investors. This combined with the $45 million that it raised from a PIPE offering. These two actions combined to help it raise $66 million in common equity. Wisely, it used the new capital to achieve its second goal, improving asset quality. Yadkin Financial was able to dispose of $49 million in substandard loans and Other Real Estate Owned (OTCPK:OREO), nearly all of these are homes that were foreclosed upon. Yadkin also took write downs of $14 million. Yadkin expects to raise an additional $1 million from OREO auctions during the first quarter of 2013.
Yadkin Financial has been successful in both goals. Its adversely classified asset ratio, which is an asset considered by the bank to have substandard credit quality, has been very much improved. It is now at 30%, while it was once over 100%.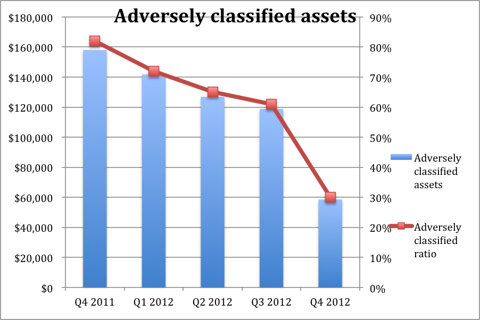 Click to enlarge
Yadkin Financial has also been doing a good job of increasing its capital position. Core deposits are up from around $700,000 in Q3 2010, to $900,000 in Q4 2012. Importantly, core deposits as a percent of total deposits is up substantially to where it currently is 55% from 34% Q3 2010.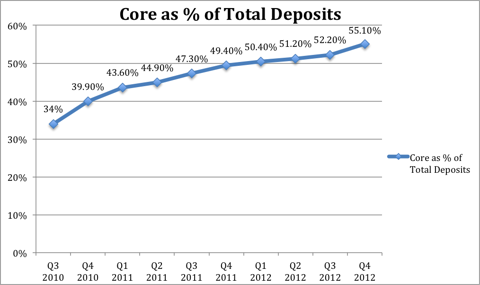 Click to enlarge
Two good trends that are both in line with management's goals for the bank. Unfortunately, Yadkin Financial has had negative net income, although it has been slowly improving. I believe, however, that there are several things on the horizon that will allow Yadkin Financial to return to profitability.

Click to enlarge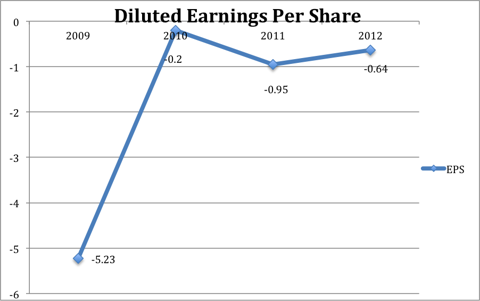 Click to enlarge
As you can see, while still negative the earnings situation is improving. I see several catalysts that I believe will put Yadkin Financial in the black soon.
The biggest and most immediate trigger for earnings growth is in the reduction in OREO (mostly foreclosed homes) related expenses. Management expects these to dramatically decrease in the first quarter of 2013.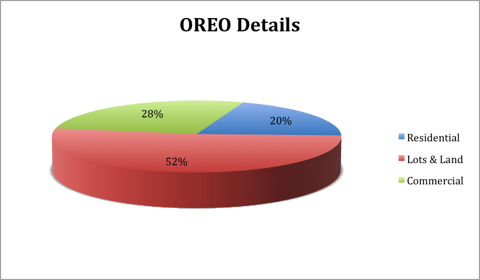 Click to enlarge
Currently Yadkin Financial is selling property at around 48% of balance at default, and 98% of OREO balance. Yadkin has been reducing its OREO exposure and has sold $46 million worth of OREO properties from 2009 to 2012. On February 15, 2012, Yadkin Financial sold 170 OREO properties at an absolute auction.
There are two other earnings catalysts on the horizon. Yadkin Financial has seen Net Income Margin Improvement, aided by the deposit mix improvement and projected loan growth of 2-3% in 2013. According to management, Yadkin Financial is ready to deploy excess liquidity, and as you will see, is in a good position to do so. The market growth potential for Yadkin Financial is tremendous due to its unique presence.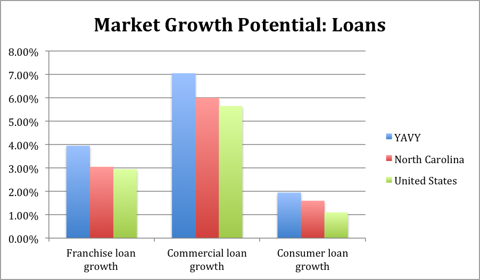 Click to enlarge
In addition to broad market growth potential, Yadkin also has tremendous growth potential in a unique lending area: agribusiness. Agribusiness is one of the largest sectors within North Carolina, and Yadkin is very well positioned. Within the Yadkin footprint agribusiness growth is expected at .61% while projections are negative in the rest of North Carolina at -1.03% and the rest of the U.S. where projections are for -1.01% growth. This is very important sector where Yadkin Financial can capitalize on the growth; 30% of Yadkin commercial bankers have a deep knowledge of the agribusiness industry and the Chief Credit Officer has an undergraduate degree in Agribusiness from NC State University. More importantly, he has spent more than half of his 25-year career in agribusiness lending at Farm Credit and First Citizens Bank.
Shifting Mortgage Model Will Help
Before Yadkin's mortgage model was primarily wholesale mortgage services and it is shifting to retail model that has built on exceptional service. It has a centralized operation in Greensboro, while still allowing for growth opportunities. It is focusing on purchases and is becoming less dependent on the refinance market. These are all great trends and will help Yadkin Financial in the future, which will work in conjunction with the changing mortgage model.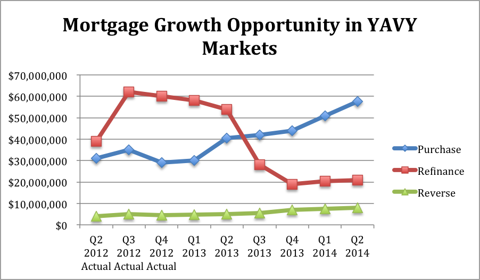 Click to enlarge
Summary
I believe that an improving earnings situation, a strong management team that has pursued aggressive credit management, has been very focused on reducing expenses, and believes in generating shareholder value all make Yadkin Financial a very attractive stock that is well worth your while to own.
Disclosure: I am long YAVY. I wrote this article myself, and it expresses my own opinions. I am not receiving compensation for it (other than from Seeking Alpha). I have no business relationship with any company whose stock is mentioned in this article.