Metals have taken their hit as of late while energy has led the way higher in the commodities space. We do find it interesting that many have written off copper and say that it is indicating that the market is heading lower due to growth concerns for the world economy. Yes, that was the narrative since February, however, we wanted to point out with our 'Chart of the Day' just how far the contract has come back. Right now attention is on the $3.40 level and whether we can break through that level to $3.50 and then above $3.60. If we do break out, watch out because that will most certainly ignite a rally in the commodity space, possibly by 10% or more.
Chart of the Day: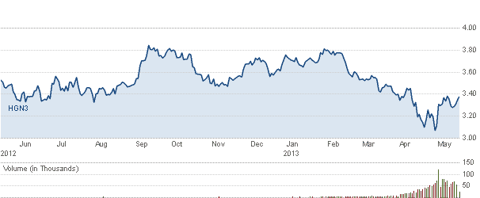 Chart courtesy of CNBC.com
Commodity prices this morning are as follows:
Gold: $1377.20/ounce, down by $6.90/ounce
Silver: $22.53/ounce, down by $0.052/ounce
Oil: $96.49/barrel, down by $0.22/barrel
RBOB Gas: $2.8836/gallon, down by $0.022/gallon
Natural Gas: $4.086/MMbtu, down by $0.004/MMbtu
Oil & Natural Gas
Shareholders of Plains Exploration & Production (NYSE:PXP) rose $3.39 (7.44%) yesterday to close at $48.94/share on above average volume of 12.6 million shares after the company announced that shareholders had approved the takeover by Freeport-McMoRan (NYSE:FCX). As we have previously stated, we like the acquisition for Freeport as it will further diversify the company's revenue streams and get them exposure to the energy sector and not just metals. This is not just good for the metals business but the oil and natural gas business too because now the assets are held within a large corporation which has the financial wherewithal to withstand an accident in the deepwater gulf and the ability to internally fund expensive exploration of the company's leases.
One name we want to throw out there for readers is Sanchez Energy (NYSE:SN) which has broken above $20/share which had served as resistance. Shares closed at $22.33/share after rising $1.55 (7.46%) on increased volume of 1.4 million shares following last week's rally in energy prices which carried over into Monday. The company is solidly positioned in the Eagle Ford and we believe could be a takeover target for someone looking to double down in the area or a larger name simply looking for exposure. We want readers to do due diligence on it, but this is one of those names adding to production which we preach about.
Rare Earths
Since they beat on earnings, Molycorp (MCP) has performed quite well, being able to hang on to most of their gains. Shares gained back a bit of what they let slip away last week by rising $0.70 (10.74%) to close at $7.22/share yesterday with 18.1 million shares trading hands. This is an industry which has far more exposure than the market capitalization deserves and this allows many of the newsletter writers in Canada to manipulate the stocks simply by putting out a letter to their readers. Make no mistake, these names do trade in tandem, however, we think that some of the writers north of the border have been moving back into the bull camp lately and that has led to the rise in Molycorp shares as well as the smaller names in the industry which have risen even sharper.
Solar
Look for the party to continue at JA Solar (NASDAQ:JASO) today as RBC Capital Markets raised its price target to $8/share from $1/share this morning and it appears that this, coupled with the momentum carryover from yesterday's move, will have the stock opening green this morning. The shares put in an impressive performance yesterday as they rose just over 70% to close at $9.56/share as investors traded 22.3 million shares after the company reported earnings which pleased investors.
JA Solar sure knows how to break out in style. They made sure there was no question about what was happening.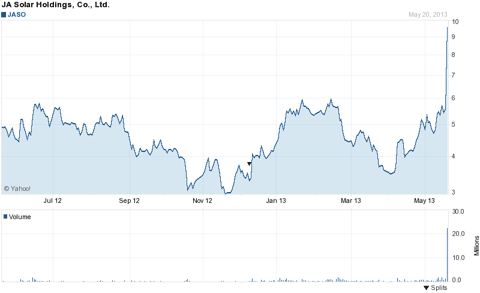 Chart courtesy of Yahoo Finance.
The news of higher shipments and the short squeeze sent many other solar names screaming higher, including Real Goods Solar (RSOL) which saw its shares rise nearly 51% to finish the session at $6.08/share with 34.6 million shares trading hands for the day. This was a name along for the ride and took full advantage of the solar excitement yesterday. One has to ask now whether this was simply a solar flare or something more enduring...our bet is flare.
Let us see how long this lasts...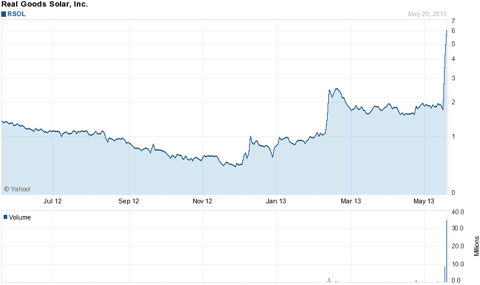 Chart courtesy of Yahoo Finance.
Disclosure: I have no positions in any stocks mentioned, and no plans to initiate any positions within the next 72 hours. I wrote this article myself, and it expresses my own opinions. I am not receiving compensation for it (other than from Seeking Alpha). I have no business relationship with any company whose stock is mentioned in this article.