Over and over again, I've reiterated the fact that the world is shifting to a mobile realm for on-demand information. The four companies listed below are IT leaders in innovation, the key driver of all tech companies, for the increasingly mobile world. For instance, netbooks are riding the same wave smartphones did just a few years ago. Apple has yet to jump into the field, Qualcomm (NASDAQ:QCOM) is developing the chips and Google (NASDAQ:GOOG) provides the Android operating system. Keep in mind, tech remains hot in this bear market rally; the IT SPDR (NYSEARCA:XLK) is up 18.20% YTD, outperforming the S&P 500 by 16.21% (as of 6/21/09). Throughout this article, I have embedded many links to read further on these revolutionary technologies.
Apple (NASDAQ:AAPL)
Steve Jobs picked this company up from the ground, dusted off its coattails and led the innovation charge of the last decade. From iPods to macbooks to the iPhone, Apple is the definition of "halo effect." They have defined themselves as the cool brand for not only the young population, but also parents who are catching the technology bug. At its annual WWDC, Apple showcased: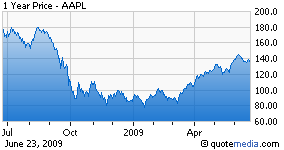 New 16Gb & 32 Gb iPhone 3G S ('S' is for Speed)
Original iPhone 3G cut to $99 (to sustain its momentum in this cash-tight recession)
Snow Leopard operating system for just a $29 update
Price slashing the macbooks by $300.
Apple continues to innovate; here are some rumors/speculation on what they could do:
CDMA-capable iPhone (86 mln subscribers with Verizon (NYSE:VZ); penetration in China)
4G iPhone
Touchscreen notebook
Apple iPad (similar to Amazon's Kindle reader)
Increase penetration in the Enterprise market
iPod Touch video capable, thus Skype capable over Wi-Fi
The last bullet surprises me because Apple did not make a bid for Skype from eBay (NASDAQ:EBAY) despite its stellar success as an iPhone app, Apple's $28.9 billion in cash and how the VOIP company could be easily tucked into the business model of the superb-managed IT giant. Remember, Apple was the company that dominated the MP3 player market (the Zune had no chance). Also, the Macbook has had a cult-like following; ask your friends if they would ever switch back to a PC.
Qualcomm (QCOM)
Toshiba's TG01 netbook utilizes QCOM's 1 GHz Snapdragon processor, which returned positive feedback. Now the company is planning to release its 1.3 GHz QSD8650A processor (30% stronger and 30% less power). QCOM is bridging the gap between smartphones and notebooks by creating a device called a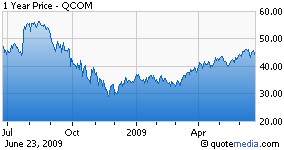 smartbook. Smartbooks are mini-laptops that are similar to netbooks, but differ such that they operate on mobile phone chips (thus QCOM chips) as opposed to PC microchips, such as Intel's (NASDAQ:INTC) Atom microprocessors. This device will have "the portability and intuitive feel of a smartphone combined with the versatility and capability of a notebook." Smartbooks will come in various forms "from larger, sub-notebook designs to compact, touch-screen tablets."
QCOM's Mirasol display technology is an emerging alternative for battery-draining LCD screens on mobile phones. It is based on reflective technology called IMOD, with MEMS structures at its core, that was developed by studying nature's processes and structures. This technology has the potential to revolutionize the mobile world as it operates on extremely low power, yet is highly reflective (the screen can be seen in bright sunlight). No longer will your smartphones be sucking the juice from your battery! Check out this YouTube video of people viewing this technology for the first time. For more info on why I believe QCOM will be a wise investment, read my article from June 7th.
Google (GOOG)
At Google's headquarters, they give their engineers "20% time" or "Innovation Time Off", which means that the developers are encouraged to work on side projects one day out of the five day work week; in other words, innovate. Many successful Google products were born from this employee perk such as Gmail, Google news and social networking site Orkut. Remember, Google still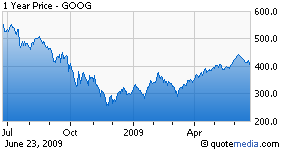 dominates the online advertising/search market and they could soon penetrate the new market of mobile advertising. Google has a vast array of successful products such as Google Apps, Google Docs and my new default web browser Google Chrome. Google also owns YouTube, a key driver of the recent explosion in internet bandwidth as users stream high-quality videos online. In addition, GOOG plans to sell online access to electronic versions of books, an attempt to steal market share from Amazon (NASDAQ:AMZN).
Android is Google's free and open source software platform for mobile devices, predominantly for smartphones. However, the Linux-based operating system has jumped into the booming netbook market as Acer recently unveiled an Android Aspire One netbook that runs on an Intel Atom processor. Android has a significant advantage for companies trying to develop low-priced netbooks because the software is free, as opposed to Microsoft's (NASDAQ:MSFT) Windows operating system which costs a heavy licensing fee. Many companies have showed interest in working with the Android system including: HP, T-Mobile, Vodafone, Verizon and many more. A feasible partnership would be the Android OS, primarily developed for smartphones, operating on QCOM's smartbook chips.
Sybase, Inc. (SY)
For this company, I would like to give all the credit to my friend and colleague Santosh Sankar for picking this stock in the Bullish Bankers "Best Stocks of 2009″ Newsletter, released in January. I encourage you to download this newsletter, as our picks have outperformed the S&P 500 by 14.83% YTD (as of 6/15/09). I will briefly summarize his investment rationale: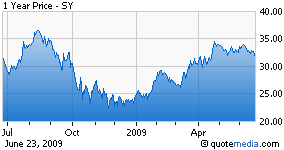 Sybase is the largest enterprise software and services company exclusively focused on managing and mobilizing information to capitalize on the trend for a more virtual office. They offer ERP and CRM tools via internet connections on PDAs, smartphones or notebooks; all powered by its cloud in a secure and trouble free fashion. Their innovative products offer corporations cost-cutting strategies combined with a significant investment in human capital, thus driving end-user productivity and supporting fact-based, real-time decision making.
It also has a strong database and business intelligence segments that will provide stable revenues as its iAnywhere business continues to expand. Imagine accessing sophisticated corporate applications in the elevator to make last second corrections/updates to your work on the way to your important meeting. Not only is this a play on data mobilization, but also an investment in cloud computing and smartphone/netbook growth.
- Jake Kimble
Disclosure: The fund the author is associated with is long GOOG, with interests in QCOM and SYB.