At the Ira Sohn Investment Conference, Jon Jacobson of Highfields Capital Management suggested investors should short energy MLP Linn Energy (LINE). He reasoned that one half of its distributable cash flow came from hedging gains and therefore, current distributable cash flow was unsustainable. The same would apply to LinnCo (LNCO). This is a holding company that holds Linn Energy shares. It essentially exists to convert Linn Energy distributions (K-1 forms needed) into simple dividends, which are taxable at a lower tax rate. A recent Barron's article, "Twilight of a Stock-Market Darling", agrees with Jacobson that Linn Energy is overpriced. If you are a Linn Energy investor is there reason to worry?
In Q1 2013 Linn Energy reported a 69% year over year increase in production from 471 MMcfe to 796 MMcfe. LINE increased EBITDA 18% year over year from $302 million to $356 million. It reduced lease operating expenses 26% to $1.24 per Mcfe versus the year earlier figure of $1.67 per Mcfe. This is the mark of a well run company. LINE also announced that its proposed stock-for-stock merger with Berry Petroleum Company (BRY) had received regulatory approval. It now expects this merger to be completed by July 1, 2013.
LinnCo announced a cash dividend (form 1099C) of $0.725 per share for Q1 2013 ($2.90 per share annualized). This was a 2% increase from Q4 2012. LINE announced the same dividend as a distribution. LINE/LNCO further announced a plan to increase the dividend 6.2% to $0.77 per unit/share (or $3.08 on an annualized basis) in the quarter immediately after the quarter in which the BRY merger completes (currently expected to be Q2 2013). It also announced the start of a monthly distribution/dividend beginning with Q2 payments. LINE even increased its revolving credit facility limit from $3B to $4B. This leaves current liquidity at $2.9B.
That all sounds great. What is the problem supposed to be? One problem is that distribution coverage for LINE was only 0.88x in Q1 2013. LINE waved this off with the following explanation. First, you have to look at distribution coverage on a yearly basis. Second, there were production shortfalls in Q1 of an unforeseen and temporary nature. The following article, "Drilling Down Into Why LINN Energy Missed Its Production Guidance", covers that point well. I won't bother to repeat it here. Follow the link under the "Missed" word in the title to read that article.
Naysayers point to the fact that LINE reported a net GAAP loss of $222 million ($0.96 per unit). This includes $189 million ($0.82 per unit) from the change in fair value of hedges covering future production. It includes an impairment of $57 million ($0.24 per unit) from long lived assets. It includes $11 million ($0.05 per unit) in merger transaction costs. It includes a $2 million loss ($0.01 per unit) on the sale of assets. The major point, the hedges, can be waived away by noting that the hedges lost fair market value because the value of the underlying commodities (oil, NGLs, and natural gas) went up. Hence, effective puts became less valuable. These were not "realized" losses. LINE has hedges extending out several years. Since LINE can now sell the commodities at higher prices due to these same price increases in commodities, these losses are effectively a mirage. If the prices of the commodities go down again, the hedges will again become more valuable. The same argument can be made for the impairment charges, except the value of the assets won't go up if the prices of the commodities go down again. However, the impairments could in the future be undone. The above all fit more into the category of minor annoyances. They do not negate the quality of the company.
Even with the sale of its Panther assets, LINE is expecting to grow production by 10% in 2013. This is after it has curtailed some development programs for 2013 due to infrastructure issues. The naysayers say LINE wouldn't be growing at all in 2013 without the Berry Petroleum merger. This may be true. However, if LINE had not bought (or merged with) Berry Petroleum, it would have bought something else. If this sale somehow falls through, which is not expected, LINE will buy something else. LINE has reached a size where it is a lot easier to grow primarily through acquisitions. It has no reason to be ashamed of this. The only point naysayers can really make about this is that growth will likely slow with increasing size. This means LINE will in the future likely be a slower growing company. It does not mean it will become a failure. It does not mean that it will have trouble weathering a US and world downturn if the US and global economic situation worsens significantly soon. In fact, the very hedges that the naysayers have complained about would likely save LINE from any dramatic drops in EBITDA during such a time.
The Berry Petroleum merger will add approximately 34% to LINE's proved reserves. Plus, these appear to be long lived reserves and 75% liquids reserves. Even before the BRY merger, LINE had achieved an organic reserve replacement of approximately 168% for the last four years. There simply isn't the problem that Jacobson and Barron's complain about. LINE claims an approximate 16 year reserve life index.
Another complaint was that LINE's book value was not deserving of its valuation. However, it seems to compare favorably to many of its peers. When I say that, I am talking about other Energy E&P MLPs. These pay significantly higher distributions than C-corporation development companies. The following table gives a quick comparison of some peer Price/Book ratios.
| | |
| --- | --- |
| Stock | Price/Book |
| Linn Energy | 2.06 |
| Vanguard Natural Resources (NYSE:VNR) | 2.05 |
| BreitBurn Energy Partners (BBEP) | 1.08 |
| QR Energy (NYSE:QRE) | 3.81 |
| LRR Energy (NYSE:LRE) | 1.47 |
| Legacy Reserves | 2.49 |
I could go on, but LINE is in the middle of the pack on Price/Book ratios among its peers. Plus, the Price/Book ratio is often not the best determinant of assets' worth in the oil and gas industry. For instance, in the area of the Hogshooter formation, there are many potential layers above the Hogshooter formation which may be viable for oil and gas production. These have generally not yet been evaluated. Therefore, they do not show up as being of any value on LINE's books. Yet there is little question that there is value there.
The company presents its own valuation attempt and third party valuation attempts in the table below.

Click to enlarge
Jacobson and Barron's seem to disagree with these, but I have not been overly impressed with their rationale.
The following charts shows LINE's history of growth in reserves, production, adjusted EBITDA, and annual distributions.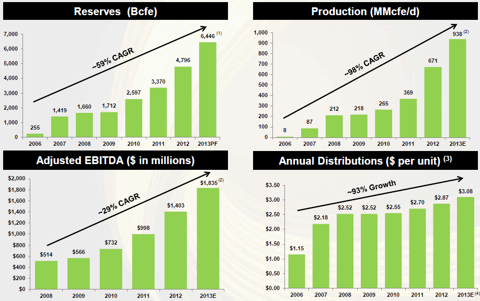 Click to enlarge
There does not seem to be anything greatly amiss here, although the annual distribution growth per unit has been tame of late. If energy prices take off in an eventual strong economic recovery, LINE should see great annual distributions growth too. For the last few years of recession and low growth, there has been little upward pressure on commodities. That will change in a real recovery and LINE will benefit from that. Few argue that we are in a long term energy bull market due to the significant growth in demand currently and in the future from the emerging market economies. LINE/LNCO is still a stock many investors will want to own long term.
The two year chart of LINE provides some technical direction for this trade.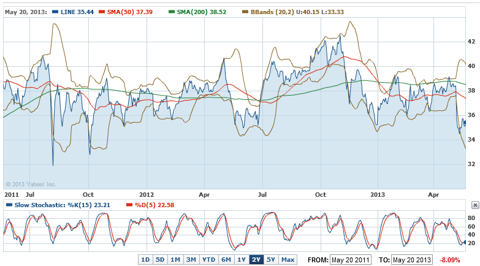 Click to enlarge
The slow stochastic sub chart shows that LINE is oversold. The main chart shows that LINE is near its lower Bollinger Band (oversold). The price line seems to have taken a trip downward since the negative Barron's article and Jacobson's negative call on LINE. However, it is at good support. The company has an average analysts' recommendation of 1.9 (a Buy). It has a CAPS rating of four stars (a Buy). It has gotten more oily with its acquisition of BRY. Plus, it has gained some great long lived assets. It has also gained some great potential in those assets. If LINE can withstand the storm of the negative comments, it should continue to pay a great distribution with reasonable growth.
Unfortunately the overall market is overbought. Therefore, it is probably appropriate to wait a time to buy LINE. Many think the overall market will soon pull back 10%-15%. LINE would likely pull back with it. Besides, you may be able to get LINE more cheaply if Jacobson et al push it down a bit more for you.
Further, the situation in the EU is worsening and negative EU news periodically monopolizes the financial news media to the detriment of US stock prices. The EU seems about to monopolize the news again. France is now officially in a recession. China's growth has been slower than expected. Many US indicators have been negative. Many pundits seem to agree that it is the Fed (and money with nowhere else to go) that is driving this market up. This kind of rapid up move does not normally go on forever.
In the last six months alone the SPDR S&P 500 (NYSEARCA:SPY) is up almost 20%. In the last year it is up about 26.5%. Meanwhile, the blended earnings growth rate for Q1 is only +3.2% year over year after 463 of the S&P 500 companies have reported. For Q2 2013 75 S&P 500 companies have issued negative guidance. Only 19 companies have issued positive guidance. Revenues have declined year over year by -0.3%. This is not growth!
Eventually the overall market will recognize that. At the rate the Fed is going it may soon push the US economy into STAGFLATION (inflation with no growth). This thought may be what is concerning many of the Fed governors lately. This thought may lead to a tapering back of the Fed QE sooner than many think. If this happens (or a strong hint of this happens), the Fed inflated market will surely pullback.
Waiting a bit to buy LINE won't hurt. Alternatively, investors can always average in over a longer period such as one year. This usually results in an overall good price for a stock. It does still appear to be a good investment.
NOTE: Some of the above fundamental financial data is from Yahoo Finance.
Good Luck Trading.
Disclosure: I have no positions in any stocks mentioned, but may initiate a long position in LINE, LNCO over the next 72 hours. I wrote this article myself, and it expresses my own opinions. I am not receiving compensation for it (other than from Seeking Alpha). I have no business relationship with any company whose stock is mentioned in this article.