The greenback rose compared to all of its 16 most-traded peers last week. A good gauge of its strength is seen in the Dollar Index, which rose to 84.25 at the end of last week, the highest since July 2012. The Dollar Index is used by the Intercontinental Exchange to track the greenback against its six main trading partners.
There are three main reasons for the continued strength of the US dollar:
Reason #1: Better Reported Figures
U.S. retail sales unexpectedly rose 0.1 percent in April, as US consumers spent more on cars, building materials and apparel. Economists surveyed by Bloomberg had expected a figure of 0.3 percent. Actual figures were much better, and also reversed a 0.5 percent drop in March.
The Thomson Reuters/University of Michigan preliminary index of U.S. consumer sentiment climbed to 83.7 in May from 76.4 in April, the highest since July 2007. The index averaged 64.2 during the recession that ended in June 2009 and 89 in the five years prior.
Reason #2: Possible Early Withdrawal of Stimulus
Fed Bank of San Francisco President John Williams said on 16th May that quickening economic growth and gains in the job market may prompt the central bank to begin tapering its bond buying as soon as this summer. Williams was one of the first Fed officials to advocate open-ended bond purchases. Philadelphia Fed Bank President Charles Plosser said a week earlier he would favor a June reduction. The Fed currently buys $85 billion of Treasuries and mortgage-backed securities every month.
Fed chairman Ben Bernanke is scheduled to speak to the Joint Economic Committee of Congress on 22nd May. Minutes of the Fed's last policy meeting will be released the same day too.
Reason #3: Better Home Sales Expected
Economists are predicting that home sales probably rose in April to the highest level in more than three years, extending gains in residential real estate that are giving the U.S. expansion a lift. Combined purchases of new and existing residences climbed to a 5.41 million annualised rate last month, the highest since November 2009, according to the median forecast of economists surveyed by Bloomberg ahead of figures from the National Association of Realtors and the Commerce Department. Housing is a source of strength as borrowing costs near record lows and increasing employment help rebuild confidence, spur demand, stabilize prices and boost household wealth.
Top News This Week
UK: CPI y/y. Tuesday, 21st May
I expect figures to come in at 2.6% (previous figure was 2.8%).
USA: New Home Sales. Thursday, 23rd May
I expect figures to come in at 430K (previous figure was 417K).
Trade Call
Short GBP/USD at 1.5258
On the hourly chart, GBP/USD has dropped over 420 pips since the 9th of May. A Fibonacci Retracement is drawn from the swing high of 1.5586 to the swing low of 1.5157. From the chart, the price touched the fib level of 38.2% and continued to trend downwards. A new low was also formed. I expect prices to retrace as some traders take profit, but the downtrend is firm. Hence, we will go short once prices retrace to the 23.6% level.
An entry is taken when prices move upwards to the 23.6% level of 1.5258. A stop loss of 65 pips is placed above the previous high located at the 38.2% level. We do not expect prices to rise above that. We will have two targets on this trade, exiting the first position at 1.5193 and the second position at 1.5128.
Entry Price = 1.5258
Stop Loss = 1.5323
1st Profit = 1.5193
2nd Profit = 1.5128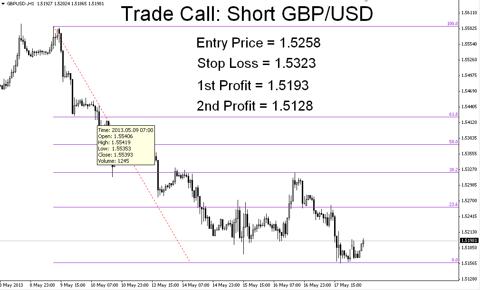 Disclosure: I have no positions in any stocks mentioned, and no plans to initiate any positions within the next 72 hours. I wrote this article myself, and it expresses my own opinions. I am not receiving compensation for it. I have no business relationship with any company whose stock is mentioned in this article.