Bentek recently released some interesting data points which, I believe, illustrates one of the pivotal issues to take into consideration when forecasting natural gas prices. Specifically, the difference in IRR between wet and dry plays. As you can see in the below graph based on data from the EIA, dry production averages between 75%-80% of total gas withdrawals.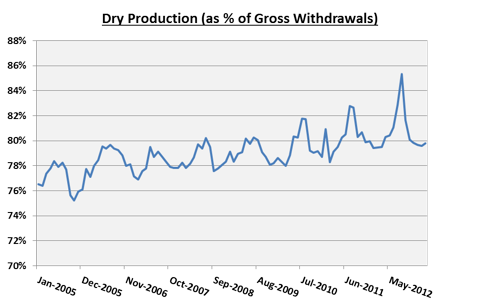 With current Henry Hub prices ranging around the $4/MMBtu mark, dry producers are still not in the money which, according to Bentek, would require prices in the range of $4.50-$5/MMBtu. On the other hand, wet producers are able to attain 30-40% IRR at prices between $3-$4/MMBtu. The result is what you see below in this (albeit, somewhat dated) chart, which depicts the rise/decline of rig counts by wet and dry: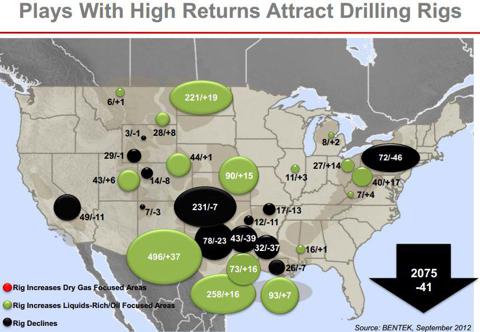 As you can see, at the time there was, understandably, no growth in rig counts in dry-gas focused areas. However, the number of rig increases for liquid-rich areas was booming. This creates a conundrum for major dry producers such as Chesapeake Energy (NYSE:CHK), CONSOL Energy (NYSE:CNX), WPX Energy (NYSE:WPX), and Encana (NYSE:ECA). Producers with major dry assets can't completely shut down their production as they would be shutting down a good chunk of their cash flow. Meanwhile, with 30-40% IRR's, wet producers such as Exxon (NYSE:XOM) have little incentive to curtail production; thus maintaining high levels of supply, which will continue to weigh on prices.
Disclosure: I have no positions in any stocks mentioned, and no plans to initiate any positions within the next 72 hours. I wrote this article myself, and it expresses my own opinions. I am not receiving compensation for it (other than from Seeking Alpha). I have no business relationship with any company whose stock is mentioned in this article.