After falling 84% from high to low during the financial crisis, the S&P 500 financial sector is now up 231% from its low back in 2009. As shown in the long-term chart below, the sector has really charged higher this year, breaking out of a multi-year sideways range that had been in place. That being said, the chart really shows just how far the financial sector still has to go to get back to where it was pre-crisis.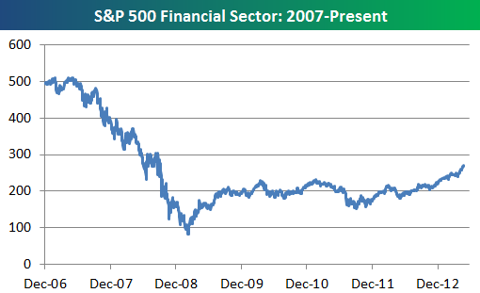 The rally in financial stocks has coincided with a big drop in default risk for stocks in the sector. Below we provide charts of five-year credit default swap prices (in basis points) for the six largest banks and brokers here in the U.S. The price shown is basically the yearly cost in dollars to insure $10,000 of debt from default over the next five years. As shown, default risk for Bank of America (NYSE:BAC), Citigroup (NYSE:C), Morgan Stanley (NYSE:MS), and Wells Fargo (NYSE:WFC) has recently dropped to its lowest level since early 2008. Default risk for Goldman Sachs (NYSE:GS) and JPMorgan (NYSE:JPM) has fallen significantly as well, but it hasn't quite broken to new multi-year lows yet.
Current CDS prices are a far cry from the extreme high readings we saw back in 2008-09 and 2011 when the solvency of these well-established firms really came into question. As we all know, these firms made it out alive while Bear Stearns and Lehman Brothers didn't. To get back to where things were back in 2006 before the first cracks in the financial system started to emerge, however, we'll need to see these CDS prices get down to the 10-20 level instead of the 65-115 range they're in now.