By Jason Napodano, CFA
At perhaps the two biggest industry trade conferences of the year, the American Society of Clinical Oncology (ASCO) and the American Diabetes Association (ADA), Isis Pharmaceuticals (ISIS) and/or its partners presented encouraging pre-clinical and early-stage clinical data showing the potential power of antisense technology as a new paradigm for treating cancer and diabetes -- two of the most widespread diseases in the U.S. and worldwide.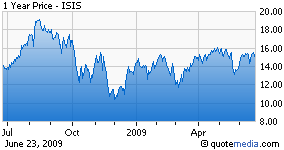 Specifically, at the ASCO meeting in early June, Isis and/or its partners held 4 presentations on oncology candidates using Isis' technology. Specifically, OncoGenex (NASDAQ:OGXI) presented data from 2 phase II programs with OGX-011 that demonstrated very encouraging data. In a phase II program, patients with advanced metastatic prostate cancer were randomized to receive OGX-011 plus docetaxel or docetaxel alone.

The median overall survival (OS) for the OGX-011 plus docetaxel group was 23.8 months, vs. 16.9 months with docetaxel alone. This corresponded to a 39% reduction in the rate of death over the study period. OncoGenex hopes to secure a partnership for OGX-011 and move into a phase III program shortly.

Also at ASCO, OncoGenex and Eli Lilly (NYSE:LLY) both presented positive phase I data on OGX-427 and LY2181308, respectively. The phase I programs demonstrated positive biomarker signs with favorable tolerability that allows for progression into phase II.

At the ADA meeting in mid-June 2009, Isis and its collaborators had a total of 8 presentations highlighting the company's antisense drug discovery technology for the potential treatment of type-2 diabetes. Specifically, the company presented pre-clinical data on ISIS-SGLT2Rx, showing a robust and sustained reduction in sodium-dependent glucose co-transporter type 2 (SGLT2) levels that resulted in a significant reduction in blood glucose levels in multiple animal species.

Findings of the pre-clinical models show a dose-dependent reduction in the kidney levels of SGLT2, a 100-fold increase in glucose excretion in urine, improvements in glucose tolerance, insulin sensitivity and no harmful side-effects such as hypoglycemia or detrimental changes in kidney function.

We continue to rate shares of Isis Pharmaceuticals a Buy. Our target is $22. We are big fans of antisense technology, and believe that the number of potential therapeutic applications is enormous. Antisense drugs may have significant potential to treat a number of diseases where small molecule and biologic compounds have failed.

Although still in its early stages, antisense technology -- with potential mechanisms such as siRNA, RNAi, alternate splicing and microRNA -- have the potential to change how we treat disease in the next decade. We see antisense technology today where biologics were ten years ago.

The promise of biologic drugs is finally delivering with blockbuster compounds such as Rituxan, Herceptin, Avastin, Aranesp, Synagis and Humira. We think in ten years the same will be said for antisense. Isis is pioneering this effort into antisense research. The company already commercialized the first antisense drug in 1998 with Vitravene.

Isis has several proprietary compounds in clinical development as well as partnered programs with large pharmaceutical companies such as Bristol-Myers (NYSE:BMY), Eli Lilly, Merck (NYSE:MRK), Johnson & Johnson (NYSE:JNJ) and most recently Genzyme (GENZ) and Glaxo (NYSE:GSK). We think that by 2012 two to three additional antisense drugs developed by Isis could be on the market.