Network switch maker Cisco (NASDAQ:CSCO) reported solid fiscal third quarter results Wednesday afternoon, marked by strong revenue growth. Revenue increased 5% year-over-year to $12.2 billion, exceeding consensus expectations. Earnings were also above consensus estimates, growing 6% year-over-year to $0.51 per share on a non-GAAP basis. Free cash flow rose to $8 billion, up significantly from the $7.5 billion the firm generated in the first 9 months of fiscal year 2012 (Image Source: Cisco).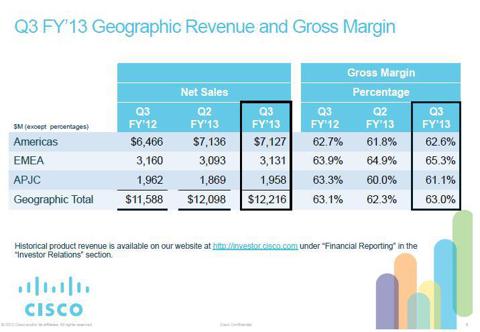 Performance was strong across all geographies, with the Americas region boasting 10% revenue growth and robust gross margins. For the first time in recent memory, the firm's US public sector business grew at 5% thanks to strong demand from education and state/local governments. The firm's US commercial business was also up 13%, while its domestic enterprise business jumped 10% year-over-year. CEO John Chambers remains extremely optimistic about the next few quarters in the US, implying that revenue growth could remain robust.
Revenue was flat in Europe, Middle East and Africa. However, the firm was able to add 140 basis points to gross margins, as it effectively contained costs and improved operational efficiency. Looking ahead, management seems optimistic that growth in Central and Eastern Europe, as well as the UK, will improve in the coming quarters (Image Source: Cisco).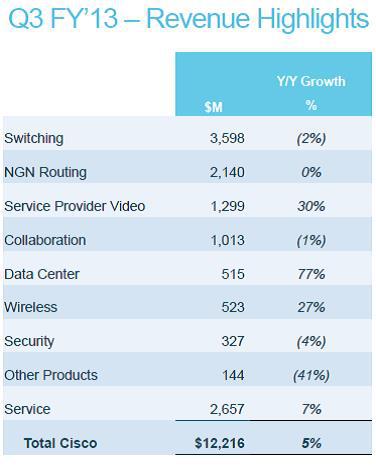 On a product basis, we saw fantastic growth at Service Provider Video (up 30%) as well as Data Center (up 77%) and Wireless (up 27%). Without question, Cisco is winning cloud contracts at an impressive clip, a trend we believe will continue going forward. Although Switching remains weak at this point in time, we believe positive capital spending could be a catalyst in fiscal year 2014, particularly if telecom carrier spending is reignited.
Looking forward, Cisco provided strong revenue guidance of 4%-7% during the fourth quarter (net of the Linksys divestiture) to drive non-GAAP earnings per share of $0.50-$0.52 - an increase of 6%-10% year-over-year. For a company the size of Cisco that is so constrained by global economic growth, we thought guidance was solid, if not indicative of solid macroeconomic growth. Assuming the current rally holds, shares of Cisco have become fairly valued, though we could still see some modest valuation upside (based on our estimate of Cisco's fair value range).
Disclosure: I have no positions in any stocks mentioned, and no plans to initiate any positions within the next 72 hours. I wrote this article myself, and it expresses my own opinions. I am not receiving compensation for it (other than from Seeking Alpha). I have no business relationship with any company whose stock is mentioned in this article.