By John N. Simon
As the world now knows, Boeing (NYSE:BA) announced yesterday that the first flight of the 787 has been rescheduled yet again, as during testing it was discovered that the fuselage needs to be reinforced.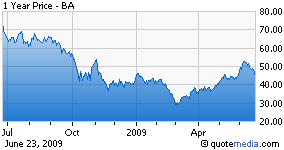 The truly ominous part of the announcement was that the company's "financial guidance will be updated to reflect any impact of these changes." For investors, to be forewarned is to be forearmed...and the stock is diving.

Boeing usually updates its year-to-date order information on Tuesdays, but hadn't done so as of this writing yesterday (perhaps because the folks are busy with other things). Anyway, through last Tuesday (June 16, 2009), Boeing's gross orders for 2009 stood at 53 737s, 10 777s and 13 787s for a total of 76. However, when you subtract the cancellations for orders placed in prior periods, the net orders were 52 737s, -1 747, -5 767s, 9 777s and -45 787s for a total of 10. In other words, there were 66 cancellations. After today, there may be a few more.

As far as deliveries are concerned, through the end of May, Boeing turned over 153 737s, 6 747s, 6 767s and 36 777s for a total of 201, which is an average of just over 40 aircraft/month.

During the Paris Air Show, there was some indication that Boeing may be considering re-winging the 777 in order to compete with the upcoming largest version of the Airbus A350; however, it may also decide to come up with a whole new airplane. Neither way sounds too thrilling to some investors. The still-in-progress 747-8 is over-budget and that's a re-wing; the 787 has yet to fly (and probably is considerably over-budget by now) and that's a new airplane. How does one choose between these options?

Also during the Paris Air Show, Boeing indicated that it has (at least) four models it can offer for the upcoming USAF tanker proposal: the 767-200ER, 767-300ER, 767-400ER and 777-200ER. The following are some specifications for those aircraft (as well as the Airbus offering):





More will be revealed about all this when Boeing issues its Q2-09 results in July.

We can hardly wait!