By: Todd McDonald, Analyst
Overview
Hewlett Packard (NYSE:HPQ) is scheduled to report second quarter 2013 earnings on Wednesday, May 22. Results are typically available at 4:05 p.m. EST and will follow with a conference call at 5:00 p.m. HP is a member of the Dow Jones Industrial Average (DJIA) with significant market influence and the potential to impact the index futures and broader market gauges.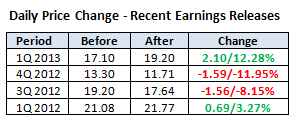 Outliers & Strategy
Non-GAAP Earnings Per Share: HP previously announced back in February it estimates 2Q2013 Non-GAAP diluted EPS in the range of $0.80 to $0.82. The current Street estimate is $0.81, with the high end of the Street at $0.83 (Source: Yahoo! Finance) Non-GAAP EPS has beat estimates in each of the past eight quarters.
Revenue: Revenues are seen decreasing 8.50% from the year ago period to $28.08 bln, with a range of $27.01 bln to $29 bln. Revenues have come in better than expected five of the past eight quarters.
Adjusted Earnings Per Share Guidance (3Q2013): HP typically gives guidance for the next quarter in each release. The current Street consensus sees Adjusted Earnings Per Share for 3Q2013 of $0.84, with a range of $0.73 to $0.92.
Adjusted Earnings Per Share Guidance (FY2013): Analysts expect FY2013 adjusted EPS of $3.49, with a relatively wide range of $3.20 to $4.10. In February, HP guided for FY2013 in the range of $3.40 to $3.60.
Implied Volatility: The average absolute move over the past eight quarters has been 8.8%. Using options premiums, traders are expecting an absolute move of about 7.6% after earnings are disseminated.
Recent News
05/21: According to a post on StreetInsider.com, Goldman Sachs lowered its forecast for 2013 PC units to -6.8 from -3.8%. The firm also states that intense pricing pressures to gain market share are weighing on PC companies' earnings potential.
04/19: Goldman Sachs pointed out that IBM's earnings results should indicate pressures for enterprise focused companies. The firm believes that HP could be the most at-risk, according to a post on StreetInsider.com. Goldman Sachs reiterated its Sell rating.
04/08: HP introduced its new HP Moonshot system, which is a brand new server for social, mobile, cloud, and big data. It uses less energy, space, and costs less than current server infrastructure offerings.
04/08: According to a post on StreetInsider.com, Deutsche Bank reiterated its Sell rating and $12 price target on Hewlett Packard. The firm points to the belief that two of HP's three main businesses are in a cyclical decline.
03/21: Hewlett Packard increased its quarterly dividend 10%, to $0.1452 per share.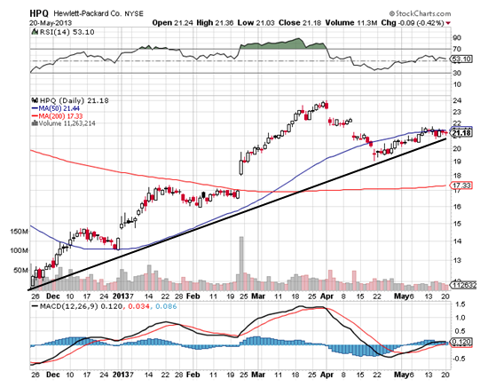 Technical Review
Hewlett Packard shares have had a huge 2013, rallying approximately 50% YTD. The slope 200-day SMA is turning positive, currently sitting at about $17.33. The stock is consolidating on a longer-term trend line, established from the November 20, 2012 bottom. If earnings surprise to the upside, look for initial resistance near the gap-fill near $22.10, followed by $23.25. Should earnings disappoint, the downside could be steep, with initial support near $19, followed by the 200-day SMA. (Chart courtesy of StockCharts.com)
Summary
Hewlett Packard has seen quite the turnaround from its 2012 low, thanks in part to an extremely oversold condition, the Dow Jones Industrial Average's momentum, and perhaps some excitement over HP's enterprise solutions. However, the sell-side has barely budged and believes that this quarter's move is unsustainable. Due to the recent run-up, it will take a solid beat on earnings and revenues, coupled with raised guidance to take shares above current levels.
Disclaimer: By using this report, you acknowledge that Selerity, Inc. is in no way liable for losses or gains arising out of commentary, analysis, and or data in this report. Your investment decisions and recommendations are made entirely at your discretion. Selerity does not own securities in companies that they write about, is not an investment adviser, and the content contained herein is not an endorsement to buy or sell any securities. No content published as part of this report constitutes a recommendation that any particular investment, security, portfolio of securities, transaction or investment strategy is suitable for any specific person.
Disclosure: I have no positions in any stocks mentioned, and no plans to initiate any positions within the next 72 hours. I wrote this article myself, and it expresses my own opinions. I am not receiving compensation for it (other than from Seeking Alpha). I have no business relationship with any company whose stock is mentioned in this article.