Last week, the S&P Dow Jones Indices - via data from the S&P Healthcare Economic Composite Index - reported the healthcare sector's annual growth decelerated in March, resulting in the lowest rate since January 2005. With many industries within the sector seeing historically low growth rates, we wanted to see which healthcare companies investors felt were most likely to exceed expectations. We ran a screen with this in mind, focusing specifically on insider and institutional investor behavior within the healthcare sector.
To start, we began with a universe of companies experiencing insider buying with net purchases over the last six months representing more than 2% of share float. Since insiders are employed at the company and have nonpublic information, their stock buying suggests they are bullish about the firm's future and believe current share price is undervalued. We then selected the healthcare stocks from that list.
Two percent may seem minimal, but considering these are often individual investors putting enough money on the line to collectively acquire that percentage of float is significant.
And why six months? A 1968 study by Professors James H. Lorie and Victor Niederhoffer showed that when number of insider buyers is at least two more than the number of insider sellers "the stock can be expected to outperform the market during the next six months." Furthermore, "insiders tend to buy more often than usual before large price increases and to sell more than usual before price decreases."
Next, we screened for stocks with bullish sentiment from institutional investors, with significant net institutional purchases over the last quarter representing at least 5% of share float. This indicates that institutional investors such as hedge fund managers and mutual fund managers expect these names to outperform into the future.
The List
For an interactive version of this chart, click on the image below. Analyst ratings sourced from Zacks Investment Research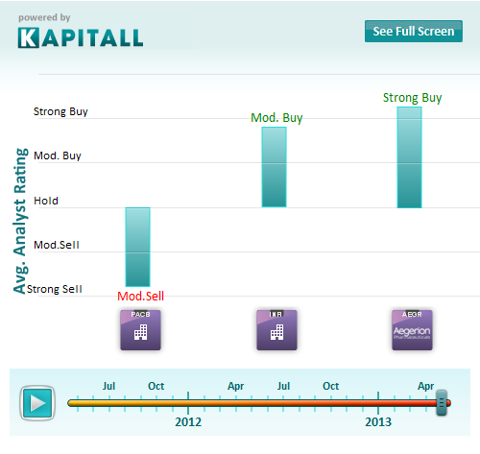 Do you think these stocks will soon realize their potential? Use this list as a starting point for your own analysis.
1. Pacific Biosciences of California, Inc. (NASDAQ:PACB): Develops, manufactures, and markets an integrated platform for genetic analysis.
Market cap at $160.49M, most recent closing price at $2.42.
Over the last six months, insiders were net buyers of 1400000 shares, which represents about 3.73% of the company's 37.55M share float.
Net institutional purchases in the current quarter at 2.7M shares, which represents about 7.19% of the company's float of 37.55M shares. The 2 top holders of the stock are Deerfield Management and Maverick Capital Ltd.
During the first quarter of 2013, Pacific Biosciences of California, Inc. reported $5.6 million in revenue, which is a 44% decrease from the same period in 2012. The company sold 3 DNA sequencing PacBio RS systems in the quarter, which contributed $1.9 million to total revenue. It also saw increased usage of the RS systems and received 4 new orders, bringing its systems backlog up to 6. April marked the launch of the PacBio RS II, which provides the longest sequences available today. The company gave existing RS systems customers the opportunity to upgrade to the RS II for $20,000 prior to launch, and at the end of March, Pacific Biosciences received 31 upgrade offers, representing over 40% of its customers.
As Seeking Alpha contributor Craig Keolanui notes, Pacific Biosciences' success depends on proving its products' value to members of the scientific community. The company faces stiff competition from peers Illumina (NASDAQ:ILMN) and Life Technologies (NASDAQ:LIFE). GenomeWeb reports the latter recently received approval from Health Canada for diagnostic use of its 3500 series Sanger sequencers, which were also approved by the USDA back in February. Keeping this in mind, investors should keep an eye on how Pacific Biosciences fares with 100k Pathogen Genome Project where the company is using its Single Molecule, Real-Time (NASDAQ:SMRT) technology to sequence the genomes from 1,000 foodborne pathogen samples. In the earnings call, CEO Michael Hunkapiller stated that the company expects to see more revenue from that project in the second quarter.
2. Infinity Pharmaceuticals, Inc. (NASDAQ:INFI): Engages in the discovery and development of medicines for the treatment of cancer and other conditions in the United States.
Market cap at $1.23B, most recent closing price at $24.91.
Over the last six months, insiders were net buyers of 5380195 shares, which represents about 13.09% of the company's 41.11M share float.
Net institutional purchases in the current quarter at 3.8M shares, which represents about 9.24% of the company's float of 41.11M shares. The 2 top holders of the stock are FMR, LLC and Orbimed Advisors LLC.
Infinity Pharmaceuticals suffered a blow last week after J.P. Morgan expressed concern over the drug maker's presentation of its IPI-145 drug at the upcoming ASCO conference. Insider Monkey reports that J.P. Morgan and investors - shares fell by more than 20% following the comments - are wary of the company's ability to penetrate a crowded market of leukemia drugs. The Motley Fool notes that competitors Roche and Gilead Sciences (NASDAQ:GILD) had positive findings from studies for the GA101 drug and idelalisib drugs, respectively. Both drugs have exhibited an ability to shrink tumors in patients.
Infinity Pharmaceuticals didn't record any revenue during the first quarter of 2013. The $25.2 million revenue generated during the same period last year came from the company's now-terminated strategic relationship with Purdue/Mundipharma. In the company's earning call, CFO Lawrence Bloch expressed optimism for future projects and the drug maker's $300 million in cash investments and worldwide commercial rights for its programs. The company's lung cancer drug, the Hsp90 inhibitor retaspimycin hydrochloride, is currently in trials, with results coming forth later this year. While this market is less congested than the aforementioned leukemia one, Reuters reports that Roche received FDA approval on its drug Tarceva last week for testing in non-small cell lung cancer patients with specific mutations of the EGFR gene.
3. Aegerion Pharmaceuticals, Inc. (AEGR): Engages in the development and commercialization of novel therapeutics to treat severe lipid disorders.
Market cap at $1.77B, most recent closing price at $61.57.
Over the last six months, insiders were net buyers of 624767 shares, which represents about 2.61% of the company's 23.97M share float.
Net institutional purchases in the current quarter at 5.9M shares, which represents about 24.61% of the company's float of 23.97M shares. The 2 top holders of the stock are FMR LLC and Perceptive Advisors LLC.
Last quarter Aegerion commercially launched Juxtapid, its orphan drug developed to lower cholesterol in those suffering from the rare genetic disease homozygous familial hypercholesterolemia (HoFH), which prevents cholesterol from being cleared from the body. The biotech company has since seen 185 global prescriptions written for the medication, which places the company well on track to reach its goal of 250-300 patients by the end of the year, as reported by The Street. In an earnings call at the end of April, CEO Marc Beer noted that the number of Juxtapid prescriptions issued each week has been steadily increasing since the launch and, as of April 30, was at 12 a week. Furthermore, Juxtapid's steep pricing - one year of therapy costs $250,00 - is expected to help Aegerion generate $15 - $25 million in revenue this year.
The company does face immediate and long-term competition on the HoFH front. Isis Pharmarceuticals launched its HoFH orphan drug Kynamro last quarter, though the company didn't provide any numbers during last week's earnings call. At $176,000 a year, Kynamro is a cheaper alternative to Juxtapid, which Decision Resources cites as a potentially significant factor depending on how much insurance carriers are willing to cover given the presence of two similar options on the market. Additionally, at the end of April, Forbes's Matthew Herper wrote that Amgen, a PCSK9 inhibitor that helps lower cholesterol, may pose a long term threat to Juxtapid, especially with its appealing $20,000. However, the drug's efficacy on HoFH patients remains to be seen; in European preliminary trials, Amgen lowered cholesterol by 15 - 49% for 8 patients compared to Juxtapid and Kynamro's 50%.
*Insider ownership information sourced from Yahoo! Finance. Institutional data sourced from Fidelity. All other data sourced from Finviz.
Disclosure: I have no positions in any stocks mentioned, and no plans to initiate any positions within the next 72 hours.
Business relationship disclosure: Business relationship disclosure: Kapitall is a team of analysts. This article was written by Mary-Lynn Cesar, one of our writers. We did not receive compensation for this article (other than from Seeking Alpha), and we have no business relationship with any company whose stock is mentioned in this article.