We believe that Blue Calypso (OTCQB:BCYP) is a stock with major upside potential due to a number of catalysts with very strong patent claims against big (public & private) companies valued in excess of at least $7 billion - $8 billion+ dollars in market cap. Blue Calypso is a relatively unknown company which should gain more recognition among investors with upcoming catalysts. Those catalysts are the Markman Hearings this summer against LivingSocial, and then after ones against Groupon (NASDAQ:GRPN), Yelp (NYSE:YELP), Foursquare, and others. We believe the company has a very high chance of succeeding in the Markman Hearings and that the companies may settle.
The CEO of Blue Calypso is Bill Ogle. Who is Bill Ogle? Bill Ogle was the CMO (Chief Marketing Officer) of Motorola (NYSE:MSI) as well as the CMO of Samsung (OTC:SSNLF). "While at Motorola, Ogle helped launch the DROID, DROID X and DROID RAZR platforms."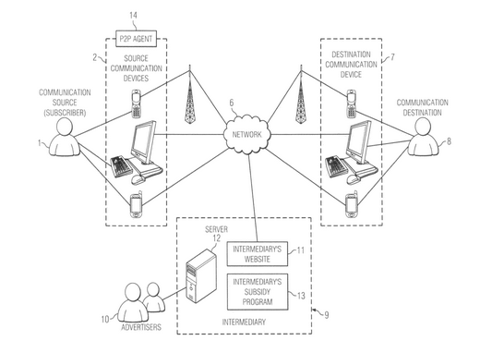 Click to enlarge
(Click to enlarge)
Above is an image for their patent which is the main one being leveraged in this active lawsuit. Blue Calypso was founded by CTO Andrew Levi, who created the patents and inventions in question and has been an officer of the company since 2011. Blue Calypso has filed patent infringement lawsuits against Groupon, Foursquare, Yelp, IZEA (OTC:IZEA), and MyLikes. The scheduling conference for these suits has been set for April 2013.
Who is Andrew Levi you may ask? He is a whip smart inventor who has worked at the Federal Reserve and while ".... running or owning 12 companies, including a restaurant at the age of 19 while attending Florida State University, Levi possesses the entrepreneurial spirit in spades."
The following is a description from coverage in a legal publication from back October 2012:
"According to the suits, Yelp and Izea maintain online systems that propagate reviews and sponsored tweets in a way that infringes on U.S. Patent Numbers 7,664,516 and 8,155,679, which Blue Calypso owns by assignment. The '516 patent - titled "Method and System for Peer-to-Peer Advertising Between Mobile Communication Devices" - was issued by the U.S. Patent and Trademark Office in February 2010, the complaint says. The '679 patent, which has the same title, was issued in April 2012. Specifically, Blue Calypso's complaint against Izea targets the social media sponsorship website's "Sponsored Tweets," "Social Sparks" and "WeRewards" sections, while the complaint against Yelp focuses on the company's mobile app."
This case was filed in part of Texas which is described as follows as being commonly used by plaintiffs in substantial IP law cases:
"Over the past eight years, the United States District Court for the Eastern District of Texas (the "Eastern District") has become the nation's most closely-followed patent battlefield. Since 2003, the Eastern District's annual patent infringement filings have risen from 14 to over 300 - transforming the Eastern District into one of the nation's most popular patent venues."
Eastern Texas is very friendly to patent plaintiffs and less so to patent defendants infringement cases. Why? The patent holder has the advantages:
"But East Texas has other qualities that have made it perennially attractive to patent-holders. Most importantly, defendants are very unlikely to win a case on summary judgment, as judges in the district are much more likely to find that it's appropriate for juries to rule on patent issues. That dramatically raises the cost, and risk, for defendants. And those trials tend to be short, as it can be tough to put on an effective defense, especially with multiple defendants. Trials are often over within a week; the invalidity trial over the Eolas patent, a case with the potential to affect the future of the whole Web, took place in all of four days."
The venue for the case being in Eastern Texas is very important for the plaintiffs and can be quite negative for the defendants here. Blue Calypso have recently raised cash in a private placement which we believe will cushion the company and allow Blue Calypso to maintain a good negotiating position in these upcoming lawsuits. VirnetX (NYSEMKT:VHC) won its recent cases in this court against Apple (NASDAQ:AAPL).
Interestingly enough, VirnetX beat Apple in the same court with Judge Leonard Davis for an infringement found by the jury to be $368 million. Judge Davis refused to allow Apple to not pay the amount of damages decided on per day.
A case in 2012 was won by Fractus in the same courtroom against Samsung with multiple settlements also achieved.
Microsoft (NASDAQ:MSFT) lost a case in this district to a small Canadian company for about $300 million over parts used in Microsoft Word. Microsoft appealed all the way to the U.S. Supreme Court but still lost.
SAP (NYSE:SAP) recently lost an appeals case from this Eastern District for a verdict of $345 million which "With modifications and interest, the jury award has grown to more than $400 million".
The company announced in a press release the following at the end of April in regards to potential near term settlements and a 'Markman Hearing:'
"Companies in this situation, depending on the results of the Markman hearing, will often settle out of court rather than endure the time and expense of extended litigation. Terms of these settlements often include licensing agreements that allow the company being sued to continue using the technology in exchange for ongoing fees. In this case, as well as the case against LivingSocial, Blue Calypso (www.bluecalypso.com) shareholders could benefit greatly from such an arrangement."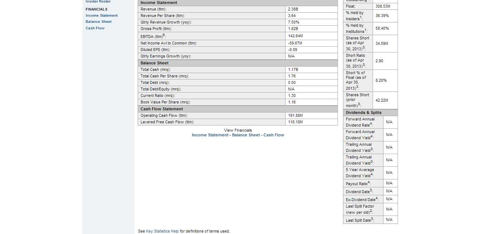 Click to enlarge
(Click to enlarge)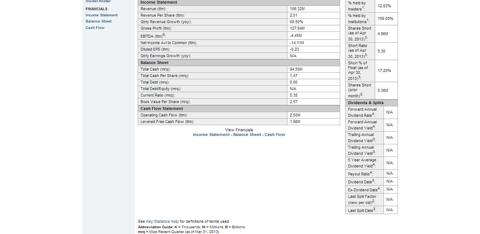 Click to enlarge
(Click to enlarge)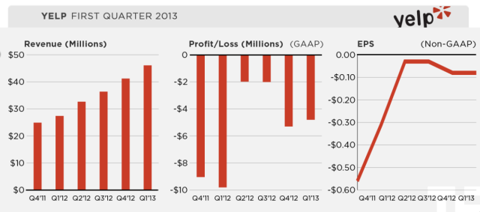 Click to enlarge
(Click to enlarge)
In conclusion, we believe that the "516 patent" is very strong, and that the Markman Hearing will probably proceed to a jury trial against these deep pocketed defendants or a number of settlements. On this basis and others, we strongly believe Blue Calypso is undervalued, and think it is headed much higher over the long-term. Yelp generates at least a few hundred million in revenues per year. Groupon generates billions in revenues per year. This does even not count defendant Foursquare, since they are private & it is hard to compute their exact revenues without more disclosure. If we were to venture an exact estimate on combined damages or settlements in terms of additions to price per share, we can peg it at about .50 cents to $1 a share or more in upside from current prices. Blue Calypso is represented by a very high ranked law firm that has many big name clients.
We also believe it is generally a good time to buy these before Markman Hearings in these types of cases, not necessarily after. This has been the case for Vringo (VRNG), VirnetX , and a number of others successful in this space.
We know from experience that any material events on such a very small company will create major upside potential driving this much higher.
Disclosure: I have no positions in any stocks mentioned, but may initiate a long position in OTCQB:BCYP over the next 72 hours. I wrote this article myself, and it expresses my own opinions. I am not receiving compensation for it (other than from Seeking Alpha). I have no business relationship with any company whose stock is mentioned in this article.