Jive Software (NASDAQ:JIVE) isn't jiving with analysts as they see earnings to continue to move lower. As a Zacks Rank #4 (Sell), it is the Bear of the Day.
Do We Have Enough Social Networks?
Jive is looking to get businesses use its software to increase collaboration, content movement and enterprise portals/intranets. Jive's mission is to change the way work gets done, but with nearly 1 billion Facebook (NASDAQ:FB) users, 175M LinkedIn (NYSE:LNKD) members and about 400 million tweets a day, are they late to the game?
Company Description
Jive Software provides a social business software platform to businesses, government agencies and other enterprises. Its Jive Engage Platform enables collaboration across two principal communities and employees within the enterprise, and customers and partners outside the enterprise. The company's Jive Engage Platform is used as a communications tool and collaborative workspace that supports and enhances knowledge sharing, facilitates communication within and across organizational boundaries, and enables individuals to work together to achieve common business goals.
JIVE Hasn't Beat Over The Last Year
Dating back to the December 2011 quarter was the last time the company posted a positive earnings surprise. Of the five quarters since that time, there have been two meets and three negative earnings surprises.
Losses Increase as Revenues Grow
When you see a stock that has revenues increase and earnings per share decrease you start to scratch your head. Jive has posted revenue of $27M, $29M, $33M and $34M in each of the last four quarters, respectively. Over the same period reported earnings per share fell from -$0.18, -$0.17, -$0.23, -$0.24. So the losses are getting bigger as revenues increase.
Projected Earnings Growth Drops
Topline growth has shown up, but the bottom line is projected to only see extended losses in 2013 and 2014. Just in the last six months, the Zacks Consensus Estimate for 2013 has moved from a loss of $0.47 to a loss of $1.06, a significant drop. At the same time, 2014 is not getting any better. In November 2012, the 2014 estimate moved from -$0.29 to the current level of a loss of $1.00.
Valuation
The valuation picture for JIVE is a challenging one due to the negative earnings. The stand by valuation metrics like Price to Earnings are all not meaningful due to the negative earnings. Price to book of 8.3x is almost double that of the industry average. The price to sales metric also shows a significant premium as well. Still the company is projected to see revenue growth of 33% this year and 29% next year. Earnings growth of -47% for 2013 is a major detractor, but 5.7% growth in earnings for 2014 shows that there is light at the end of the tunnel. The problem is the tunnel is awfully long.
The Chart
A quick look at the price and consensus shows that the young company debuted with some high expectations. Since that time analysts have continued to move their earnings estimates lower and lower. With the stock comfortably in the teens, shareholders are more than likely going to stick with it until single digits appear imminent.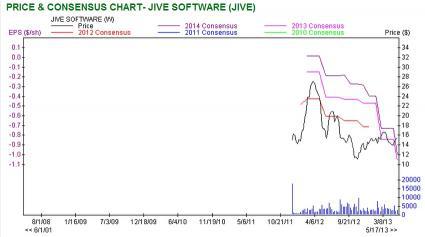 JIVE SOFTWARE (
JIVE
): Free Stock Analysis Report