Inflation has been slowing in recent months and should start ringing the alarms bells that deflation may be coming.
In Ben Bernanke's 2002 Speech: "Deflation: Making Sure It Doesn't Happen Here," he stated the following about deflation:
The sources of deflation are not a mystery. Deflation is in almost all cases a side effect of a collapse of aggregate demand--a drop in spending so severe that producers must cut prices on an ongoing basis in order to find buyers.
In the summer of 2007, inflation was running over 5% year over year and a bout of deflation shocked the U.S. economy soon after. So much for "making sure it doesn't happen here."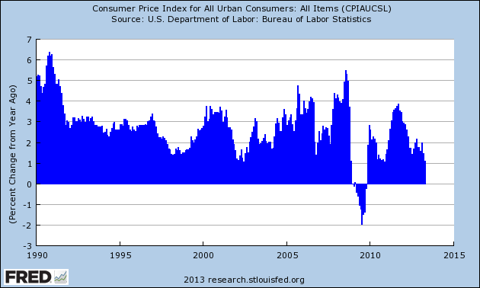 Interestingly, there is a clear head and shoulders pattern in the year-over-year percent change in the rate of inflation starting around 2010.
Going back to what Mr. Bernanke said with regards to the cause of deflation, being a collapse in aggregate demand thus causing businesses to have to cut prices to get buyers, that is a scenario I see playing out in the following two years.
The consequences of falling prices will likely cause the following to occur:
Profit Margins will decline
Nominal GDP growth will slow and may even go negative again like it did in late 2008 and early 2009
Asset prices will drop in value reflecting lower profits and higher default rates amongst the malinvestments made
Herein lies, I believe, the biggest fallacy of thinking that stocks are cheap because of forward-earnings ratios.
Dr. Ed Yardeni, director of Yardeni Research, Inc., put this chart together of after-tax profit margin from current production that goes back to 1948.
(click to enlarge)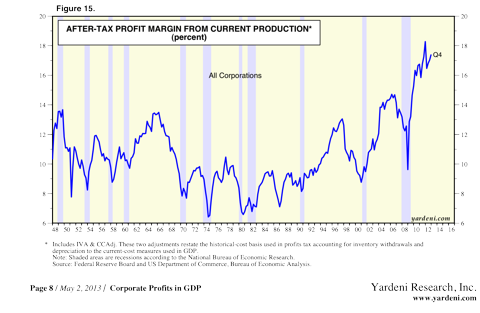 The current environment for corporate America and its ability to have the pricing power it currently has is quite stunning. I cannot help but think that falling aggregate demand will likely cause these profit margins to fall. The fall could potentially be back to around 10% versus the current 17% range.
Dr. Yardeni also includes a chart in his report of S&P 500 (NYSEARCA:SPY) earnings that shows the cyclical nature of the ups and downs that coincide with profit margins.
In this attached chart, I included estimates of where these earnings could go in the event of falling margins on account of deflationary pressures in the U.S. economy:
Note: My estimates are the dotted lines and are my own hypothetical estimates and not Dr. Yardeni's.
(click to enlarge)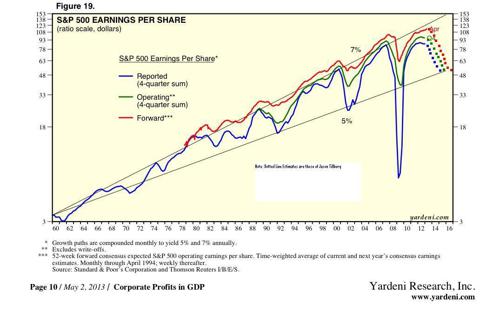 In this case, S&P 500 earnings per share could fall to around $55 in the year 2015. Putting a P/E of 15 gives the S&P 500 a valuation of about 825. Of course they could fall more, fall less or not fall at all in the next two years.
Factors that could contribute to falling aggregate demand include further weakness in employment. Further declines in the employment-to-population ratio would put pressure on household incomes.
Here is an example of what the employment-to-population ratio could look like in the event on continued slowing in employment growth:
(click to enlarge)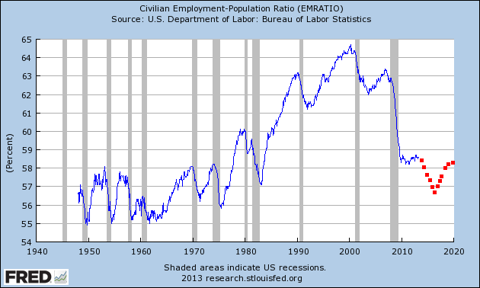 Note: The Red dots are my hypothetical estimates
What was hailed as a great jobs report for April, I thought was a complete disaster on account of the huge drop in hours worked. A follow-up report of new hires also confirmed the weakness in employment for April.
This chart of the change from a year ago of new hires showed that 176k fewer employees were hired in April 2013 versus. April 2012.
(click to enlarge)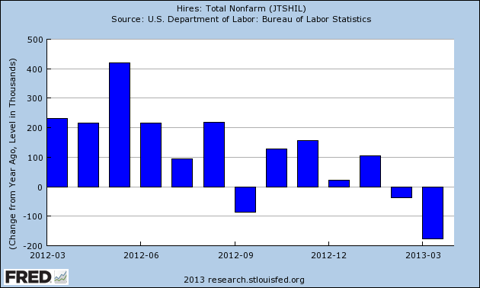 One other factor that may well contribute to a weak consumer, who will want to see falling prices to allow him or her to afford the goods and services demanded, is the personal savings rate.
Personal savings rate has fallen to 2.7% as of March 2013.
click to enlarge)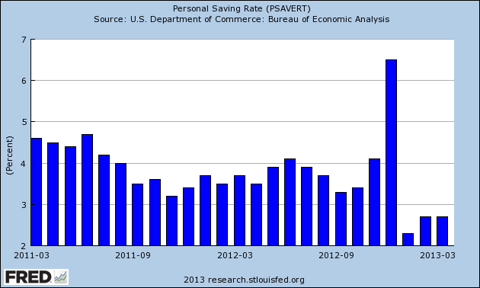 Personal savings rate in the same month of March was 3.7% in 2012, and 4.6% in 2011.
In other words, stronger consumer spending for the last two years has been on account of the consumer not cutting back on spending but instead, simply saving less of his barely growing real disposable income.
A new trend of increasing savings will likely result in further strain on the aggregate demand for goods and services. The end result is strain on both the top and bottom lines for corporations in the months and years ahead.
It's the vicious cycle of business. As volume demand falls, there is less need for as many workers to supply the goods and services so more people get layed off. The more people out of work, the less income there is to be spent on goods and services.
Many U.S. corporations are seeing volume demand falling year over year.
JM Smucker's (NYSE:SJM) 3rd-quarter results that ended January 31, 2013, reported a 2% increase in sales excluding acquisitions, yet noted this about volume:
Volume gains realized in Jif peanut butter and Smucker's fruit spreads were offset by decreases in the Pillsbury brand and the Canadian Robin Hood ® and Five Roses ® flour brands. Overall volume, based on weight and excluding the incremental impact of the acquisition, decreased one percent in the third quarter of 2013, compared to the third quarter of 2012.
Anheuser-Busch InBev (NYSE:BUD) reported in its first quarter a 4.1% global volume decline and a whopping 5.0% decline in volume in the U.S. for its beer beverages.
Clorox (NYSE:CLX) recently reported its 1st-quarter results. Its Net sales increased 1% in the current quarter, while volume remained flat.
Management noted that for products that saw volume declines like Pine-Sol and Fresh Step Cat Litter, volumes were down due to price increases.
Note to management at Clorox: There is something called "Demand Curve" where lower prices yield higher demand.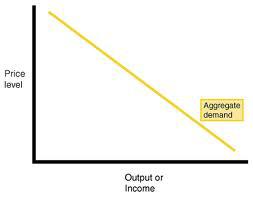 Clorox has a 10.02% net profit margin and earns 13.47% on its assets as of the last four quarters. These are very healthy margins.
Dell Computer (NASDAQ:DELL) on the other hand has taken steps that would seem more rational in a competitive consumer environment, it cut prices on its computers. But that in turn caused profits to plunge 73% for the most recent quarter.
It does seem that many companies are doing their very best to maintain their current high profit margins by not lowering prices, but something has to give.
The natural business cycle will take root and that could well signal deflation as a result of falling aggregate demand.
This should prove good for a strong dollar, which makes raising and holding cash in U.S. dollars perhaps the most prudent place to be right now.
Disclosure: I have no positions in any stocks mentioned, and no plans to initiate any positions within the next 72 hours. I wrote this article myself, and it expresses my own opinions. I am not receiving compensation for it (other than from Seeking Alpha). I have no business relationship with any company whose stock is mentioned in this article.