Over the last few months, precious metals investors have seen their net worth decline due to falling precious metals prices (NYSEARCA:GLD) (NYSEARCA:SLV). Most of the decline in precious metals prices was due to a decrease in demand, which was the result of selling by hedge funds, as reported by the World Gold Council here.
First quarter gold demand was 963 tonnes, down 13% compared with Q1 2012 due to an outflow of 177 tonnes from the gold ETF holdings. 2013 marks the first year in a decade where ETFs are actually selling gold. While ETF holdings were reduced, this selling has been countered by an increase in physical demand for gold by China and India. Total demand in China rose 20% to 294 tonnes in Q1 2013 as compared to Q1 2012 (50 tonnes increase).
This huge increase in demand for physical gold can be witnessed on Chart 1, which gives the net imports of gold from Hong Kong to China.
While Chinese demand for gold was strong, Indian demand increased at an even higher pace. The Indian demand for gold increased 27% to 257 tonnes as compared to the same quarter last year.
On the supply side we see a total increase of 1% in the first quarter of 2013 as compared to Q1 2012. Mine production increased 4% while recycling of gold decreased 4%.
The reason for the decline in precious metals prices is evident from an increase in supply (mine production increased) and a decrease in demand for gold (ETF outflows) (Chart 2). But there is an important point I need to make here. While the supply side is pretty constant at 1% increase per annum, the demand side is the critical indicator we need to look at with its 13% decline this year. The decline was a result of hedge funds converting their gold holdings into equities. The Dow Jones (NYSEARCA:DIA) hit an all time high last week, fueled by bullish news in the equity market of Japan, which on itself was a result of the massive Japanese monetary stimulus announced in April 2013. Although investors are cheering the bull market in equities, the macroeconomic conditions keep worsening. A few examples were a deterioration in PMI, capacity utilization, ISM manufacturing, vehicle sales, ADP employment, initial claims, PPI, mortgage applications and wages.
So we have a huge disconnect here between the macroeconomic conditions and the equity markets (NYSEARCA:SPY) (Chart 3).
When the equity markets ever come back to reality, the money in the equity market will flow back to the precious metals market.
While ETF outflows were large, those outflows were countered by physical demand in Asia. As Zero Hedge reports, physical demand is still very robust (Chart 4).
In fact, there are many signs that the physical market is going to be the driver of higher precious metals prices going forward.
First, we see that the premiums on physical precious metals have never been this high. As an example I give you the premiums on APMEX and the premium at First Majestic Silver Corp. (NYSE:AG) (Charts 5, 6, 7). On top of that, the gold premiums in Shanghai compared to London are skyrocketing (Charts 8 and 9).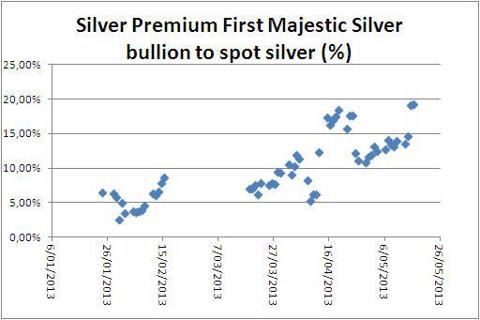 Chart 5: Silver Premium First Majestic Silver Corp.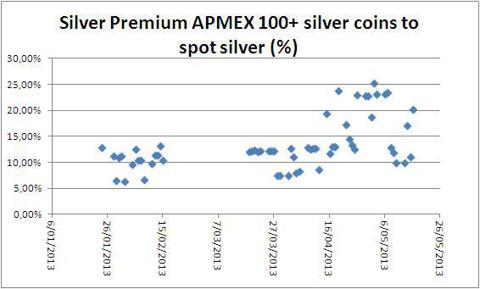 Chart 6: Silver Premium APMEX 100% silver coins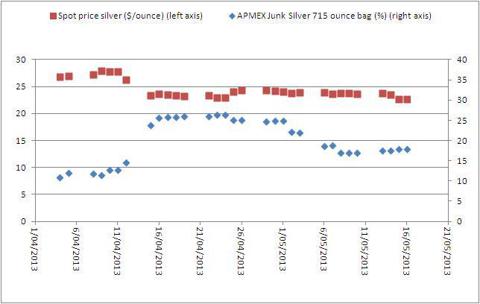 Chart 7: Silver Premium APMEX Junk Silver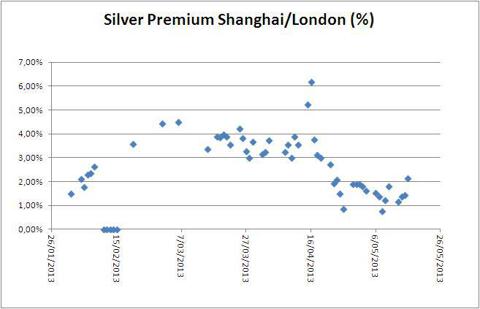 Chart 8: Silver Premium Shanghai/London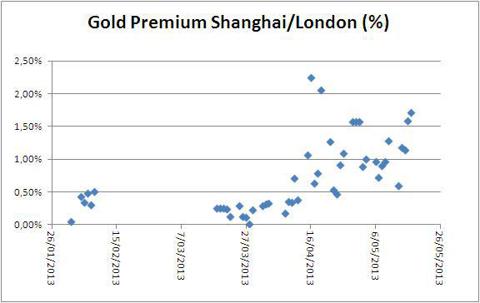 Chart 9: Gold Premium Shanghai/London
Second, gold lease rates (the interest rate of gold) have been rising to a new one-year high (Chart 10). This points to a very low GOFO (Gold Forward) rate, which means there is backwardation in gold. Historically such low GOFO rates mark bottoms in the gold price.
Chart 10: Gold Lease Rates
Third, we see a decline in registered gold at the COMEX. This indicates that gold is in short supply. Whenever investors try to redeem large amounts of their gold from the COMEX warehouses, they are told that they will be settled in cash, which is basically a default or force majeure. In fact, we already see defaults happening. For example, the HKMEX decided to cease trading on May 20, 2013 and will close all open positions.
Lastly, we see that many miners are cutting back on their production plans. For example, Endeavour Silver (NYSE:EXK) had to readjust its plans for this year, cutting back on capital investment and exploration. Another example can be found at First Majestic Silver Corp., where capital investments were cut by 16%. This will ultimately be bullish for the precious metals.
It's also important to notice the following. While paper gold prices decline, the selling price of the bullion by some of these miners won't decline with the spot price as a result of increasing premiums (See Chart 4). In other words, the decline in precious metals prices on the paper market is countered by an increase in premiums on the physical side of the precious metals market. This means that the profits of these miners will stay the same (as the selling price stays the same). Consequently, we will first see the miners bottom out, while the paper price of precious metals may keep falling. So investors need to keep an eye on the miners. I believe they will start to outperform the bullion price first.
As a matter of fact, one of the most prominent precious metals investors, Eric Sprott, has confirmed that he has been selling the bullion to acquire an increasing stake in the miners. Another example, George Soros has been actively buying calls in the junior miners as reported by William Kaye.
As a final note I want to stress that it is very important to watch the amount of gold held by the gold ETFs. As demand is now being dictated for a part by the ETFs, we need to pay attention to what's happening in the trusts. If they unload their gold, the demand from ETFs is going to decline, which has a negative impact on the gold price. This is the basic theory of supply and demand.
You can monitor this chart daily at the SPDR gold trust site.
What investors see is the massive physical buying in Asia and the high premiums in precious metals that are almost at the highs in 2008. What investors don't see is that there is a great difference between 2013 and 2008. In 2008, ETFs were massive buyers of gold, while today they are massive sellers (Chart 11). Keep watching this trend. If it reverses, then you can confidently start buying precious metals.
The overall conclusion of this is that we are witnessing a shift from the paper market to the physical market in gold and silver and the price will start to be dictated by the physical market.
Disclosure: I am long AGQ, EXK. I wrote this article myself, and it expresses my own opinions. I am not receiving compensation for it (other than from Seeking Alpha). I have no business relationship with any company whose stock is mentioned in this article.