In February, I warned investors of the apparent overvaluation of Diana Containerships (NASDAQ:DCIX), and followed up with a more in-depth look at their business model in March. My primary message was that the dividend was not sustainable, the business model would ultimately destroy value, and a secondary offering was on the way. This article will offer commentary on the Q1-13 results, discuss a recent business model change, and provide target dates for interested investors. I recommend a strong sell based on a broken business model with limited real dividend sustainability.
Reflection on Targets
My first article was published when DCIX was $7, and the second article still recommended a sell at $5.95. Including dividends DCIX has lost 13.6% and gained 0% (based on current price of $5.95) versus S&P 500 increases of 11.2% and 8.1%, for a total relative gain on my call of 24.8% and 8.1% in 3.5 and 2.5 months respectively.
In my last article, I provided three targets to watch, which have now passed. In review:
APRIL 13: Does the Centarus (currently $7500) charter improve, decline, or stay constant? This demonstrates y/y market trajectory since it was an 8-12m contract.
The charter has stayed constant. This is in-line with my expectations for $7-8k/day charter rates. The Centarus is up for charter renewal by DCIX in August 2013.
MAY 13: Will DCIX re-charter the three Maersk vessels or send them to the scrap yard? I do not have a prediction, but the latter option is an extremely bearish signal.
DCIX chose to scrap the Maersk Madrid on April 17 and to sell the Maersk Malacca on May 3rd. These vessels are 23 and 24 years old. With average vessel lifespans of 30 years, this move demonstrates that DCIX does not see strong market prospects in the near future.
MAY 13: (1Q-13 results) Will DCIX cut the dividend substantially? I predict 25c. Does the cash-breakeven TCE improve from $12,800? I expect $12,500.
They did not cut the dividend, but their dividend coverage, as stated by their public dividend policy, was only 13c. This means the remaining 17c ($5.3M) came directly off the balance sheet. On a positive note, the cash-breakeven TCE improved to $11,855, significantly bolstered by 100% utilization factor and a drop in overall vessel operating expenditures. This expense will likely increase to 13,000-13,500 if DCIX draws heavily on their new $50M loan facility.
June: Have we seen a secondary offering yet? I predict one prior to June, likely for under $6. If we see a secondary, how much does DCIX pay for new vessels?
We have seen the secondary announcement right on schedule. What are the new vessel particulars? Not sure yet, but prepare for more destruction of capital via above-market purchases similar to the Hanjin Malta.
Q1-13 Results & TCE
The only positive report in the Q1-13 results is a drop in cash-breakeven TCE to $11,855, from $12,800 last quarter. This drop is primarily due to decreases in vessel operating expenditures and a 100% utilization rate. This decrease is positive because it directly affects the amount of excess cash available for dividend distributions. With 32.11M shares outstanding (current as of Q1-13 report), and a fleet of 8 vessels, a change of $1000 in TCE expenses will affect annual dividend capacity by 9c.
DCIX has $12.82M in cash and current assets against $5.04M in current liabilities and $91.95M in long-term debt. Accounting for the sales of the three Maersk-chartered vessels (generating approx. $29M in aggregate), DCIX has total cash levels of approx. $41.8M. Including the $50M DSX loan facility (discussed below) and the impending $40M secondary, and adjusting for current requirements and dividend payouts, DCIX will have approximately $117M to spend on vessels, but will have 40M shares outstanding and a pre-existing fleet of only 8 vessels (from 32.11 shares and 11 vessels last quarter).
Here is the Secondary!
I predicted the announcement of a secondary offering before June 2013, and the offering was confirmed today. DCIX will pursue up to a $40M market equity offering within the next 12 months. If this occurs at $5, DCIX will suffer dilution of approximately 25%. This will further reduce the sustainability of their large dividend payouts.
Insider Dealing on the Loan?
In the Q1-13 results, DCIX also announced a $50M loan facility from parent company, Diana Shipping. This loan will be used to "fund vessel acquisitions and for various corporate purposes." The rates are high- LIBOR+5.0% and a variable (up to 5%) back-end fee due on payback. The total interest and financing expense will be above junk-bond status. The current high-yield (junk) index is currently at 5.31%. The loan matures in 4 years. Any way you slice it, this deal is great for Diana Shipping (NYSE:DSX) and horrible for Diana Containerships (DCIX). I believe that internal funding, especially at high rates, is a massive red flag.
Business Model Shift?
I posed the potential for DCIX to scrap the Maersk vessels in my last article and warned that such a move would be an extremely negative market indicator. However, in the short-term, the move will buoy DCIX's balance sheet (due to strong scrap prices) and improve cash flow (re-charter rate would have been at a cash loss).
DCIX has now shifted their business model from simply buying older vessels with attached above-market charters and waiting for a recovery to a sort of ship finance/swap system. The Malacca was not a one-off item. In the Q1-13 results, DCIX mentions the sale of the 1990 Maersk Merlion for $10M. They have sold or scrapped all three vessels with expiring time charters. What will happen to the APL vessels next Spring?
Dividend Sustainability
I have conducted a rough estimate of DCIX's average dividend sustainability for the remainder of 2013, 2014, and 2015. A snippet of my spreadsheet model is below which contains the following assumptions: dilution to 40M shares, purchase of 4 vessels with (3-yr) above-market contracts similar to the Hanjin Malta, average of $9k, $11k, and $15k for '14, '15, and '16 charters, lower commission rates, 5% of flows to dry-docking and other direct expenses, 100% of remaining flows to dividends, expense rate of $13.5k/day per vessel, and 40M total shares outstanding.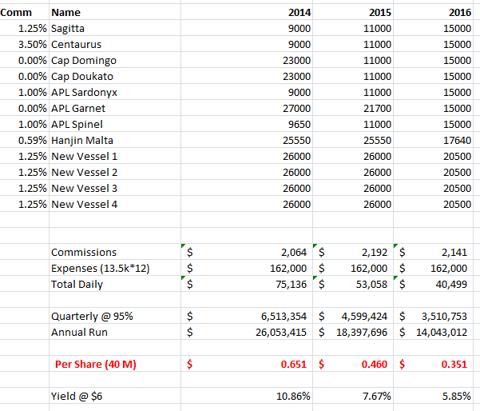 The sustainability of the business model should be strongly questioned, especially if the market fails to recover. It's easy to look up and say "5.9-10-9% dividends for the next three years-that's a no brainer buy!!" Please remember that over those three years, approximately $1.46 will be payable in dividends, but DCIX will sport $140M in debt across 12 vessels and 40M shares. If the market does not massively improve, DCIX will continue to dilute itself to non-relevance. I do not believe the above model is overly bearish, but I welcome comments and critiques below.
Targets to Watch & Speculative Questions
I based my valuation of DCIX on multiple assumptions for new charter rates in 2013-2015. I predicted $7000-$8000 charters in 2013 and $10000 charters in 2014. The first indicator of these changes was the Sagitta in March 2013 @ $7250. In early May, the three Maersk vessels (Malacca, Merlion, and Madrid) all come off high-value charters. The three Maersk vessels are 23+ years old.
August 13: (2Q-13 results): Does DCIX cut the dividend to appropriate levels? I predict 20c or less. I was wrong on my 1Q-13 dividend projection, but only because DCIX abandoned their own model.
August 13: Centaurus Charter expires at current $7500 level. This will be a good market bellwether. I predict a $7500-$8500 level if a similar <12m charter is signed.
January 14: APL Sardonyx and APL Spinel both come off lucrative time charters ($24,750/day). What are the new contract rates? I predict $9-10k/day. Will DCIX sell off these vessels also?
Investment Recommendation
For whatever reason, DCIX appears to be up on the Q1-13 results and is selling around $5.95. The investors are likely celebrating the lower cash breakeven levels (likely only a 1Q event as the interest expense piles on from the DSX loan), the 30c dividend (unsustainable, over 50% funded from the balance sheet), and the cash inflow from the triple Maersk sale (one-off). The vessels sold higher than anticipated, but the remainder of the results are disastrous.
This is a company with insider loan dealing, a highly questionable business model, rampant dilution, and they have just broken their own dividend policy. Get out while you can.
If you have strong conviction for a vibrant containership recovery in 2015-2016, and don't mind DCIX's aforementioned business model, then consider a buy if DCIX drops to $5 or less.
Disclosure: I am long DSX. I wrote this article myself, and it expresses my own opinions. I am not receiving compensation for it (other than from Seeking Alpha). I have no business relationship with any company whose stock is mentioned in this article.