Perseus Mining (OTCPK:PMNXF) is an up-and-coming mid-tier gold mining company with a focus on Western Africa. During 2012, Perseus brought the Edikan mine in Ghana into commercial production resulting in an output of 195,166 ounces of gold for the calendar year. The company is presently working towards production at their second mine in Cote D'Ivoire by Q1/2014. Additionally, the company has exploration projects in the mentioned jurisdictions and also in Mali and Guinea. The market capitalization has been reduced to $463M in the wake of the drop in gold spot price and at $1.01 the share price is only a quarter of its high point late in 2011. The forward P/E is given as 5.4 on Morningstar.com. The table below gives the 2012 numbers for production, reserves and resources at Perseus's mine and projects.

The term "country risk" is often associated with factors such as political risk, exchange rate risk, economic risk, sovereign risk, transfer risk, socio-economic risk and others. We collated country risk ratings for numerous countries from eight different sources and averaged these ratings into compounded country risk scores. Our compounded country risk ratings range from 0 to 100 with low numbers indicating low risk and high numbers indicating high risk. The most recent results from this work can be found in this article. Depending on the source, various contributing factors of country risk are weighted differently. Readers interested in the specific definitions are encouraged to follow the links to our sources given in this article. The data in the table below is re-calculated in percentages of gold-equivalent ounces. Country risk ratings as documented here are also shown in the central column of the table. The right side of the table shows the weighted risk contributions for each country separately for production, reserves and resources with summarized scores in the bottom line.

Observations
All ratings based on the four categories were computed within a tight range of 55.20 to 57.69. These values still indicate considerable country risk exposure but emphasize the relative safety of Ghana as a mining jurisdiction compared to other countries in the area. Perseus's country risk exposure is bound to rise in coming years when the second mine in Cote D'ivoire starts operating.
Compared to other companies with a focus on West Africa, country risk ratings for Perseus are low as illustrated by the diagram below. This diagram gives a comparison between Perseus Mining, Endeavour Mining (OTCQX:EDVMF), SEMAFO (OTCPK:SEMFF) and Randgold (NASDAQ:GOLD) which are all companies focusing on mining gold in West Africa.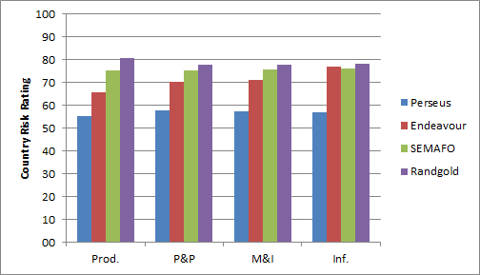 Disclosure: I have no positions in any stocks mentioned, and no plans to initiate any positions within the next 72 hours. I wrote this article myself, and it expresses my own opinions. I am not receiving compensation for it (other than from Seeking Alpha). I have no business relationship with any company whose stock is mentioned in this article.